This is one of the easiest preserves I've ever made. Sugar, strawberries, vanilla bean. Puree, simmer, water bath can. That's it. The result is a sweet taste of spring in a jar, excellent as a topping for ice cream, swirled into yogurt, or spooned over pancakes.
This sauce, because it's smoother than a strawberry preserve and thick-but-pourable, is also a great addition to summer beverages. Everything from lemonade to margaritas can get a pink makeover with a spoonful of strawberry vanilla sauce.
Making Strawberry Vanilla Sauce
Before you start, set up to water bath can your sauce. This recipe makes 4, half-pint jars.
You'll need 2 pounds of strawberries, 3 cups of sugar and one vanilla bean. If you want to go lower on the sugar, you can reduce the sugar down as low as 2 cups. However yield and color in storage may be affected.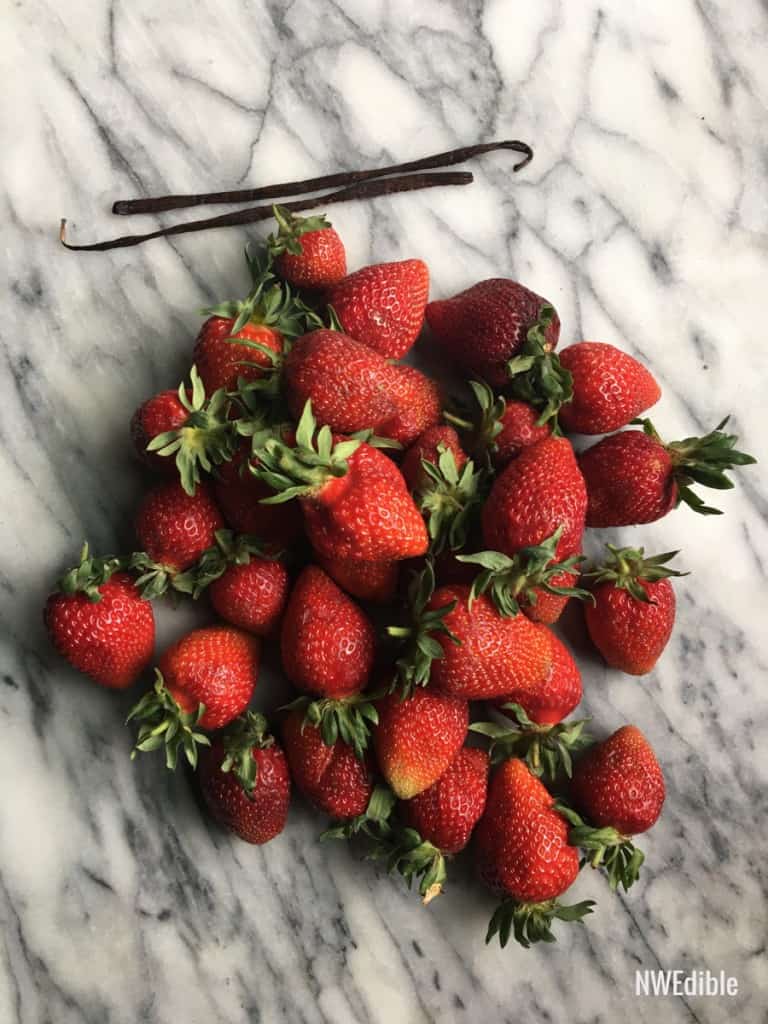 A Note on Vanilla
Unfortunately the price for vanilla beans is insane right now. In 2014 I could buy 25 excellent, Grade A quality vanilla beans (these exact beans) for $20. I used them extensively in baking and for making DIY Vanilla Extract. Those vanilla beans are now $80! Holy crap, what happened?!?
Looking around now in mid-2017, I'm seeing $3.50 – $4.00 per bean as about the best price when bought online. For something like this jam, you want Grade A beans because they have a higher moisture content than Grade B and you'll get more seeds out of them. If you are making vanilla extract, grade B is fine, and might actually a bit better because it's a lower moisture product.
If you only need one vanilla bean and you live in a fairly urban area, your best bet is probably the local yuppie-hippie market. Try to find a place that has decent turn-over in spices and baking ingredients.
Another option is vanilla paste (I haven't used it but reviews are good) – just substitute 1 tablespoon paste for the bean, or as directed by the product you buy. Vanilla extract won't give you the same flavor, but if that's your only vanilla option, go with a high quality purchased or homemade extract and add 1/2 tsp – 1 tsp (to taste) towards the end of simmering the jam.
Alternatively, you can leave the vanilla out entirely.
 
Split your vanilla bean lengthwise and scrape out all the seeds. Add the sugar to the bowl of your food processor and blend up the sugar and the vanilla seeds together.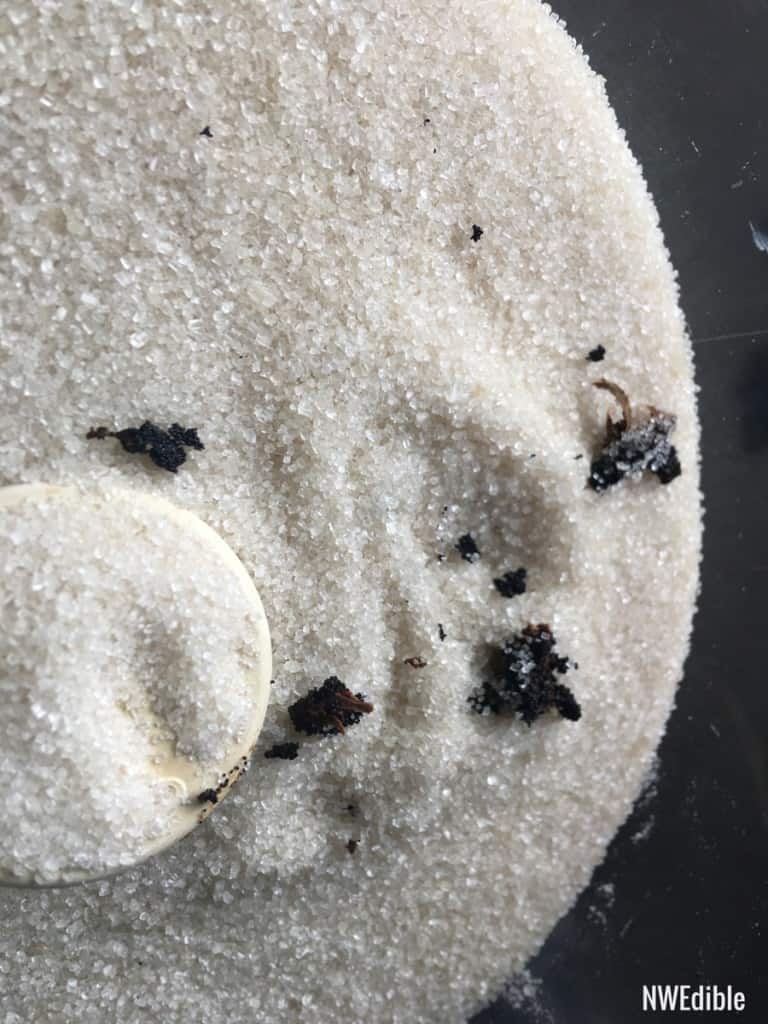 Add your strawberries to the food processor, right on top of the sugar.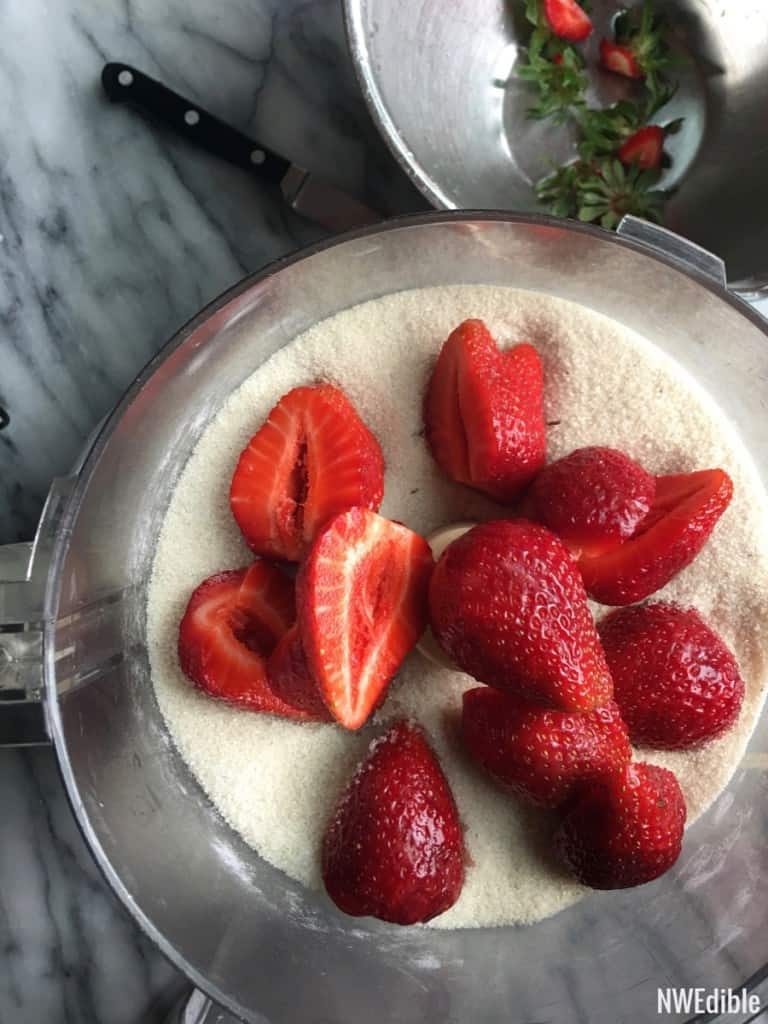 When all the strawberries are in the bowl of the food processor, lid that sucker up and purée until the strawberries are mostly smooth.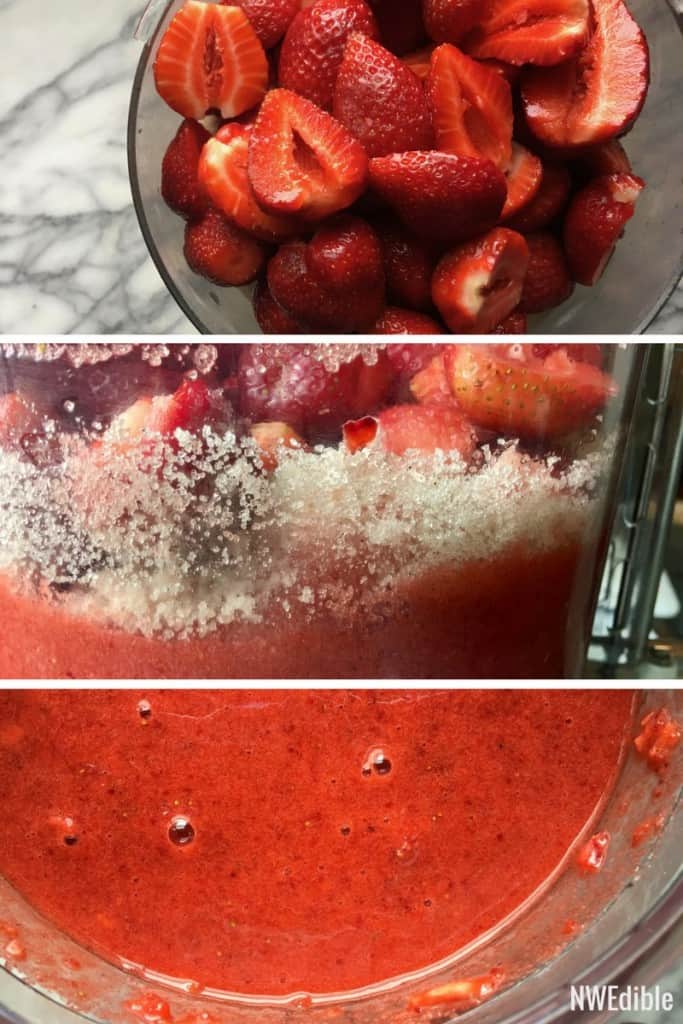 Scrape all the strawberry sauce into a wide pan and bring to a boil. Simmer it for about 10 minutes, until it has thickened a bit and has a darker, glossy sheen.
Because of the pureeing, this sauce will tend to throw a lot of foam. That's totally fine. Just skim as best you can, and don't worry if you don't get all the foam. (Patreon: Technique to Skim Foam From Jam )
And don't throw away your strawberry foam! Just pop it in the fridge. I'm going to share an awesome quick tip on how to use up all your assorted jam foam in the next couple days.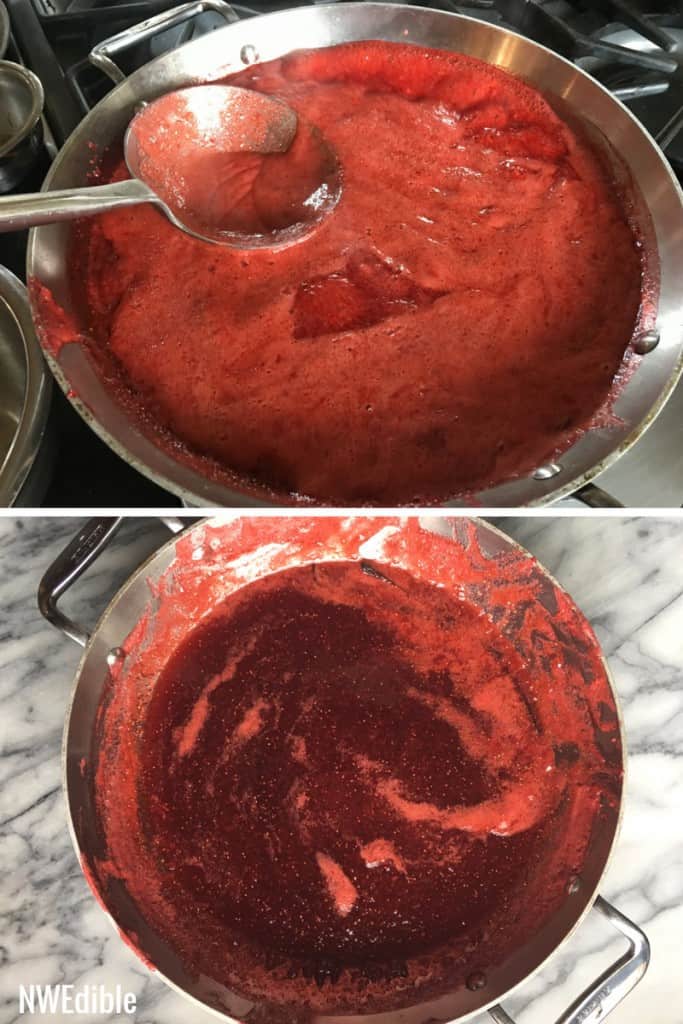 Spoon your sauce into your prepared jars, lid according to manufacturer's directions, and water bath process for 10 minutes at a full boil.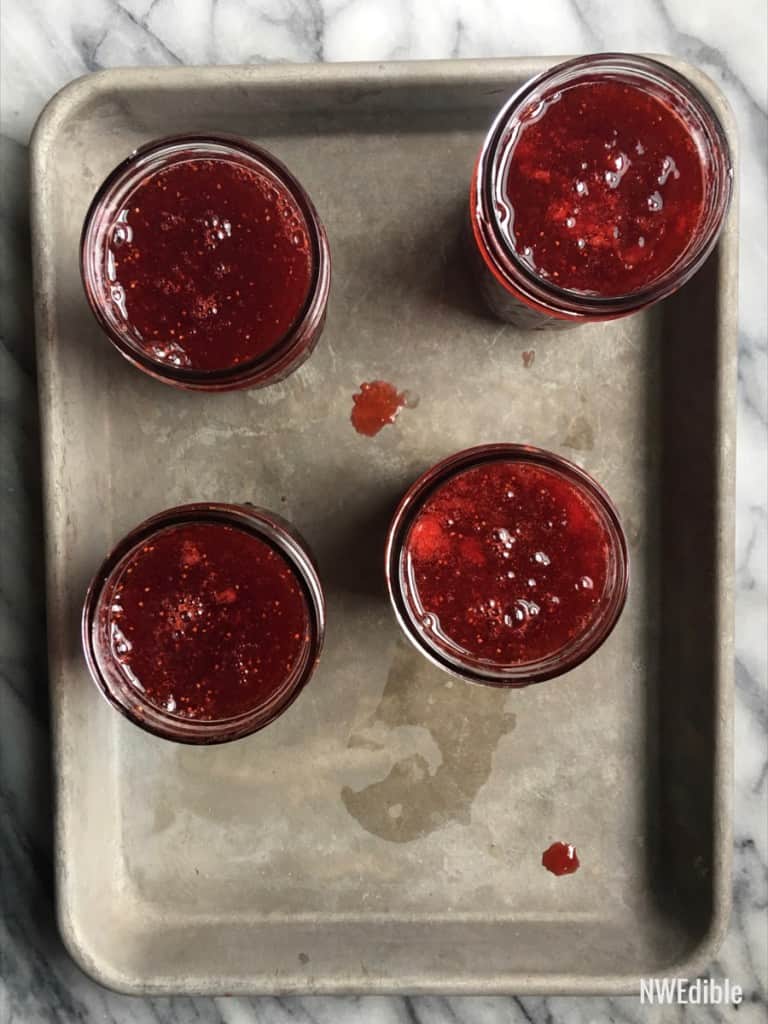 How To Use Strawberry Vanilla Sauce
Dairy, dairy, dairy. Swirl this sauce into yogurt or drizzle on ice cream.

It's also great as a syrup on pancakes, waffles, crepes, etc.
Or try incorporating this Strawberry Vanilla Sauce into cocktails…like perhaps this lovely strawberry daiquiri.
Strawberry Vanilla Daiquiri
Blend together the following:
2 oz (1/4 cup) white rum
1 oz (2 tbsp) freshly squeezed lime juice
1 oz (2 tbsp) strawberry vanilla sauce
6 cubes ice (about 1 cup)
Serve right away in a cocktail glass, garnished with a fresh strawberry.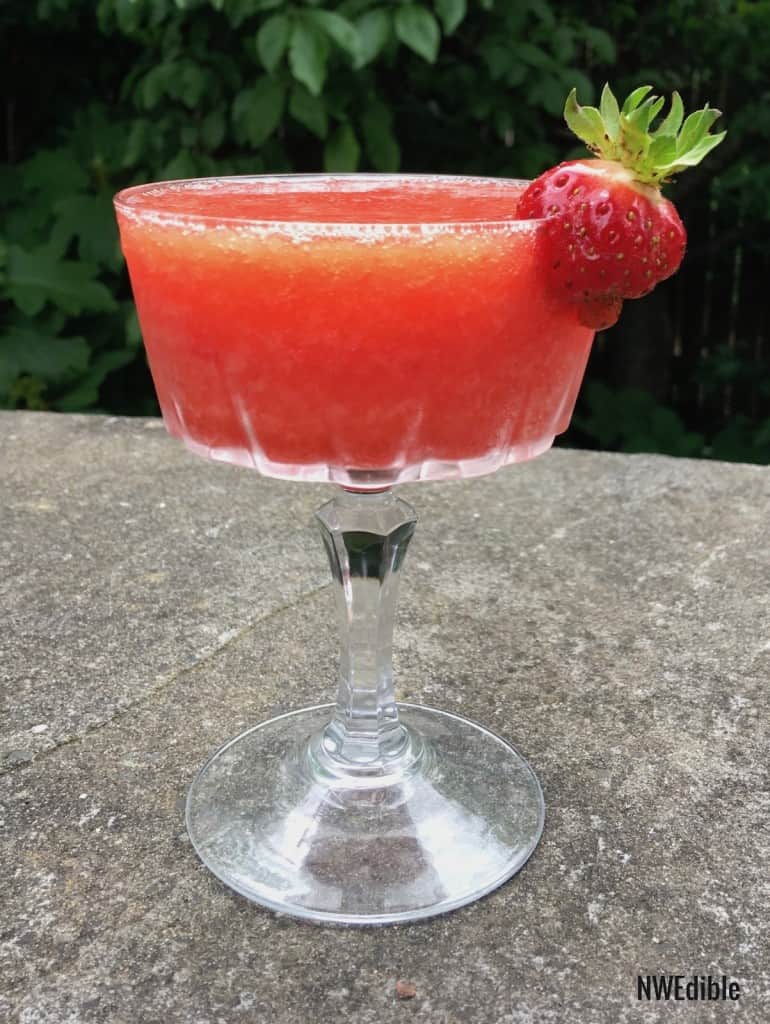 Printable Strawberry Vanilla Sauce Recipe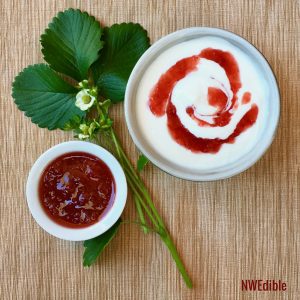 Print
Strawberry Vanilla Sauce
Yield 4 half-pints
Ingredients
2 pounds fresh strawberries
3 cups sugar
1 vanilla bean
Instructions
Set up for water bath canning.
Wash berries, and remove caps and stems. Set aside.
Add sugar to the bowl of a food processor fitted with the metal blade. Slice the vanilla bean in half lengthwise. Scrape the black seeds from both halves of the vanilla bean into the food processor. Reserve the vanilla pod.
Process until the vanilla seeds are fully mixed into the sugar, then add the strawberries and pulse until only small pieces of strawberry remain.
Scrape the strawberry sauce into a large, shallow-sided saucepan. Add the reserved vanilla bean pod to the sauce. Heat the sauce to boiling, then reduce heat and simmer until the berries are soft and the sauce has thickened slightly and turned glossy, about 10 minutes.
Skim off foam, and ladle sauce into clean half-pint jars, leaving a 1⁄2-inch headspace.
Set lids according to manufacturer's instructions and process sauce in a boiling water bath canner for 10 minutes.
Altitude Adjustment: 1001-6000 feet: process 15 minutes; Above 6000 feet: process 20 minutes.
Pin Me For Later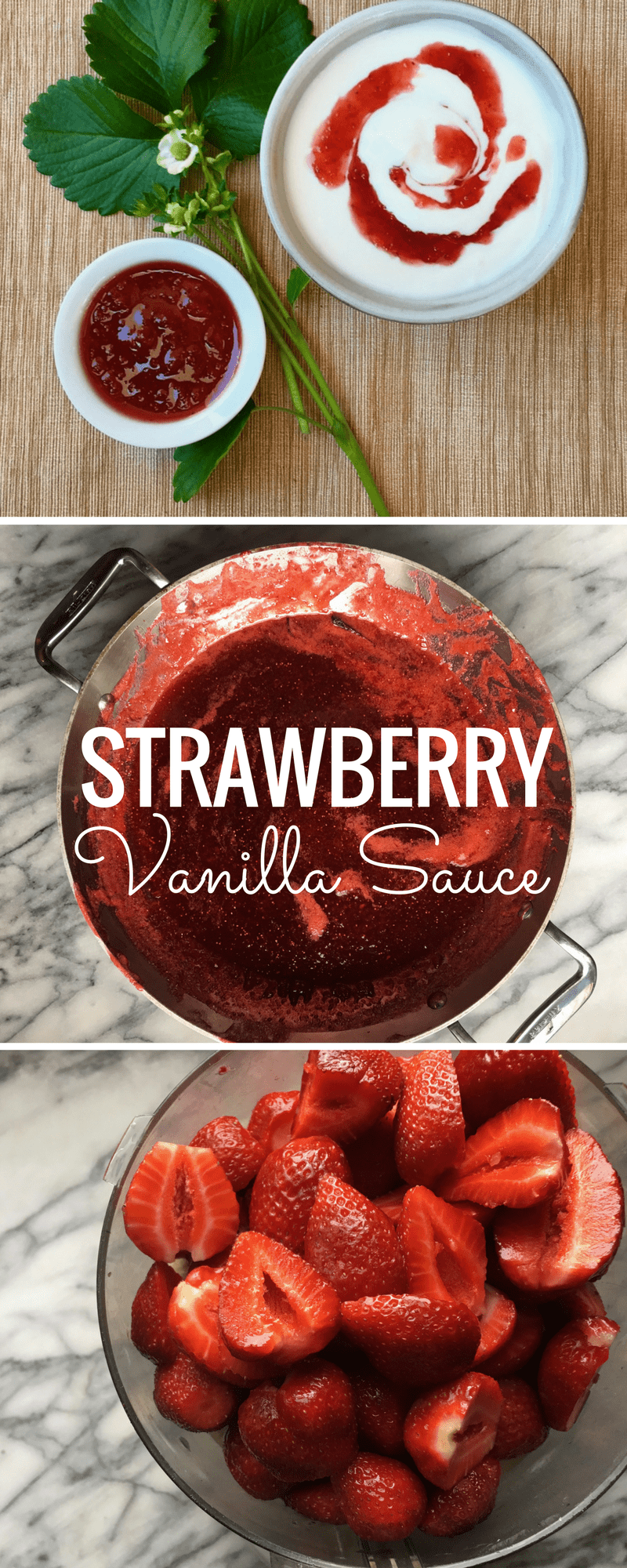 2