You may have seen this article. A Seattle man recently contracted botulism from his improperly canned elk meat and is lucky to be alive. His description of how he canned the elk is like a checklist for everything you never, ever do when canning food.
I love to see so many new people taking up home food preservation, but you gotta do it right. I once gave a presentation about home canned convenience items and how to use them and, about a third of the way through the presentation, I just stopped. I could see something in the audience's collective eye.
"Ok, how many people here don't can because they are afraid they are going to kill their whole family with botulism if they do?" I asked.
Fully two-thirds of the audience raised their hands, so I embarked on a totally non-scripted, impromptu talk about what botulism is, why it's a concern for canners, and how you prevent it. The thing is, botulism isn't that scary if you understand how it works and why you must follow certain guidelines to ensure your home canned food is safe.
And so, I present the world's first (as far as I know) Infographic about Botulism: How Not To Die From Botulism. Questions? Concerns? Favorite canning resources? Let's share our knowledge in the comments. Happy Canning!
Click on the image or here for a full-size PDF of this infographic poster.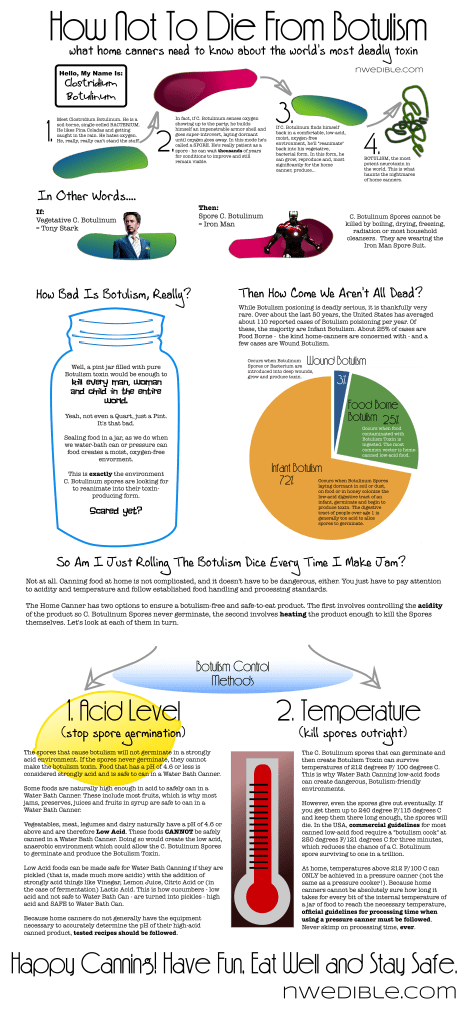 Note: Small edits have been made in response to reader feedback. Please reference back to this page, which will always link to the most recent version of the infographic. Thanks guys!
49