A reader emailed me this past weekend and in a few sentences got right to the heart of why getting started with productive home- and garden-keeping can be so dang challenging.
Hi Erica,

I've been working on getting a garden going and redesigning my life, but the current life really gets in the way.  Lots of reading, lots of failed experiments, but working full + time, plus three kids takes up time that might be otherwise spent productively living an urban homestead life.

Do you have suggestions? I've tried some container gardens, but have really failed at getting said kids excited about helping. I recently purchased plants and restarted the container garden of herbs.  I feel like I need to quite the job outright, but financially, it isn't an option unless we are prepared to declare bankruptcy.
It's not the work.
It's not the dirt.
It's not the weeds or the periodic failures or the never-ending clean up.
It's sure as hell not the delicious, home-grown meals.
It's the whole life integration. It's squeezing together the reality of a modern life – high-tech, fast-paced, bill-driven and glorifying of work-a-holic tendencies, with something different, something homemade, something literally more grounded.
Doing either one or the other, and setting up the daily systems to make either work, is challenging enough. But trying to do both simultaneously? It's not a simple thing to integrate, and unless you are some kind of superhuman, committing to more jobs than there are hours in the day is generally a recipe for burnout and exhaustion. (Go ahead, ask me how I know this.)
So, what's a productive homemaker with modern day commitments to do?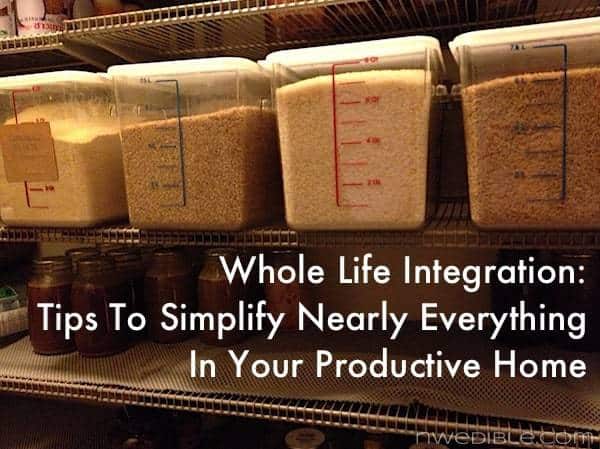 Simplify Expectations
I think this urban homesteader life and the people who boost it (::cough:: me ::cough::) can encourage a kind of all-or-nothing mentality, and that worries me. Ultimately, there are seasons in our life, and sometimes we need to grab the low hanging fruit for a while until the time is right to go put in the orchard.
It's perfectly okay to compromise on your vision of how you think your life should look, and deal with what you actually have in front of you. In fact, it's the only sane thing to do.
Growing your own food, preserving it, cooking from scratch and using creativity and thrift instead of a credit card to get what you need takes time. Productive solutions usually take longer – sometimes much longer – than ready-made ones, and sometimes it's worth it to trade money for time and let someone else make your cheese.
I like being kinda-sorta more self-sufficient than the average U.S. 30-something. But frankly, I don't want to have to milk my own cow and generate my own heat everyday. I'd much rather pay a farmer and the utility company than figure out how to squeeze rotational grazing and a woodlot onto my one-third of an acre.
The whole point of an economy is to allow people to efficiently trade their time and skills for the product of other people's time and skills. And that's a good thing. It's great that we have options. Don't get caught up in DIY Guilt for taking advantage of those options, but be smart about how and where you spend for convenience.
Go easy on yourself if the pace of transition isn't going as you'd like it to go. If you have kids, they are the most important thing you will ever raise – far more important than cabbages or plum trees or backyard chickens.
Even with the advantages of not working (much) outside the home and being pretty experienced and dedicated in this craft, I have eased back on what I feel like I "should do" because 2012 was a pretty rough year for me and I'm still kinda recovering from it in some ways. A year ago I would have considered myself a failure if I bought (instead of making) bread, but now I pick up organic sandwich loaves at Costco pretty routinely. And I don't feel bad about it, either – right now my kids need me to be sane more than they need exclusively homemade bread.
Simplify Food
I think probably 80% of the productive home impact happens in the kitchen. It is entirely possible to be a productive homekeeper without a yard or garden at all, if you are thoughtful with what you do in the kitchen.
I learned a lot about how to effectively cook a weeks worth of meals in a few hours as a Personal Chef. I use those professional techniques to streamline mealtime at my own house. Here are a few favorite ways of mine to simplify food.
To increase the proportion of home-cooked meals, consider bulk cooking on weekends. Make a menu plan that is flexible and adaptable. My meals plans often look something like this:
Turkey Feta Spinach Burgers + Garden Veg
Grilled Pork Loin+ Garden Veg
Chickpea Soup + Garden Salad
Pick-and-choose (built in leftover night)
Roast chicken + Potatoes + Garden veg
I plan out the protein and allow the garden to dictate the side. I try not to micromanage myself. YMMV. If you don't garden, you can let the fresh sheet at the grocery store or the offerings at the farmers market decide what'll go on the plate.
Once you've got your plan, cook off any proteins or starches that will keep and can be easily reheated. Grilled chicken breast or thighs are easy to reheat – a whole roast chicken is not, so that's "weekend fare". Season and grill those store-bought organic chicken breasts and a few grass-fed burgers if you eat meat. Get your rice cooker and crock-pot going at the same time.
If you have a garden, harvest vegetables and prep them en masse. If you don't have a garden, skip the harvest and prep whatever veg you buy.
Blanch green veggies like snap beans. Cut up peppers and carrots so they are easy to snack on or throw in a pan for a saute. Wash, dry and chop kale or other cooking greens. Wash lettuce, spin it very dry and store it wrapped in a clean towel in an airtight container. In short, turn veggies into ready-to-go salad bar fixings right in your own fridge. Doing this is a great way to eat more vegetables.
Crib fancier "salad bar" ideas from the deli counter of your local Yuppie-Hippie market. My local food co-op has an amazing selection of salads in their ready-to-go case. I love finding inspiration there.
On the way home from work one day stop in at Whole Foods or whatever your closest local equivalent is. Jot down or snap photos of deli salads and other prepared foods that look good to you. Most places will provide you with an ingredient list printout for their deli food if you ask and might even give you a sample. That's often all it takes to "reverse engineer" prepared foods.
If you have the time and inclination, make a batch of yogurt from store bought milk, bake a few loaves of no knead bread, hard cook a dozen eggs, or make granola, muffins or waffles so that even more homemade meals for your family during busy weekdays are simplified.
On the weekdays, keep meal prep super simple by assembling dinner from your pre-prepared ingredients. If the steak is seared, the romaine is washed and cut up, the dressing is made and the cheese is crumbled, how hard is it to make a big steak and blue cheese salad for dinner? It's a three minute assembly job – way faster that even drive through.
Simplify Gardening
First of all, you don't have to. I'm the Gardening Freak Girl and I hereby give you permission to just not garden if it doesn't float your boat or if the time investment or situation in your life as it is now just doesn't work.
If you do garden, focus on high-yield, easy to harvest, easy-to-eat vegetables. If you are pretty stressed out with this whole life integration thing, really hold yourself to that most excellent rule of vegetable garden planning: grow what you'll really eat. This is not the time to get starry-eyed about rare heirloom beet varieties if no one in your house – including you – likes beets.
I'm a big fan of lettuce, cooking greens, beans and peas. They are easy to grow, prolific, and easy to work into a meal without a big fuss. I'll include summer squash in this category too, if you like it. Depending on where you garden, growing tomatoes and peppers and eggplant might be an exercise in frustration or as easy as falling off a log. Avoid anything too fussy or finicky or with too long a turn around for your area (stuff like melons in Seattle, for example).
If you are gardening with kids, check out my recommendations for the best veggies to grow with little ones.
If you have the itch to get something in the ground, I recommend herbs and low-maintenance perennials, especially berries. Herbs are expensive in the store, easy to grow and make food taste better.
If they typically do well in your area, blueberries, raspberries, strawberries, etc. are a great choice. These are perennial crops that kids will want to go pick when they are ripe, which can help when you are trying to include your family in your urban homestead.
Putting in the orchard as soon as possible seems like a good idea, but fruit trees need the most attention, pruning and training early on in those establishing years. So if you aren't sure about taking on fruit tree training, or you aren't sure about how long you'll be living in your current home, skip that project until the phase of your life is more conducive.
Simplify Preserving
Just like gardening – you don't have to if you don't want to and try to stick with stuff you'll eat.
There is no reason you need to grow all your own food to preserve stuff in season. Even with a large garden, I still buy all my bulk canning tomatoes and most of my pickling cucumbers to put up in late summer.
If you have kids who aren't on board, rather than making every summer weekend a productive home canning spree, take a trip to a pick-your-own farm once or twice in the summer. Load up on local fruits – in this way "productive home" activities can also be sold to family members as "fun field trips."
You can preserve by canning and jamming (easy, depending on your comfort with the process), drying (easier) or freezing (easiest).
You can always make jam from frozen fruit, so if you think you might want to make jam but the time gets away from you, just pop your berries or peaches or whatever in the freezer and get to the jam when you get to it. Also try my pectin free jam method, which I find far more fun and languid than skimming scum religiously for exactly two minutes, or whatever the pectin box makes you do.
Simplify Uncertainty
Different things help different people sleep easy at night, but I don't know anyone who would consciously choose more debt and more stuff and doo-dahs as the path to peace. And yet, with our spending choices, this is often exactly what we do.
In our family, we like to have several months of living expenses saved up (my husband is a contract employee, and we want to be able to "ride through" any down time in his employment) and a pantry well stocked in staple foods. Those two things in combination give us a high degree of confidence in our ability to make it through minor-to-moderate life upheavals.
For info and inspiration on how to build the savings account, I will refer my readers (once again) to my favorite personal finance and frugality site, Mr. Money Mustache. I also recommend periodic No Spend Month challenges to reboot any creeping consumerist tendencies you might have. We will be doing another No Spend Month challenge pretty soon. My consumerism has definitely been showing these past two months.
I've got a whole upcoming post planned showing how I stock my pantry, but the short version is: think about what pantry meals your family eats and keep those ingredients on hand. Pretty simple, really. Focus more on flexible whole food ingredients rather than whatever has a coupon this week. Build up over time, focusing on bulk purchases whenever possible for those ingredients that store well.
How hard is whole life integration to you as a productive homekeeper, and what do you do to bring your worlds together?
3