I'm of the Erasmus school of spending:
When I get a little money I buy books; and if any is left I buy food and clothes.
As an example, these are some of – but not all of, you understand – my cookbooks: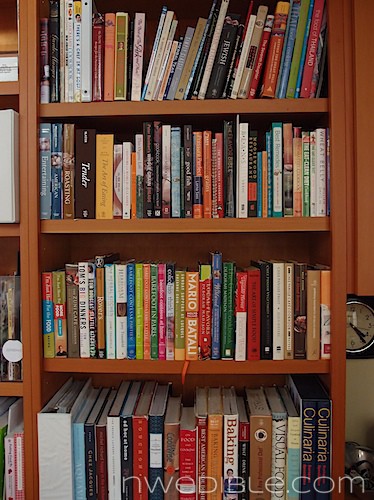 I have an equivalent number of gardening and house-maintenance books, quite a few big, heavy collections of art and photography and another bookcase full of paperbacks.
Homebrew Husband has at least as many books as I do, mostly history and physical science books. He also brought the entire, twenty volume Oxford English Dictionary to our joint book collection. That's right, we have about five linear feet of dictionary.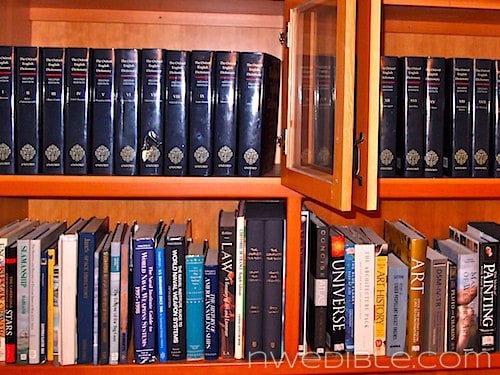 You want to know the etymology of phrontistery? No problem! We'll just go into our library-study and look it up! (Geek pun-humor, right there.)
Our weakness for books puts a healthy dent in our budget and our storage space. Many of these books cost $20 or more originally, and we have hundreds and hundreds of them.
That shit adds up.
Some of our book investments have actually appreciated: Homebrew Husband has a technical schematic of Formula 1 Racecars that sells for $250. He paid $30 for it.
800% returns notwithstanding, emotionally, it's hard to part with books. Many of these books were my friends, creatures I had known from nut and acorn, so to speak. But logically I know that many (possibly most) of my tomes aren't actively adding value to the life I have now.
Many represent interests from years ago – my kanji dictionary from studying in Japan, my first micro economics textbook written by a professor I adored, and pretty much everything related to triathlon training are in that category. Some books are How Tos that are made superfluous by the ever-present internet.
Some duplicate other books so completely that I really just need to buck up, make a decision and let the lesser of the pair go. I have a lot of gardening books in that category. How many different books do I really need to show me how to plan and grow a beginner's veggie garden when I've kinda got that concept pretty well hammered out?
Luckily, there is money to be recouped in an unwieldy book stash!
Your Mini-Money Challenge
Your Mini-Money Challenge for the day is to select at least ten books that you no longer love, box them up and put them in your car or bike's panniers. Next time you go out, plan your route so that you can swing by a used book store and sell those suckers. If you are feeling hardcore, you don't have to stop at ten books. Go as big as you want to go. You can free yourself from the burden of books you no longer truly love and make some cash in the process.
Here's the beginning of the pile I am gathering with plans to sell. (That's right, George R.R. Martin, your forth book pissed me off so much we are selling everything with your name on it. Good riddance. Maybe with the money we make we'll rent the HBO series. I hear those guys know how to keep a story moving. Not that I'm bitter about all those nights I wasted, staying up until 4 am because I thought this relationship was all going somewhere…)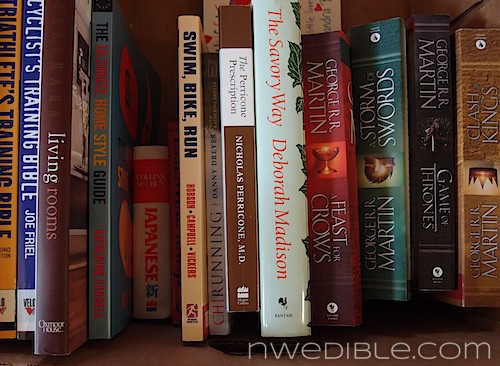 Now, if books aren't your thing, feel free to substitute no-longer-loved DVDs, CDs, used iPhones, baby clothes from when your 17 year old was little – whatever you have that you are keeping out of inertia and not because it fills a particular need in your life anymore.
Make some money by making peace with letting some of your unloved and unneeded stuff go.
Mini-Money Bonus Edition
So there are these things called libraries. I thought everyone had heard of them but then I saw this:

Oh, kids these days. Excuse me while I go weep for awhile.
If you haven't been in a library in a while they just keep getting better and better. I can go online and request any book in my library's regional system and unless a million other people want it, it'll be waiting at my local branch with my name literally on it in about two days. That's the same amount of time it takes Amazon to get a book to me, and the library doesn't charge me at all for this service.
My Kindle-having husband tells me you can now check ebooks out from the library too. You just go online, find a book you want (I noted over 2000 available titles in the Sci Fi & Fantasy section alone, so there's a lot to choose from) and check it out for 14 days with your library card. Free! What a huge potential savings that could be for people who read a lot of ebooks on their Kindle or iPad or eReader.
Your Mini-Money Bonus Challenge is to get yourself a library card if you don't already have one. You can probably do this from the comfort of your computer. Then, spend 5 or 10 minutes browsing your local library's website and see what you find there. You might discover a whole world of entertainment, free for the taking.
If you've got a library card but maybe it's been awhile since you've checked out what's available, take a trip (real or virtual) to your local branch and give the library a chance to make you feel kinda stupid about how much money you've spent buying single-read books in the past.
What are you hanging on to that you no longer love and use? What is stopping you from parting with it?
0