Look, I'll be honest: sometimes the Permaculture community makes claims that seem….well, kooky.
Grow pineapples in Seattle? With enough heat-sink big rocks, we can do that!
Plant invasive weeds all over your garden? Heck ya, that's nature's own deep mineral mining company, right there!
Build weird snake-shaped ponds that act as giant solar reflectors to increase light intensity, temperature and humidity? Well, of course! Ponds are nature's own solar panels, yo, and you get trout out of the deal, too!
See, kooky. Plus, all Permies have hippie beards. Fact.
Well, kooky they may be, but I think these Permie People are tapped into some deep garden juju. Here's my evidence: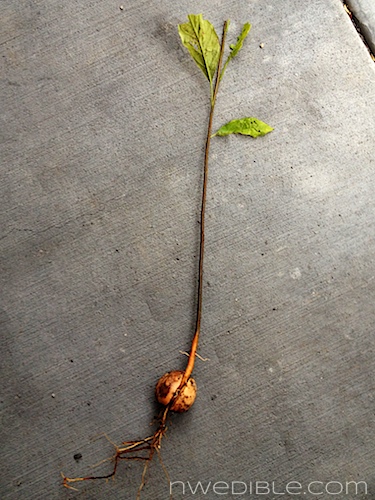 That, my friends, is a two foot tall avocado seedling. I found it growing in one of my Permaculture-approved hugelkultur beds as I was doing the fall clean up last weekend. At casual glance I assumed it was yet another alder sapling attempting to take over my yard so I ripped it out of the bed. Only then did I notice that this was something different.
It looks like the chickens snipped the tip of this sapling off, and the leaves didn't appreciate the 35 mile per hour wind gusts that shook up my yard over the weekend, but that's not really the point.
Distance from Where I Live to Where Avocados Grow: huge. Around 1,200 miles, a full day of driving, multiple climate shifts and two-and-a-half USDA hardiness zones.
So what in tarnation would inspire an avocado pit left for half-finished compost to not just germinate but to actually take off, make leaves and start to grow into a real, honest-to-goodness tree? In Seattle? It's certainly not because I'm some Avocado Whisperer, despite what the lovely people at Reader's Digest might claim.
The hugels are clearly staying substantially warmer than my traditional raised beds, which have never, ever attempted to grow me an avocado. I attribute this to the heat generated by the decomposition of the large hunks of woody material that underly the beds and the chicken litter I used to top everything off.
I have already seen how the hugels promote rapid and early germination of seedlings that are close to the soil and are therefore benefiting from the radiant heat this composting process releases.
This photo of my hugelkultur's soil temp, for example, was taken on April 9th. Locals know that Seattle soil temps several inches down rarely hit the high 70s even in late August, so this is a small miracle for seed germination possibilities.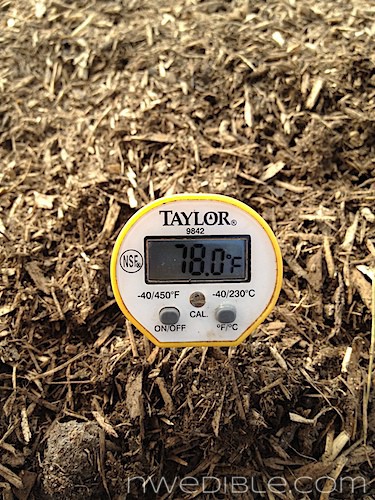 However, even knowing that the hugel soil-temps were warmer than average, I did not expect the beds to be warm enough to promote sustained growth of a sub-tropical plant like the avocado.
Clearly I was wrong.
The hugels have demonstrated some advantages over my traditional beds beyond soil temp. As I cleaned up and pulled spent corn stalks and squash vines from the ground, I noticed that the soil in the hugelkultur beds was loose but rich, free draining and dry at the surface but moist at the root zone. It was friable and resisted compaction even where a gaggle of kids tromped all over it in an effort to pick the last of the season's runner beans.  It was, in short, perfect. And this isn't because I'm some master soil builder: fully half my traditional beds appear to be made of concrete mixed with Western Red Cedar rootball. It's amazing I get anything to grow at all, actually.
And here's the thing: I haven't done anything to these hugelkultur beds. I barely watered them – maybe half a dozen times over the summer we turned an overhead sprinkler on, compared to the clockwork 3 times per week system-controlled drip irrigation watering the main beds got. I harvested but I didn't weed. I took but didn't add. There was no side-dressing, no fertigating, no pest control, no fussing.
That's what Permaculture promises. Work with nature, it says. Employ a few techniques that mimic nature, and you'll get better results with less work. My experiment of just one small patch of land, grown for only one season and using only one of the more common Permie techniques suggests to me that the Permie Promise is real.
The first time I read Gaia's Garden, that inspirational classic of urban Permaculture garden design, I got mad. I mean really, truly angry. "If you are right about this," I said to the book (because I often talk to inanimate objects), "then I've just spent the last 8 years of my gardening life doing everything completely wrong! I've worked way harder than I've had to!"
I fear that reaction, while overblown, was accurate.
I'm don't consider myself a Permaculture gardener because I don't consider myself any particular kind of gardener: not Square Foot, not Biodynamic, not French Intensive. I do what works for me, pulling from any source I can to get to a better result. When something shows potential in my own garden, I keep at it.
Looks like I'll be keeping at Permaculture. Maybe one day I'll even have avocados to show for it.
Do you employ permaculture techniques in your garden? Do you consider yourself a follower of any particular gardening "system"? What has worked and what hasn't for you?
47