Ready for the big No Spend Month disappointment? I totally succumbed to temptation at the thrift store this week.
See, there was this mint condition, vintage, all-wood game of Labyrinth.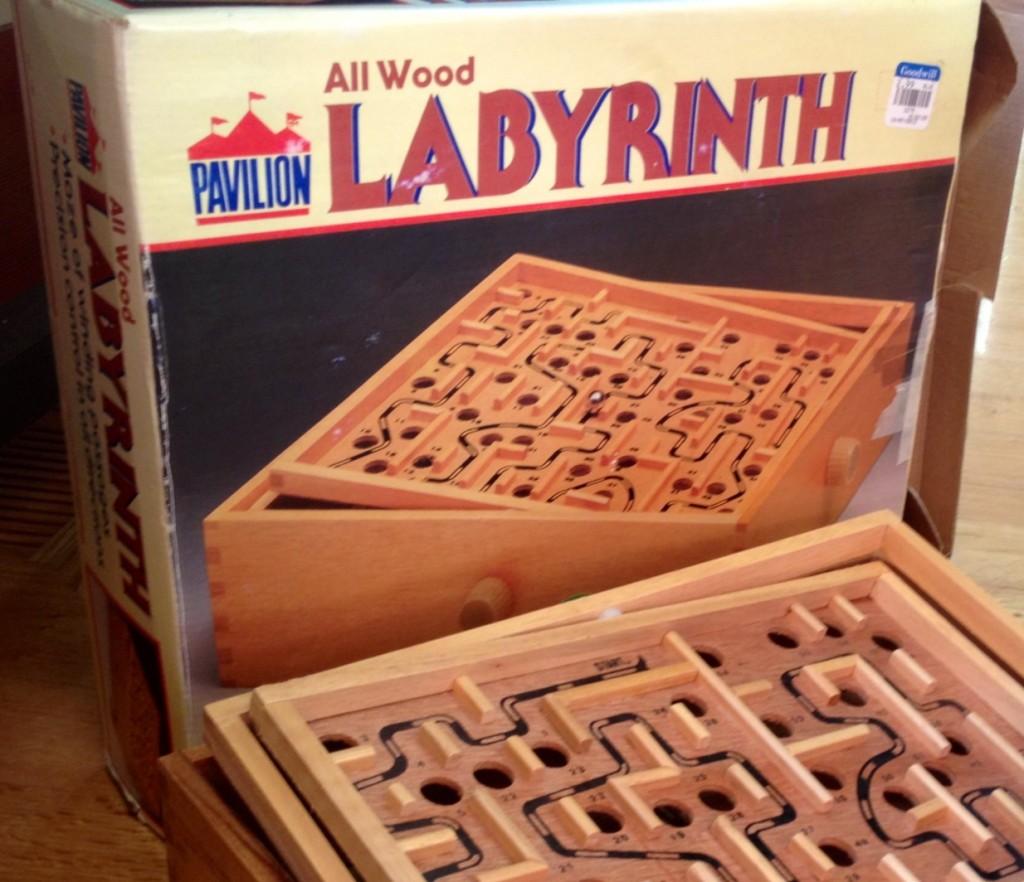 Remember trying for hours to get that little metal ball past the fourth hole in the board? Or was I the only one dorky enough to think this 3D maze challenge was awesome? This was even before Myst and Riven, remember – back before games were Apps.  I have very fond elementary school memories of Labyrinth.
Anyway, my nostalgia button was pushed and I couldn't say no to the $2.99 price tag. My daughter was immediately hooked and played Labyrinth for 2 hours straight. Three bucks? Honestly – totally worth it.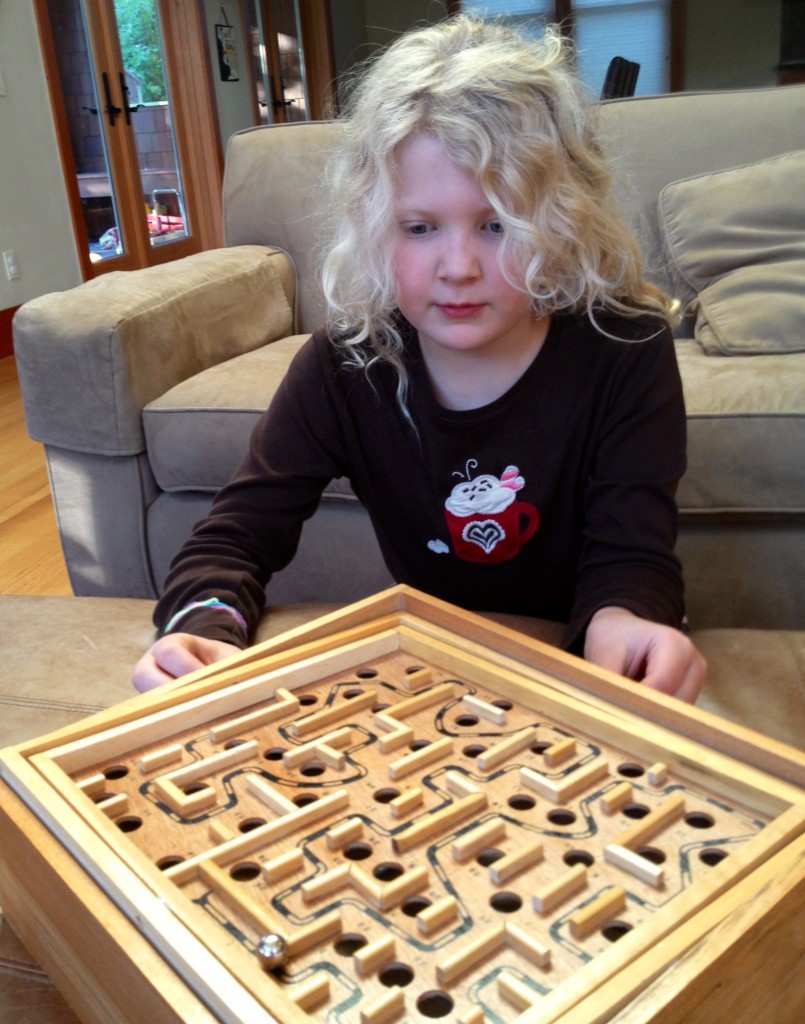 I also bought a mini Etch-a-sketch for $1.25 because, and let me be totally frank here, I was distracting my very cranky son from the $6 fuzzy lion hat he fell in love with and the Rolos at the check-out line. (Must they do that?)
Which brings me to my Lesson of the Week. During No Spend Month, do not go to stores to browse. It's like "browsing" at the French pastry place with the amazing eclairs two-weeks into your new diet.  Unneeded temptaion.
Personally, I don't think I'll have any problem staying away from stores for the next several weeks. First, I still cannot drive, so I'm limited to places within walking distance unless someone else takes me. Second, the thrift store (my first outing other than to the Opthamologist's office in the nearly four weeks since my eye surgery) was mild torture.
There was too much motion, too many people, too many obstacles to navigate without effective depth perception. I felt like I was being attacked by discount jeans and Halloween wigs at every turn and was happy to skulk my eye-patched self back to the house. I tried to be brave and venture out but it really wasn't worth it.
Except for Labyrinth.
Week Two Spending
Chicken Food – $17.51
Gas – $50.72
Groceries (Cheese & Milk) – $19.05
Board Game and Etch-a-Sketch at Thrift Store – $4.62
______________________________________
Week 2 Total – $91.90
Prior Week – $35.00
Monthly Total – $126.90
So, here we are about 40% of the way through the month and we've spend 50% of our alloted money.
I'm not too worried. This No Spend Month has been the easiest one yet. There is a good chance Homebrew Husband won't need to refill his car again this month, and the chickens certainly won't need more feed. With me house-bound and "grocery shopping" from a pretty stocked pantry there's no temptation to drive or go out or tackle on any big projects so it's very easy for me to be frugal at the moment.
How has Week Two gone for you? Are you feeling solid about your savings or worried? Has it been difficult to forgo your usual spending, or do you feel liberated by this challenge?
0