Other dishes are quintessential on the Thanksgiving table, sure: turkey, stuffing, mashed potatoes. I consider Brussels sprouts essential, and some kind of cranberry preserve that has never seen a can must grace the table, too.
But pie – oh boy, that's where the buck stops, isn't it? Pumpkin pie is a classic, but apple and pecan have their ardent fans. To me, it's all good – any good pie is good pie. And so the ideal filling for a Thanksgiving pie isn't a hill I'm willing to die on, but I will shout loudly from the mountaintop about crust.
Cook's Illustrated published a recipe for pie crust some years back that made the entire food-nerd world giggle with molecular excitement. They had discovered, you see, that replacing some of the water in a traditional pie crust with vodka led to pie crust perfection.
Pie makers have a love-hate relationship with water. Some H20 is necessary, of course, to keep the dough together. But flour + water = gluten, and gluten makes pastry tough. Tough pie crust is not good pie crust. Vodka in place of some of the water allows the necessary binding, but doesn't activate gluten. Result: perfect flakey-yet-tender pie crust.
Cook's Illustrated explains the science in their excellent food-nerd cookbook, The Science of Good Cooking, which contains this method for pie-crust perfection: "Gluten forms readily in water…. But gluten won't form in alcohol. The ethyl alcohol in vodka and other liquors does not attach itself in the same way as water. Because of this, it does not hydrate the proteins, and therefore does not aid in gluten formation."
Vodka is the spirit of choice because it's neutral – in the oven the alcohol just evaporates away leaving, well, nothing. Cook's Illustrated says that even more aggressive spirits do not add a particularly distinct flavor after baking. Still, unless I wanted to bring another flavor to the pie party, I would stick to vodka. And although I haven't tried it, I think a bourbon crust for pumpkin pie would certainly not suck. If you do substitute another tipple, keep it 80 proof (40% alcohol by volume) so as to not throw off the alcohol-to-water ratio of your pie crust.
Although the vodka does add a substantial measure of insurance to this crust, all the standard pie-crust making rules still apply: keep everything as cold as possible, bring the crust together in a food processor, and let the dough rest (chilled, natch) before attempting to roll it out.
If you are in charge of pie this Thanksgiving, try this crust. I think you'll like how it performs.
Drunken Pie Crust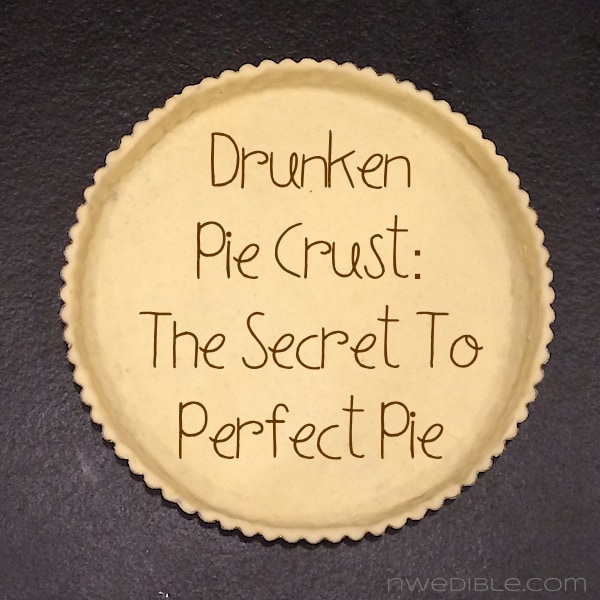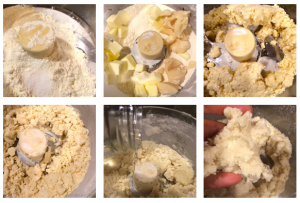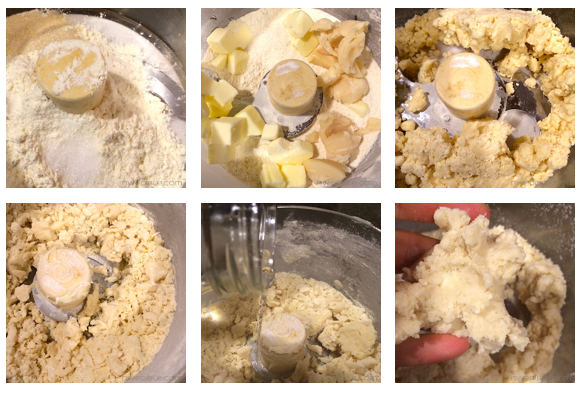 Print
Drunken Pie Crust
Makes 1, 9-inch single pie shell. Recipe can be doubled for a double-crust pie. Recipe adapted from the Foolproof Pie Crust originally published by Cook's Illustrated.
Ingredients
1 ¼ cup all-purpose flour, divided, plus more for rolling out crust
1 tablespoon sugar
½ teaspoon salt
6 tablespoons unsalted butter, cut into medium dice and chilled
4 tablespoons lard, cut into medium dice and chilled (vegetable shortening may be substituted)
2 tablespoons vodka, chilled
2 tablespoons ice water
Instructions
In the bowl of a food processor fitted with the metal blade, pulse together ¾ cup of the flour, all of the sugar and all of the salt until combined, about five seconds.
Add butter and lard to the food processor and process until the fat is incorporated and the mixture is fairly smooth, about 15 seconds.
Scrape bowl and add remaining ½ cup flour to the food processor. Pulse 4-6 times, just until mixture is crumbly.
Add vodka and ice water to the food processor. Pulse 3 to 5 times, until liquids are just incorporated.
Flip dough from food processor bowl onto a sheet of plastic wrap. Pat dough into a smooth disk and wrap well.
Transfer dough to refrigerator and chill for at least one hour and up to two days. Dough can also be frozen at this point for up to one month.
To roll dough, remove from refrigerator and let sit until softened slightly, about ten minutes.
Roll dough into a 12" inch circle on a floured surface. I prefer to roll pie crusts on a silicon baking sheet or parchment paper because this slightly lessons the additional flour needed. However, this dough is soft, and you should expect to use about ¼ cup additional flour to keep it from sticking while you roll.
Use pie crust in any standard pie recipe. Blind bake or fill as pie recipe instructs.
Step-by-Step Visual Guide To Perfect Pie Crust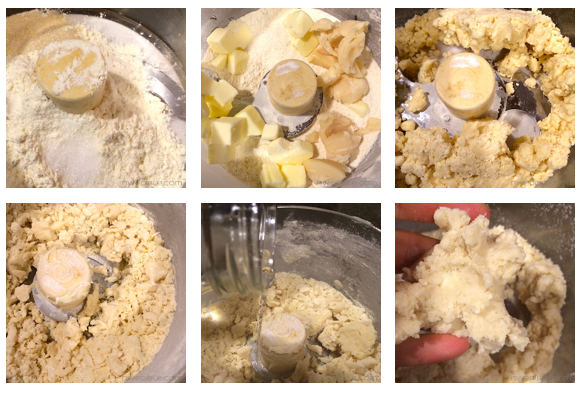 Dry ingredients (only 3/4 cup flour) get pulsed to blend in the food processor (top right) then the two fats – butter and lard – are added (top center). Substitute vegetable shortening or coconut oil if you must. Pulse until flour-fat mixture is fairly smooth (top -right), then add in the remaining flour (not shown) and pulse until mixture is crumbly (bottom left). Add vodka and ice water (bottom-center) and pulse just to combine (bottom-right).
Turn dough out onto a sheet of plastic wrap (top right), smooth into a disk  and wrap well (top center). After chilling (top-right), roll dough out on a floured surface – I prefer to roll onto a Sillpat or piece of parchment (bottom-left). To transfer dough to pie or tart pan, I like to fold dough in half (bottom-center), gently lift it into the pan and unfold (bottom-right).
That's it! Super easy to work with pie crust that gives great results on the plate. That's something to be thankful for!
What's your Thanksgiving pie choice? I'm not going to throw down or anything, but I am a classic pumpkin pie girl, myself.
Related Stuff…
(These are affiliate links. Purchases made through these links cost you nothing extra but allow me to nerd out about using vodka as a cooking ingredient more often. Full financial disclosure here. Thanks for your support, guys.)
Cuisinart Food Processors. I have two. I used them both today, for real.
Silicon Baking Mats. Naked sheetpans get super bashful. Cover them up with silicone baking mats, the reusable version of parchment.
Silicon Rolling Pin. One Christmas about five years ago I worked a seasonal shift at Williams-Sonoma and funneled my entire paycheck back into quite a few cool kitchen gadgets at the employee discount rate. Hands down the best thing I bought was a silicon rolling pin. I love mine. It makes cookies, pie crust and more so much easier.
Cook's Illustrated Library. I have four of the Cook's Illustrated Cookbooks and they are all really that good. I find the entire Cook's Illustrated schtick kinda annoying, but their recipes are always totally solid and trustworthy and I love learning the science behind why their recipes work.
18