Oh,  poor maligned Mr. Brussels Sprout. Seems like he gets pulled out every year as a Thanksgiving side and then is forgotten the rest of the year. Can't you just imagine him in a group therapy session for one-day-only vegetables?
Brussels would take the floor: "Hey guys. Yeah, well, it's gotten a little bit better now that everyone is obsessed with bacon. I mean, sometimes people cook me with bacon so that's nice…to feel wanted and greasy, you know what I mean? But mostly they only remember me on Thanksgiving, and they boil me and everyone likes Green Bean more anyway. Frickin' Green Bean – she's everywhere. All year round! But did you know she's not even from here? Yeah, she hikes up from Argentina to come to Thanksgiving. It's just so unfair, ya know?"
And then he hangs his little sprout head in his hands and rubs his temples, and Jack-o-Lantern Pumpkin pats him on the back and says, "I feel ya, bro, I really do. I only get one day too, man: Halloween. Sure, there's this moment of glory when they stick a candle down my throat and I just feel that…that, glow. It's incredible, like I'm really part of something. But as soon as the day is over, the kids smash my head in with a bat and forget about me. Sucks, man. Yeah, it really sucks."
Soggy Sprouts
One of my Thanksgiving tasks as a kid was to cut little X's in the bottom of each sprout. I remember my mom explaining to me that the core was more dense than the leaves so the X in the bottom helped it cook through more evenly.
The sprouts were steamed in the microwave until they resembled very small, necrotic brains. (Sorry, mom.) That was our annual dose of Brussels sprouts: soggy, yellow-green balls alongside the temptations of sausage dressing and mashed potatoes and cranberry jello salad and sweet potatoes topped with mini marshmallows or – once we became sophisticated eaters – brown sugar and pecans. Guess which side-dish wasn't so popular?
Yup, poor Mr. Sprout.
I love Brussels sprouts these days, and this simple skillet preparation is a standard at our house throughout Fall and Winter. The trick is to not skimp on the olive oil or the salt. These should have that potato-chip-snack-able quality to them. The cumin adds a touch of warmth that I really like.
These don't take up any room in the oven, so they are excellent for Thanksgiving, but please don't relegate Mr. Sprout to just that one day. Show him some season-wide love. The poor guy needs it.

Easy Skillet Roasted Brussels Sprouts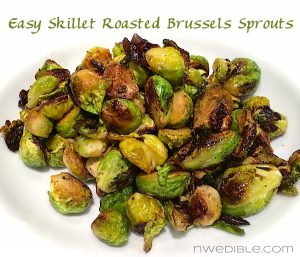 Print
Easy Skillet Roasted Brussels Sprouts
Yield 6 -8
A hot cast iron skillet, a little cumin and lots of salt and olive oil turns Brussels sprouts into something deliciously snack-worthy.
Ingredients
2 pounds Brussels sprouts
1/4 cup good olive oil, divided
1 teaspoon kosher salt, or more to taste
1 teaspoon ground cumin
1/2 teaspoon freshly ground black pepper, or to taste.
Instructions
Rinse and trim Brussels sprouts. Cut off the bottom end and halve sprouts.
Toss Brussels sprouts in a bowl with half (2 tablespoons) of the olive oil, salt, cumin and pepper.
Heat a large cast iron skillet or pan over medium heat. Add the remaining 2 tablespoons olive oil to the pan. When it shimmers, add Brussels sprouts to skillet and spread sprouts out in a single layer.
Allow sprouts to cook without stirring or shaking the pan for 3 to 5 minutes, until a nice caramelized sear has developed on the sprouts.
Toss the sprouts, trying to turn most of them brown-side up in the pan, and finish cooking on the other side, about another 8 to 10 minutes. Adjust heat as necessary and stir occasionally so sprouts cook without burning.
When done, the sprouts should be tender all the way through but not mushy, and richly brown in places. Add additional salt as desired and serve right away.
Courses Side Dish
Step-by-Step Visual Guide
Cut the sprouts into bite-size, uniform pieces. The littlest sprouts can stay whole, but halve most of them – the flat cut side of the sprout browns better and so the more flat surface area, the better. Be generous with the olive oil and add the salt, cumin and pepper.
You'll need a large cast iron skillet because the sprouts should be in a single layer in the pan. If necessary, divide recipe into two pans to avoid crowding. Nothing browns well in non-stick, so (for that reason at a minimum) please avoid it. Let the sprouts cook without stirring until they start to brown. Then stir or shake the pan to flip most of the sprouts over so their brown sides are up. Don't worry about every little sprout, though. Continue cooking and give occasional stirs to keep sprouts from burning. When the sprouts are tender, hit them with some more salt to taste and serve hot.
Are Brussels sprouts relegated to Thanksgiving only at your house, or do you love them any time like me?
Related Stuff…
(These are affiliate links. Purchases made through these links cost you nothing extra but allow me to anthropomorphize brassicas more often. Full financial disclosure here. Thanks for your support, you skillet-wielding lovlies.)
Cast Iron Skillets. There is no getting around this. Cast iron is the best cookware in the world for people who actually cook. If I did not already own roughly 274 items of cast iron* I would be very tempted by this screaming deal from Lodge: a five piece set of pre-seasoned cast iron (two skillets, a dutch oven with lid and a griddle) for $65. For the cast-iron lover on your shopping list who has everything, I received this 17-inch (huge!) skillet as a Christmas gift last year from Homebrew Husband and I love it like it's my baby.
*slight exaggeration
22