You know what's blacker than Black Friday? Beautiful, glistening, well seasoned cast iron cookware.
Oh, yeah, baby. Screw waiting in line for some discount plastic crap or overpumped electronica that'll be in a landfill in 6 months anyway. If you must shop, shop for something hewn from the living, molten rock of Earth. Something hefty enough to stop a bullet. Something that holds heat so well a steak will tremble and bow down before it. Something you can pass down to your grandbabies. Something strong and heavy and black enough to rival Black Friday itself.
Shop for cast iron. Something like this Lodge Five Piece Cast Iron Cookware Set. Or better yet, don't shop at all. Enter to win this set without even having to even put on your pants. Hey, I have a three-year-old. I am well aware of how overblown pants are as a "thing" in our society.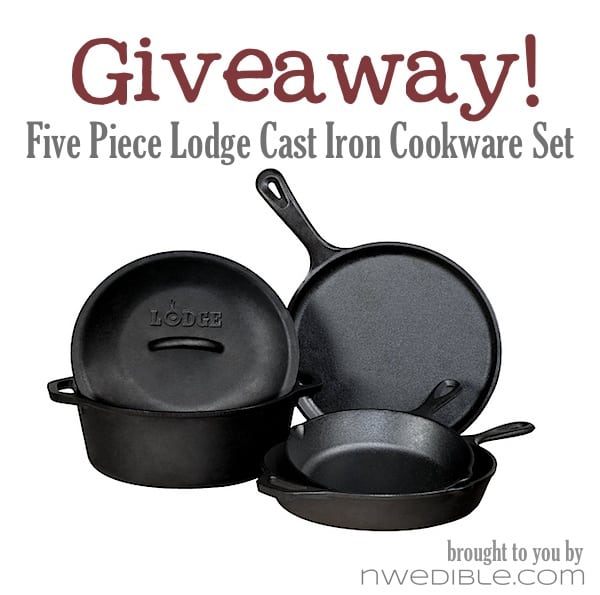 Thankful, Joyful, Turkeyful, etc.
You may remember this set from the recent post on Skillet Brussels Sprouts. I couldn't get it out of my head, but I couldn't justify buying it for myself, given that I really do have quite enough cast iron, thank you very much.
Solution: Giveaway!
You see, as I type this post it's Thanksgiving evening and I've had a few glasses of my husband's excellent homebrew, so I'm feeling all "I love you, man!" towards my readers (except for the douche-waffles, but we are ignoring them). It is a screaming blessing to be the girl behind the keyboard of this blog, to be able to connect with, and inspire, and be inspired by other gardeners and productive homemakers. It is an honor to learn from you and to share what I've learned, and to help connect questions to answers.
So, this Thanksgiving I thought I'd give thanks for my readers by giving cast iron, which is – as we all know – the heaviest way to give thanks.
Enter To Win
Update: This contest is now over. Congratulations to winner Benita, who is "thankful that my 28 yr old niece was able to come home for Thanksgiving. She recently finished up radiation from her 3rd major diagnose of cancer since she was 23."
To win this five piece set of Lodge cast iron, simply leave a comment on this post telling me what you are thankful for this holiday season.
This set includes a 10-inch griddle (excellent for pancakes, crepes, etc.), an 8-inch and 10-inch skillet (excellent for, well, everything) and a 5-Quart Dutch oven with lid (necessary for No Knead Bread). It's a pretty awesome starter set of cast iron. There is very, very little you couldn't cook on these pieces, and I say this as someone who cooks on cast iron about three times a day.
And look, I know I don't have to convince you guys – you already know this – but nonstick is bullshit, ok? It's not good for you or the people you feed (kids? grandma?). It turns out inferior food, and it scratches if you glare at it strongly enough. And according to the Environmental Working Group, "Toxic fumes from the Teflon chemical released from pots and pans at high temperatures may kill pet birds and cause people to develop flu-like symptoms (called "Teflon Flu" or, as scientists describe it, "Polymer fume fever")."
Cast iron when well seasoned is also pretty dang nonstick but it doesn't give you flu-like symptons. It just slightly boosts the iron content of your food which is, unless you are very atypical and drink liver smoothies for breakfast, a very good thing. It also goes from stove to oven to table without missing a beat and will help you cook like you really mean it.
So leave a comment and enter to win. I want to buy someone these cast iron pans.
Fine Print Stuff
This giveaway is for the cookware set described here. Contest entirely self-sponsored by Northwest Edible Life (that's me!). Contest open until Thursday, December 5th 8 PM PST. Winner will be contacted by email. Contest open to residents of the US only, due to shipping costs. Sorry international readers. I still love you, but cast iron is really, really heavy. Fulfillment of prize via Amazon.com. One entry per person. Multiple entries will be disqualified. Void where prohibited by law, blah blah blah. Best of luck everyone!
Happy Thanksgiving, all y'all. Thanks for being the best readers a blogger could hope for.
1