The dish came about as so many do. I was searching for inspiration in the fridge and found only cold, leftover cooked pasta and a head of green cabbage.
Cabbage and noodles can seem ho-hum, but more than one civilization has applied culinary alchemy to them and made greatness happen. I won't claim this dish has some profound international pedigree, but it came together fast, it was cheap and filling and everyone – even the kids – agreed it was delicious.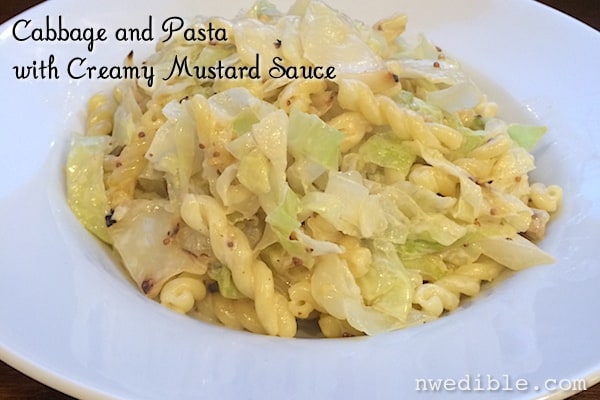 Cabbage and Pasta Step-by-Step
Rough shred cabbage and cook it in a large skillet. Let the cabbage brown in places – this makes it much sweeter.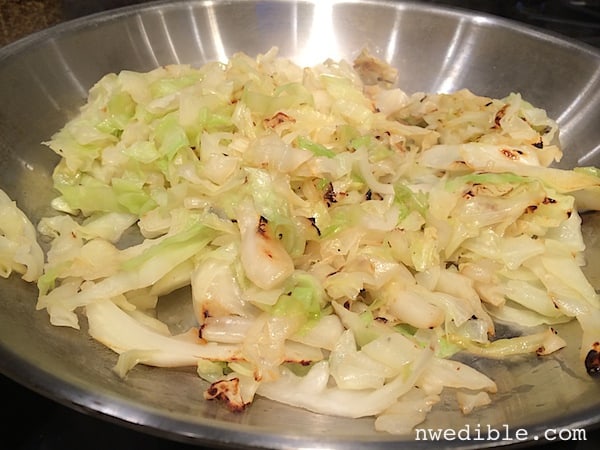 Add in the cooked pasta, a dollop of whole grain mustard, a healthy drizzle of cream and some water.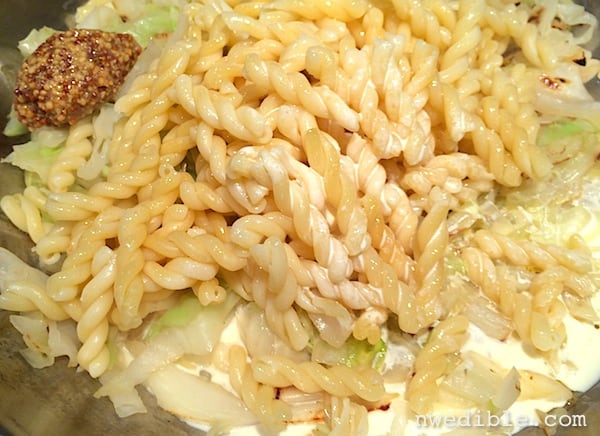 Cook everything together until the sauce thickens and nicely coats the pasta and cabbage. Season and eat! So easy, but really delicious.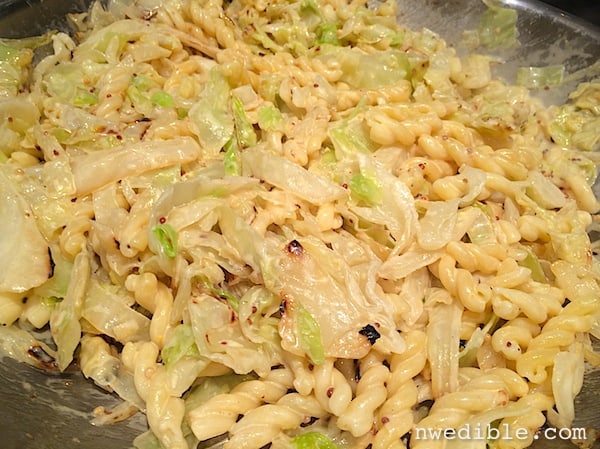 Printable Recipe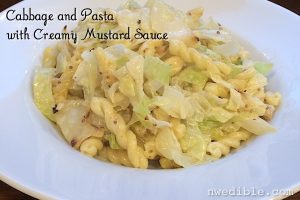 Print
Cabbage and Pasta with Mustard Cream Sauce
Yield 4
This is a great recipe to use up leftover cooked pasta.
Ingredients
4 cups cooked pasta
2 tablespoons unsalted butter
2 garlic cloves, minced
1 medium head green cabbage, shredded
2 tablespoons mild whole grain mustard
1/4 cup heavy cream
1/4 cup water
Kosher salt and freshly ground pepper
Instructions
If necessary, cook pasta and set aside.
Melt butter in a large skillet set over medium heat. Add garlic and cook until fragrant. Add cabbage and cook, stirring occasionally, until cabbage is browned in places and just tender.
Add cooked pasta, mustard, cream and water to the skillet and to incorporate mustard.
Cook, stirring frequently, until pasta is hot through and tender and sauce has reduced to coat the pasta and cabbage.
Season to taste with salt and pepper. Serve right away.
What's your favorite easy meal from leftovers and pantry staples?
7