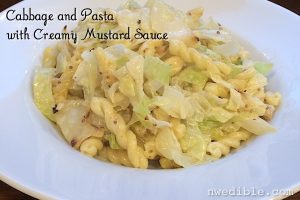 Cabbage and Pasta with Mustard Cream Sauce
Yield 4
This is a great recipe to use up leftover cooked pasta.
Ingredients
4 cups cooked pasta
2 tablespoons unsalted butter
2 garlic cloves, minced
1 medium head green cabbage, shredded
2 tablespoons mild whole grain mustard
1/4 cup heavy cream
1/4 cup water
Kosher salt and freshly ground pepper
Instructions
If necessary, cook pasta and set aside.
Melt butter in a large skillet set over medium heat. Add garlic and cook until fragrant. Add cabbage and cook, stirring occasionally, until cabbage is browned in places and just tender.
Add cooked pasta, mustard, cream and water to the skillet and to incorporate mustard.
Cook, stirring frequently, until pasta is hot through and tender and sauce has reduced to coat the pasta and cabbage.
Season to taste with salt and pepper. Serve right away.
Recipe by Northwest Edible Life at https://nwedible.com/cabbage-and-pasta/