I'm not here to shit on anyone's Target habit, but I imagine most of my readers agree with me that lowing our overall consumption is a good idea.
Consuming less lowers our environmental impact. Less consumption usually means less spending, and most folks like having more money or less debt. At a personal level, many people just find it really satisfying to buy less and do more for themselves, with their own hands. Gardening, sewing, home repair, baking your own bread, hanging your own laundry: all consumption-busting acts that have been described to me as meditative or calming or grounding.
But how do you actually reduce your consumption? Telling the average American hooked on the treadmill of CPCFC (that's Cheap Plastic Crap From China, by the way) to lower their stuff consumption is kinda like telling an alcoholic to reduce their drinking. Easier said than implemented.
I was thinking about this as I was, irony of ironies, unloading my car after a shopping trip at Costco. I was looking at the organic sugar and the organic butter and the organic bananas and the organic lemons ("What! Costco has organic lemons now?!") in the box I carried in to the house.
I was thinking how even though it still really does feel like we still consume an awful lot in this family, we've come so far from where we were a decade ago. Our spending has really changed.
A few examples.
Our first child was in disposable diapers. Our second child, six years later, was in American-made cloth diapers.
Over the past two years we've converted nearly every light in our home to LED. We still buy lightbulbs – we're not so far into this homesteader thing that we illuminate our evenings with homemade candles made from the tallow of a cow we raised – but we we buy different lightbulbs.
I used to buy both "regular" and "good" paper napkins (the good ones had seashells embossed on them) and toss them about casually at dinner or lunch, or if something spilled and the paper towels (!) weren't as close at hand. Now the only paper consumable we buy (other than, well, paper) is toilet paper. We aren't family cloth people…yet.
Just as waste reduction has a catchy phrase marketing for a hierarchy of techniques – Reduce, Reuse, Recycle – so to should Consumption Reduction.
I propose: Re-think, Reduce, Re-sourse.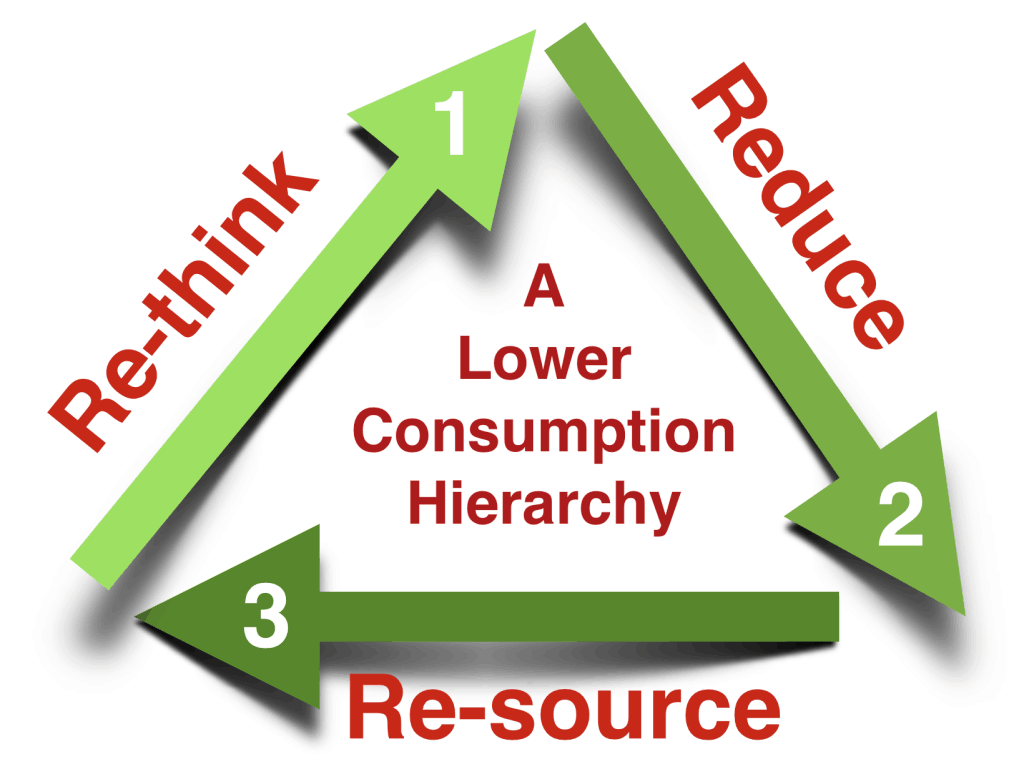 Re-Think
I am a proponent of what I call "values based spending." If you think about it – and I mean really think about it – and you decide you value it, and if you can afford it, then I have absolutely no problem with folks spending money per se.
But most people are pretty well trained by a very effective, well-funded, sophisticated marketing industry to not think about what they are buying. Or, at least to only think about what the marketeers want them to think about.
"Buying this nutrition bar will make me thin and desirable. (I.e., will get me laid.)"
"Buying this fancy watch will make people think I am sophisticated.  (I.e., will get me laid.)"
"Buying this beer will make bikini-clad women show up at my pool party. Boobs!  (I.e, will get me laid.)"
And so the first step is to re-think our consumption and re-occupy our own brains from the ad industry.
Asking the question, "Why do I really want this?" is a pretty effective technique for getting to the real motivation behind our purchases. I'm not perfect by a long stretch, but slowly, slowly my practical spending is more often aligned with my true values.
Reduce
Reduce, aka "Just Buy Less Shit." In my experience, the act of consistently asking "Why do I really want this?" often leads to the conclusion, "Actually, I really don't." When you de-couple your consumption from a societal expectation of how you should consume, just buying less shit is far, far easier.
Reducing what you consume often means doing more for yourself. The time and energy you aren't using to buy and consume has to get replaced somehow, even if it's just with more time to relax.
I'm far more interested in pursuing an active hobby like gardening than spending my time keeping up with the latest fashions at the mall, but that's me. Those are my values, and that's also why I only buy clothes about every five years. But because I'm biased, I suspect a lot of people would find garden-time more fulfilling than mall-time, if only they had a good long re-think about it.
We can reduce in other ways too. I live in a very walkable place for a reason: I really like walking, and I go on foot nearly everywhere I can. This reduces fuel consumption, and since I drive a decidedly high-consumption vehicle (good for hauling straw, rock, compost and chicken feed but less good for saving gas) every little footstep is important.
And so it is with reducing: every little footstep is important.
Re-source
There are consumption items that are going to make it through the first two hurdles of re-thinking and reducing. Things like food, toothpaste, clothing, heat, light.
And this is where I think the idea of re-sourcing is so important. I used to chuck a 4-pack of Colgate Whatever into the Costco cart when we were low on toothpaste. Now, baking soda does the job for me and Homebrew Husband and I buy the happy hippie Tom's of Maine stuff at the Co-op for the kids. I still buy baking soda. I still consume something to clean my teeth. But I have found a different, more sustainable source for my dental care needs.
I think about this a lot with the chickens and the eggs they give us. I definitely don't "make" money in any objective way on those eggs, but I've re-sourced the allocation of my funds. I used to spend several hundred dollars a year buying compost – sometimes bulk but often in plastic bags. I also bought eggs. Now, I don't buy eggs or (much) compost, but I do buy organic chicken feed from a local company and straw from a local feed store.
I've re-sourced that spending so that it's more in line with my values.
More personal thoughts on re-sourcing.
I still shop at Costco, but I buy less and very different things than I did a decade ago.
I'm out of honey, so tomorrow I'll walk across the street to my neighbor who keeps bees and see if he's got any honey in storage I can buy.
When we buy gifts for friends or family, or go out to eat, we typically spend those dollars in our small town, supporting our beloved downtown core. God willing, Toys-R-Us will never get another dollar of my money, ever.
You see what I mean with this? I do still buy stuff. I'm still a consumer in the sense that I still consume food and goods and services – we all do, to some degree or another. But the money I do spend is flowing in different directions than it used to.
Once you distill down to the point where you are going to consume and it's just a question of how, then it's about re-sourcing so your consumption reflects the values from your re-thinking.
Re-think, Reduce, Re-source. What do you think – does this capture the essence of a lower consumption lifestyle for you?
0