It's Meyer lemon season and I'm going nuts. (Meyer lemon curd, anyone?) Regular readers probably already know how much I love salt-cured lemons. They are an essential condiment around my house, worked into salad dressings, braises, rice pilaf, fresh salsa and more.
Last year, I ran out of salted Meyer lemons in July, with months and months to go before Meyer lemons would come around again. Arg! So this year I made a big batch and discovered a way to streamline the prep for this already very easy fermentation project.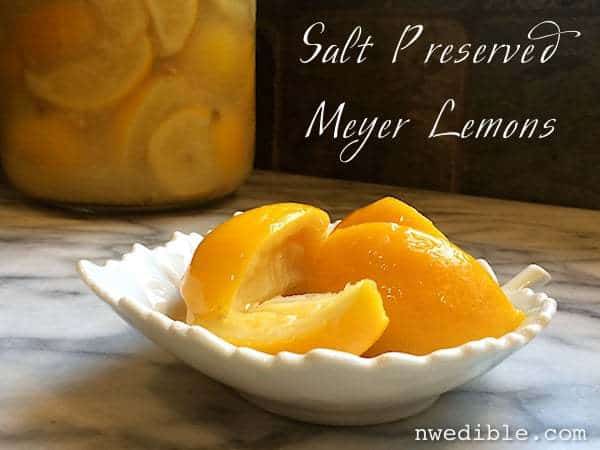 Salt Preserved Meyer Lemons Step-by-Step
You need two things for Salt Preserved Meyer Lemons – salt, and Meyer lemons. I know, it's one of those things like "Gin & Tonic" where the title basically is the recipe.
A Note about Lemons
Meyer lemons are still a specialty item, and can be tricky to get hold of. You can substitute regular (Lisbon or similar) lemons for this recipe if you prefer.
Please consider going to the extra effort of procuring organic lemons for this recipe. In the finished product, you eat the peel of the lemon. Conventionally grown lemons will likely have various pesticides, fungicides and waxes on the peel. If you must use non-organic lemons, please wash very well with soap (rinse well too) before using them for this preserve.
A Note About Salt
I use Diamond Crystal Kosher Salt, which is typically preferred by professional chefs because it is very easy to measure by feel. The crystals of Diamond Crystal are very fluffy, so a given volume of salt weighs less and contains less sodium as compared to Morton's Kosher Salt, table salt or fine sea salt. It seems weird, but a tablespoon of Diamond Crystal Kosher salt is just less salty than a tablespoon of fine sea salt.
This is important because I'm not providing exact measurement in this recipe, and when you look at the pictures you will see me using a fair amount of salt. Just keep in mind that if you are using sea salt or another brand of Kosher salt, you may want to use less salt than what I show here.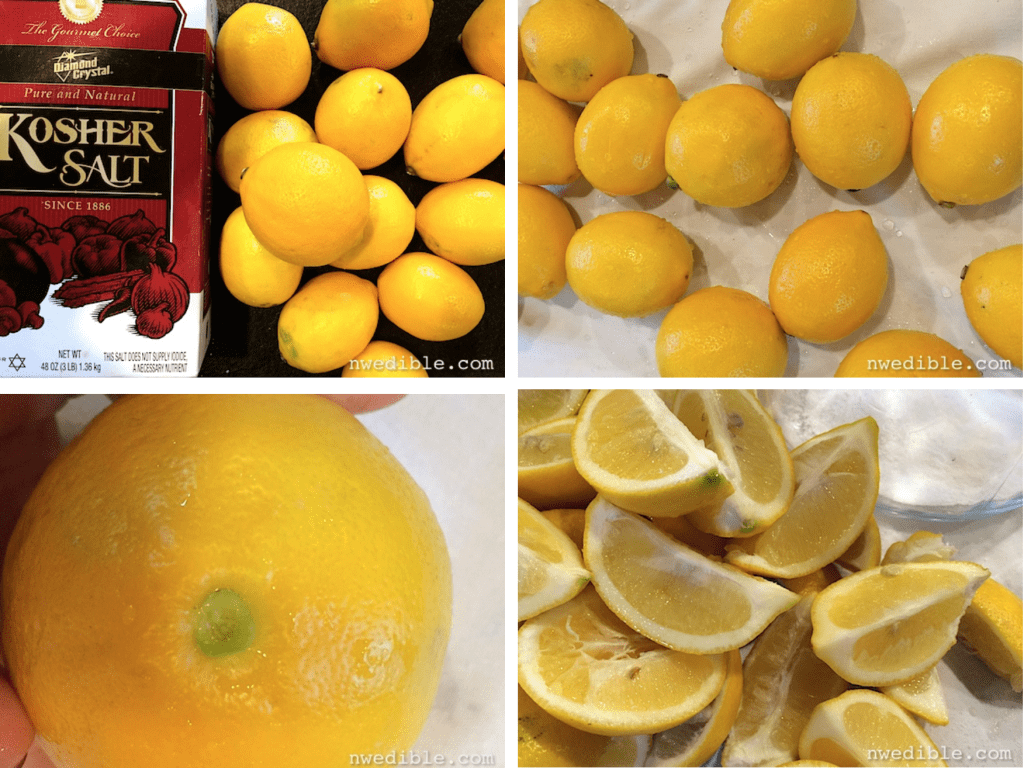 First things, first: get your lemons and your salt. Wash your lemons and dry well. Pick off any stem that's on the lemons.
Cutting The Lemons:
All salt-preserved lemon recipes direct you to cut your Meyer lemon open like a flower, quartering it but leaving the end attached, so that it opens up like a Bloomin' Onion. Then you stuff the inside of each lemon flower with salt and close the lemon back up. This is the most tedious and time consuming part of making salt cured lemons. Half the salt falls out while you try to wedge your lemon into a jar.
It occurred to me that I could make salt-preserved Meyer lemons far more simply by just quartering the lemons, tossing them with salt, and pressing them, much like I do to make sauerkraut. When I use salt-preserved lemons, after all, I tend to use them a wedge at a time, so there is no practical advantage for me to having a whole lemon in a jar.
But every recipe includes this step about cutting the lemon and stuffing it with salt in this particular fussy way. So I did some research. There is, so far as I could tell, absolutely no reason why the lemons are cut like a Bloomin' Onion except tradition. There is no food safety or quality reason. It's just how people do it.
Not even the otherwise fantastic America's Test Kitchen DIY Cookbook questioned this step, much to my disappointment. One recipe offered the explanation that keeping the lemons whole made them easier to put into mason jars. Well, that's just silly. Fitting smaller pieces of things into jars is easier than fitting big hunks of things.
So emboldened, I proceeded with my simplified, streamlined salt-cured Meyer lemon method.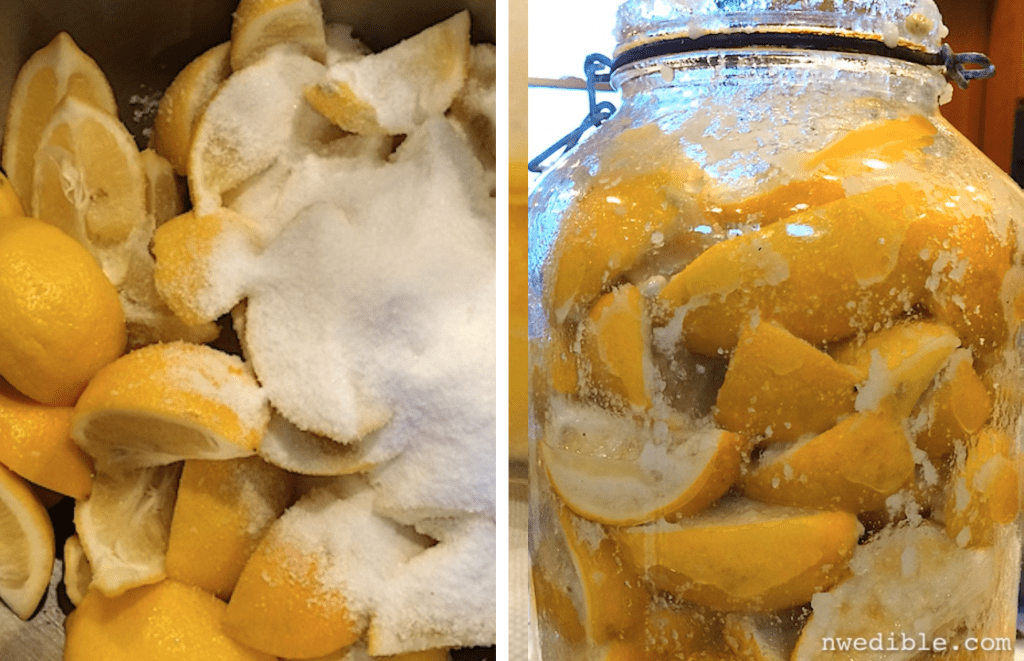 Cut three-quarters of your lemons into quarters, lengthwise. Sorry that sentence is so awkward, I can't figure anyway around it. In other words, if you are starting with eight lemons, cut six of them into quarters. Reserve the other lemons for juice.
Toss the lemon quarters with salt. I used about 2 tablespoons of Diamond Crystal Kosher Salt (see note on salt, above) for each Meyer lemon I quartered. You want enough salt so that the lemon quarters are all uniformly coated in salt.
Pack the salted lemon quarters into a spotlessly clean jar. Ideally, use a jar that will just hold the lemon wedges. Let the jar sit, covered, at room temperature for about an hour so that the salt can draw some of the juice from the lemons.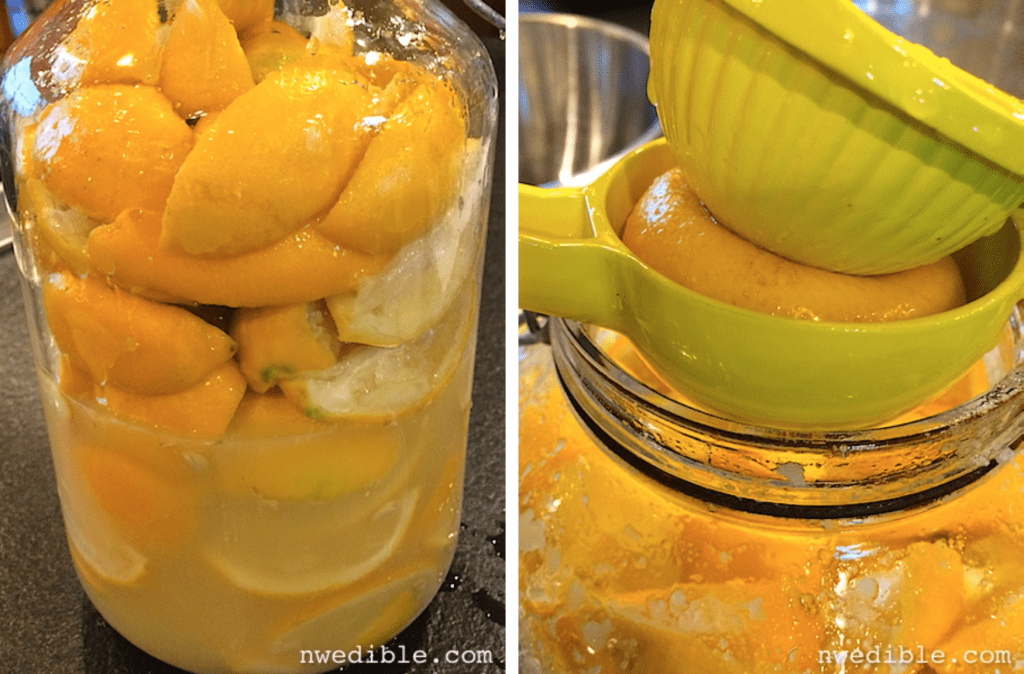 After some juice is released, pack the lemons into the jar by pressing. You can use a spoon or your very clean fist, if the jar opening is large enough. The jar should fill half-way or more with lemon juice.
Juice the lemons you reserved, and add the extra juice to the jar. This should bring the level of the juice near the top of the jar.
Seal the jar and let sit at cool room temperature for four to seven days, giving it a good shake every day. After four days, the lemon rind should begin to take on a glossy translucency. When the rind looks translucent all the way through, or after one week (whichever comes first) transfer the salt-cured Meyer lemons to the refrigerator. Let cure for another week in the fridge.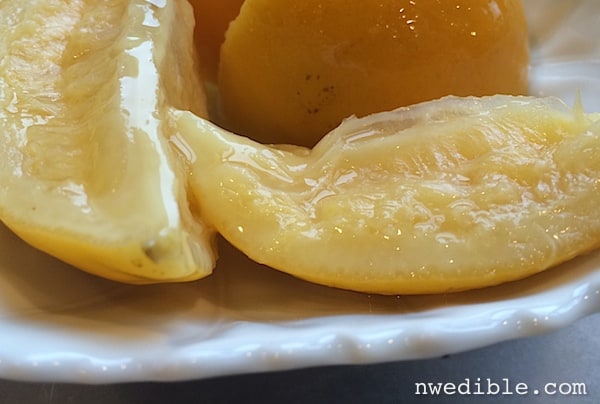 After a week in the fridge, the lemons can be used, but they will continue to mellow and the flavor will improve with longer aging. They will keep in the refrigerator for months and months.
To Use
The typical recommendation it to throw away the fruit – to only use the peel – and to rinse the peel well to remove the salt. I must just be a salted lemon rebel, because I use both the pulp and the peel, and I rarely rinse my salt-cured lemons. I prefer to adjust the salt elsewhere in a recipe. In fact, I love the salty lemony brine that comes along with these lemons so much, I add it to soups and salad dressings instead of using salt.
If you are looking for specific recipe ideas to use your salt preserved Meyer lemons, check out my recipe for Lamb Blade Chops with Apricot Halves and Salt Preserved Lemon.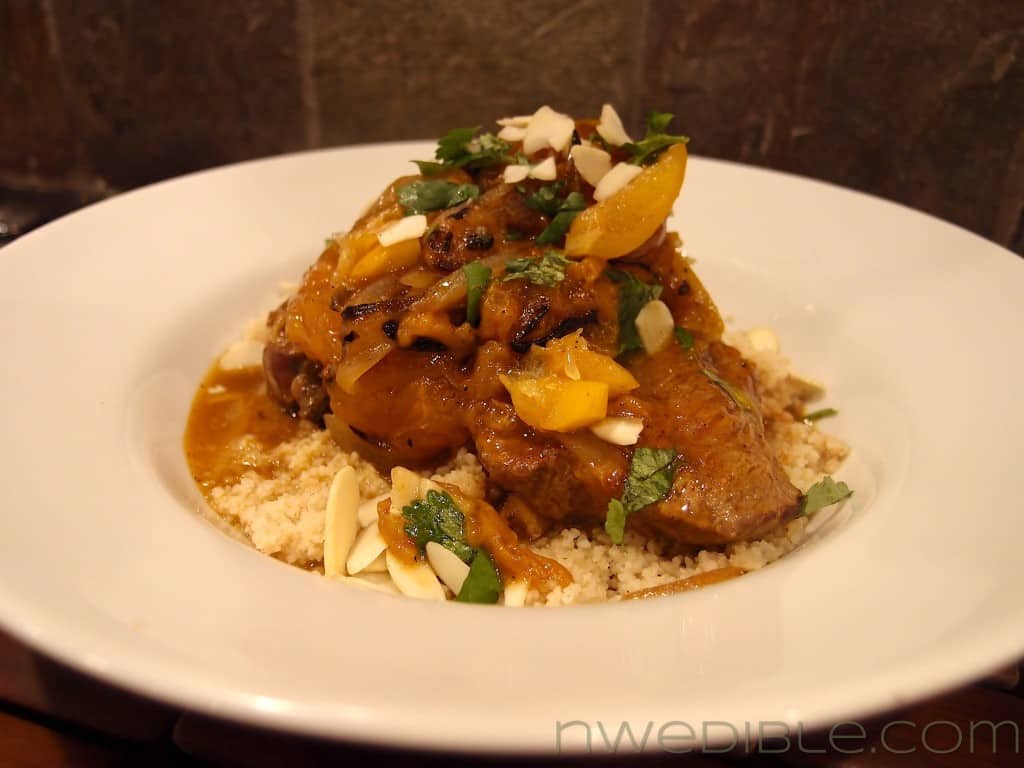 ---
Related Stuff…
(These are affiliate links. Purchases made through these links cost you nothing extra but may one day allow me to figure out how to successfully grow Meyer lemons in Seattle. Full financial disclosure here. Thank you for your support, guys!)
The best salt (but go buy it locally because, seriously, it should cost about $3 a box): Diamond Crystal Kosher Salt.
I love these big glass jars and use them for many of my ferments: Bormioli Rocco Fido Italian 4 Liter Glass Canning Jar.
This is one of my favorite cookbooks of all time: All About Braising: The Art of Uncomplicated Cooking. It's incredibly well written and well tested – every recipe just works. There's a recipe in this book called Moroccan Chicken with Green Olives & Preserved Lemons that is incredible, and inspired me make salt preserved lemons for the first time nearly ten years ago.
---
Do you love preserved lemons as much as I do? How do you use them?
20