Pantry full of jam? Yeah…me too. And while I like a good jam thumbprint shortbread cookie as much as the next person, there's only so much sweet I can take, you know? (Okay, that's is a lie, but at least 19 times out of 20 I do not actually scoop homemade jam into my mouth with a spoon. So there's that.)
When my jam making obsession threatens to outpace my jam consumption, I think beyond the PB&J and use my jams as a fast and easy way to make sauces for savory meals. Take something like a maple-dijon glaze for pork. Substitute apricot preserves for the maple component, and you get a similar sweet-tangy sauce with an additional fruity flavor. Easy peasy.
These venison chops got sauced with a red-wine fig reduction that took me about a minute to throw together, using homemade fig preserves from the pantry.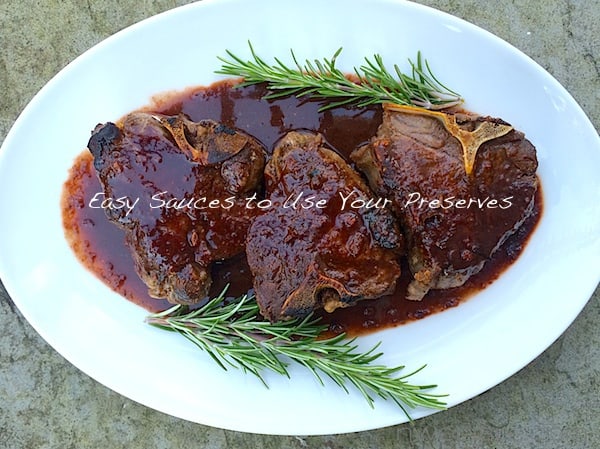 Typically, when I put together jam sauces I'll just throw ingredients together until the sauce tastes right, and I encourage you to do the same. So play around like a jam alchemist, but keep a few guidelines in mind:
The type of preserve you use – jam, jelly, compote, salsa, etc. – and the flavors in that preserve will of course influence your final sauce. So if, like me, you have a peach-lemon jam that turned out a bit more lemony and marmaladey than you planned, don't look at that as a jam failure, look at it as the base for a killer peach-lemon sauce for prawns or fish. Yum!
Your preserve will probably need some acid (wine, vinegar, citrus juice, etc.) to balance out the sweetness.
Add something liquid (wine, stock, juice, water, etc.) to thin the jam to the right consistency. Glazes should be thicker, something designed as a pan sauce should be thinner.
The white meats like chicken or pork tend to do very well with peach, apricot, plum, tropical fruit or citrus flavors flavors. Red and gamey meats like beef, duck, lamb or elk are great with fig, berry, cherry or tomato flavors.
Preserves can also be added to ground meats – I recently made a large batch of meatloaves for the freezer and added a few jars of apricot ketchup with the ground beef-pork-bacon base. It worked wonderfully.
If your jams have added pectin – typically mine don't – or set up fairly thick you will find it easier to mix the jam with other liquids if you melt the jam first. (Read More: How To Make Pectin-Free Jam.) I use a pyrex cup or the glass jam jar itself in the microwave.
These sauces are so easy to whip together, just make them as you need them. If you have some leftover, they will typically store in the fridge for a week or so. Use your good judgement.
Here's a few ideas to get you started.
Plum Stirfry Sauce
This sauce is a tangy, fruity addition to Asian-style stir-fries and makes a good potsticker or eggroll dip. If needed, thin with a bit of water or stock to get the right consistency for the dish you are making.
Playing around ideas:
Substitute apricot or peach jam for the plum.
Substitute toasted sesame oil for the dijon mustard
Add water and cornstarch or arrowroot to make a thinner sauce that will glaze a stir-fry when heated.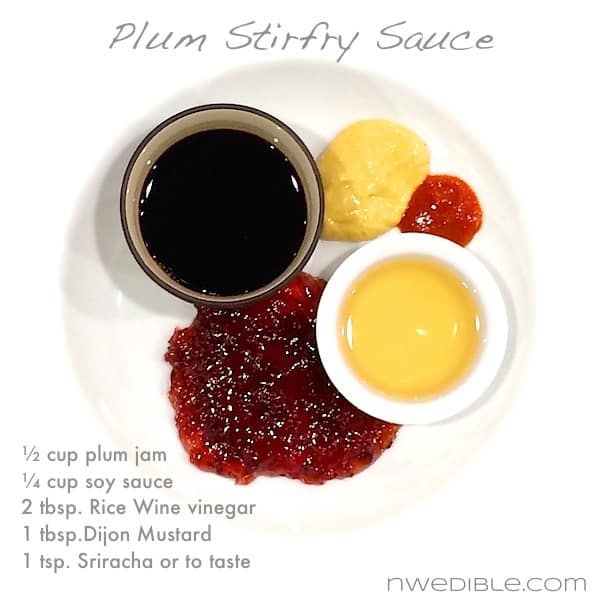 Apricot Mustard Sauce
This sauce is a good with pork, chicken or salmon. Try glazing with the sauce in the last few minutes of roasting, or use it as a pan-sauce if you are sautéing cutlets or chops.
Playing around ideas:
Substitute plum, peach, cherry or blackberry jam for the apricot.
Substitute red or white wine for the vermouth. Red wine is more appropriate with cherry or berry flavors.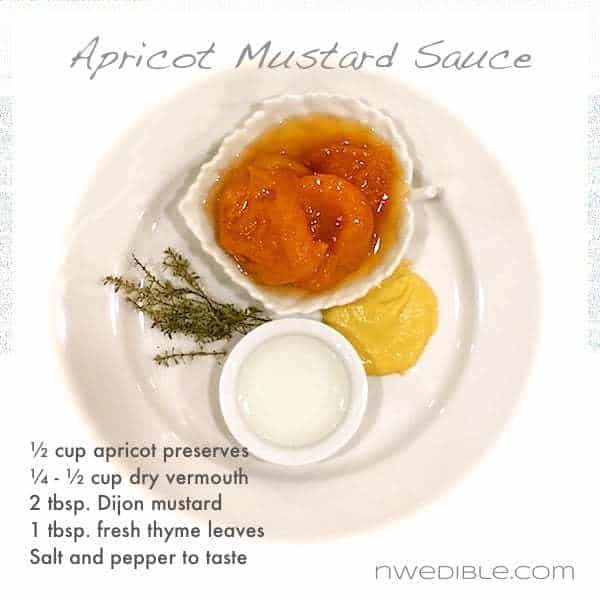 Red Wine & Fig Glaze
This is one of my go-to sauces for duck, elk, venison, beef or anything gamey. A little rich fruit, a little red wine, a little herbage and you've got something fantastic.
The photo at the top of this post is of venison chops covered in this fig-red wine sauce. After pan-searing the chops to medium-rare, I set them aside to rest and deglazed the pan with a bit of red wine. Then I added this sauce, heated everything until it thickened up nicely and poured it over the warm chops. Viola. Easy and yummy.
Playing around ideas:
Substitute blueberry, cherry or cranberry preserves for the fig.
Add or substitute additional herbs, such as sage, thyme or crushed juniper.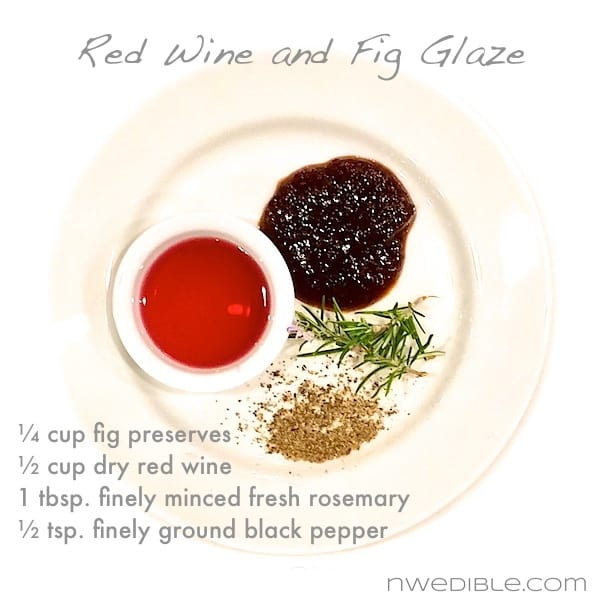 Coconut Curry Simmer Sauce
This simmer sauce is great with pork, chicken or white fish and firm vegetables like sweet potatoes, winter squash or onions. Sear meats, then add simmer sauce and cook at a gently simmer until meats are cooked through and tender. Saute vegetables until browned, then add sauce and simmer, covered, until vegetables are cooked.
While I love using fruit salsa for the big chunks of fruit and built in onion, spice and cilantro flavor it adds to the simmer sauce, a jam like mango-lime could be whisked together with the coconut milk and curry paste for a different – but still delicious – simmer sauce.
Playing around ideas:
Substitute mango or pineapple salsa for the peach.

Substitute red or green curry paste for the yellow. 

Use curry powder instead of paste (very different ingredients but will still taste good).

Add fresh grated ginger, garlic or shallot to your sauce. 

Add cilantro or Thai basil to your dish at the end.

Add fish sauce to the sauce instead of salt.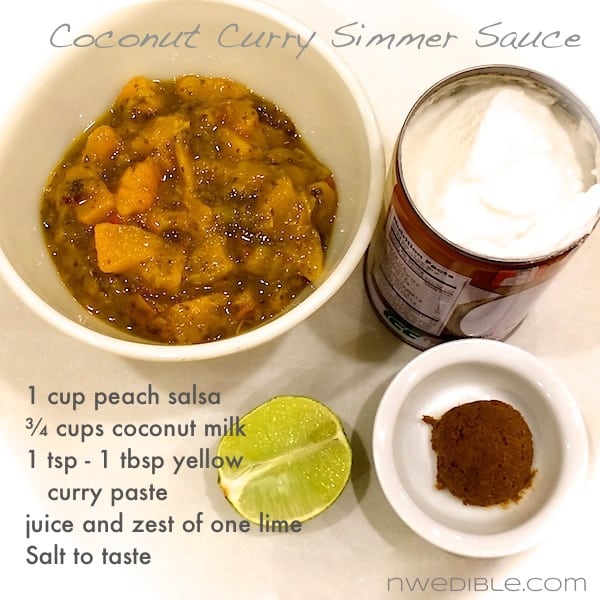 Do you use jams and other preserves in your savory cooking? What are your best tips and combinations?
3