Seems like some people insist on not knowing what they've got till it's gone.
And that's kinda how it is with bees, and pollinators in general. Most of what we think of as food is highly dependant on our pollinating insect friends.* All fruit, tree nuts, squash, seeds for most vegetables, chocolate… Oh, never mind, I don't have the space. Here's a giant list of crops that are pollinated by bees.
Like every important relationship, it makes sense to nurture our relationship to bees. So why, according to this USDA Report, are professional bee-keepers reporting that "total losses of managed honey bee colonies nationwide were 31.1 percent from all causes for the 2012/2013 winter."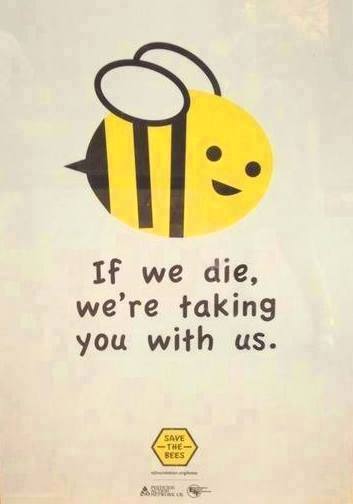 Nearly a third of managed hives – gone in one year. And that's pretty typical. Over the last six years, annual losses of hives has averaged 30.5 percent.
A joint report from the EPA and the USDA found that hives are collapsing because of parasites, lack of genetic diversity, poor nutrition, and poor communication between growers and bee-keepers.
Oh, and – almost as an afterthought, as the last bullet point in the synopsis – the report suggests that, "Additional Research is Needed to Determine Risks Presented by Pesticides."
Snark and Head-Smacking
Additional research is needed to determine risks presented by pesticides? Wait, there's a possibility that chemicals designed to kill insects are…killing insects?!
No shit? For real? Hold on, the shock of this is too much for me. Yeah, maybe we should do additional research to…you know, determine the risks. Eventually.
Sometimes my tendency towards angry sarcasm gets the better of me. But I don't think people who are concerned about the health of our insect pollinator partners should wait around for "someone" to make things better. "Someone" isn't sure and needs to do more research.
In the meantime, you and I can take action.
Basic Steps To Help Bees
We can not use insecticides in our own garden. Duh.
We can plant things and provide habitat for bees (there are many kinds – not just honeybees! – and other pollinators.
We can support local, small scale honey producers, particularly those that demonstrate sustainable management practices with their hives.
Small and backyard beekeepers can encourage genetic diversity in their hives by using naturally-reared queens who mate with feral drones instead of pre-mated, purchased queens.
We can question the growers of our fruits and other produce about the steps they take to ensure bees aren't contaminated with pesticides or fungicides from their crops. Remember that from the perspective of bees, the most important thing is what might be sprayed on the blossom.
I'll be honest: some of this might seem just symbolic, because all we can really do is make our space a happy island for happy bees. The great ocean of commercially managed bee hives is still out there, getting trucked around to monocrop pollination jobs, and our happy islands and $10 jars of local honey aren't going to change that any time soon.
But I think of it this way: the more I can do to provide refuge for strong native and feral pollinators, and for sustainably managed honeybees, the more diversity I'm supporting. And one day those little islands of healthy diversity may come in very handy indeed.
Bee Forage For The Pacific Northwest
If you are reading this, there's a good chance you are a vegetable gardener and as such, you probably already grow a ton of bee-positive plants anyway. You are probably following my Simple Three Step Plan To Attract Beneficial Insects To Your Garden. And none of you are using broad spectrum insecticides, right?
Although we are currently non-bee-keepers, Homebrew Husband and I are likely to add bees to our homestead this year or next so I've been compiling a list of bee forage plants. I'm trying to ensure I have a consistent supply of blooming plants in my yard during the period of time when it's likely to be warm enough for bees to fly.
My neighbor is a beekeeper and raw honey producer, so even if we never get bees, we'll help add to the diversity available to his bees, as well as provide a nice place for feral bees to load up on pollen and nectar.
Here's what I've got so far.
Bee Forage Plants, Spreadsheet Version
(Click through to embiggenate image.)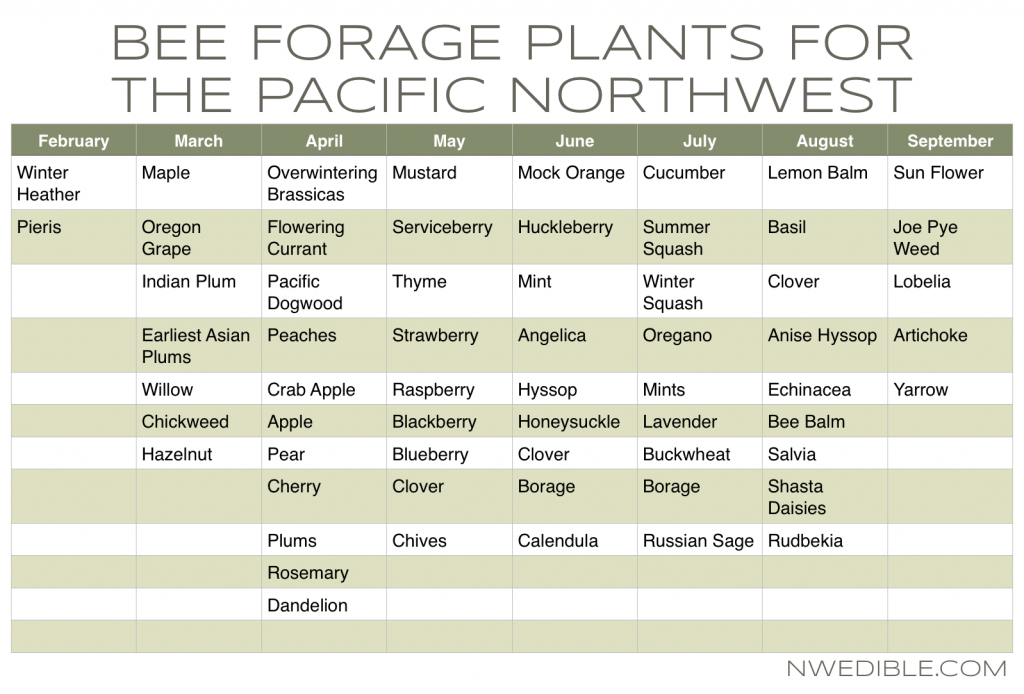 Bee Forage Plants, List Version
February
March
Maples

Oregon Grape

Indian Plum
Earliest Asian Plums
Willow
Chickweed
Hazelnut
April
Overwintering Brassicas
Flowering Currant
Maples
Pacific Dogwood
Peaches
Crab Apple
Apple
Pear
Cherry
Plums
Rosemary
Dandelion
May
Mustard
Serviceberry
Thyme
Strawberry
Raspberry
Blackberry
Blueberry
Clover
Chives
June
Mock Orange
Huckleberry
Mint
Angelica
Hyssop
Honeysuckle
Clover
Borage
Calendula
July
Cucumber

Summer Squash
Winter Squash
Oregano
Mints
Lavender
Buckwheat
Borage
Russian Sage
August
Lemon Balm
Basil
Clover
Anise Hyssop

Echinacea

Bee Balm
Salvia
Shasta Daisies
Rudbekia
September
Sun Flower
Joe Pye Weed
Lobelia
October
Artichoke
Yarrow
A Few Notes
*The original version of this post included tomatoes and peppers and legumes in the list of pollinator-dependant crops. A few astute readers pointed out that these crops are primarily self-pollinating. Which is a mistake I should never have made, so thanks, guys! If you click through to the linked-to spreadsheet, you can sort by how dependant various crops are on bees and other pollinators. It's pretty neat.
Many – probably most – of these plants bloom over a longer period than indicated, and obviously weather has more pull with Mama Nature than a calendar. I tried to keep the spreadsheet simple.
I'd love to expand to this list and get a nice database of bee/pollinator forage plants together for people to reference. If you have a suggestion, please leave a comment and let me know what you'd recommend and when it blooms and I'll periodically update this list. Super bonus points given for edible/medicinal/useful plants.
What are your tips to help bees and other pollinators thrive?
25