I was at the store to pick up milk before heading into the April Eat From The Larder Challenge and there was a screaming good deal on organic avocados. At $5 for 6 avocados I'll admit I did sort of stock up. A dozen ripe avocados later, it was guacamole time.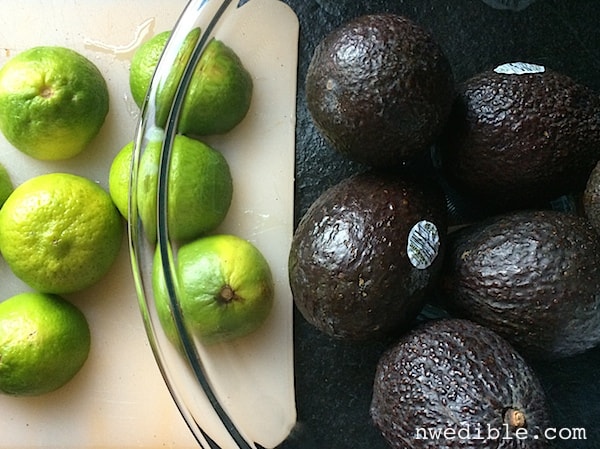 Even someone like me, a girl who will eat a cup of guacamole with a spoon in one sitting, has avo-limits. Thankfully, you can freeze guacamole! The trick is – you can't add a bunch of watery stuff like raw tomatoes or onions or dairy like sour cream if you are going to freeze your guacamole. These items just don't freeze well. The tomatoes and onion throw a bunch of water that make your guac all watery and gross. Dairy often separates upon freezing, and besides, why dilute the richness of avocado with anything?!
So stick to the basics: avocado, salt, lime juice and maybe a bit of cilantro if you have it on hand. Luckily, this is how you should always make guac. I think anything else is just unnecessary, but if you disagree, add the extra components to your frozen guacamole after you thaw it, just before serving.
To make guac in bulk, halve your avocados and remove the pit. Use a spoon to scoop the flesh into a bowl. Then, employ a small helper to mash the heck out of the avocado with a fork or potato masher. If absolutely necessary you can do this step yourself, but then you might miss the joy of cleaning avocado splatters off every cupboard in your kitchen.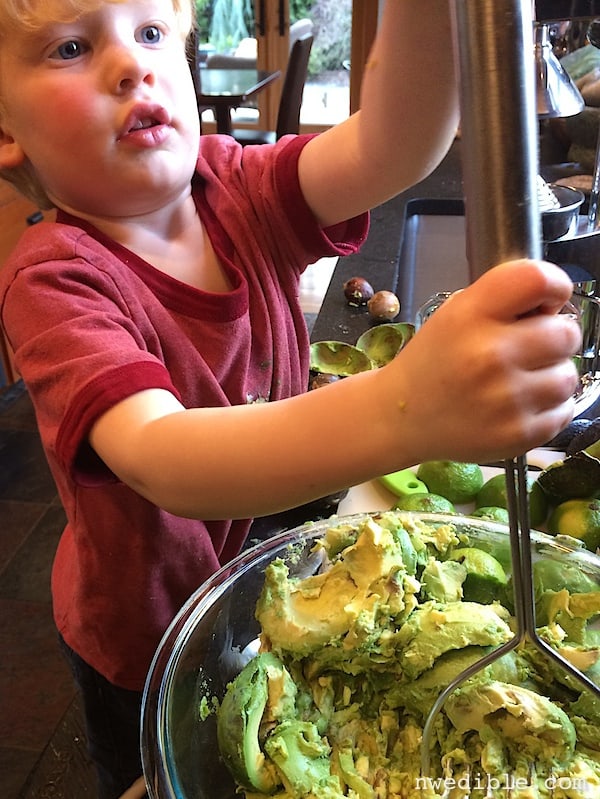 Add in salt and fresh lime juice. I season to taste with kosher salt and typically go with about half a medium lime per large avocado, but I like it on the acidic side, so adjust to your taste. Don't skimp too much on the acid though – you don't want your guac to turn brown on ya.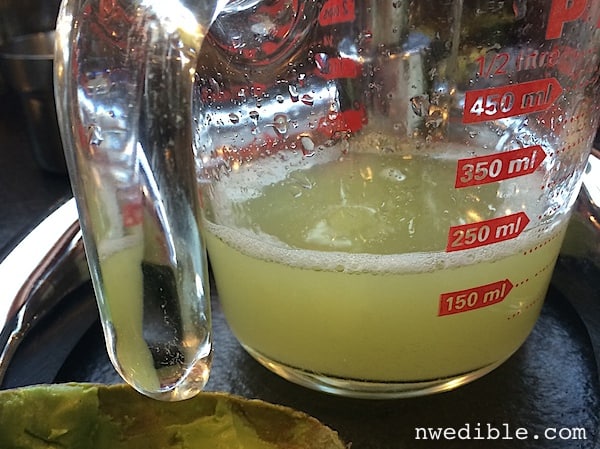 If you happen to have some cilantro in your fridge or garden and you like cilantro, chop it up and add a bit.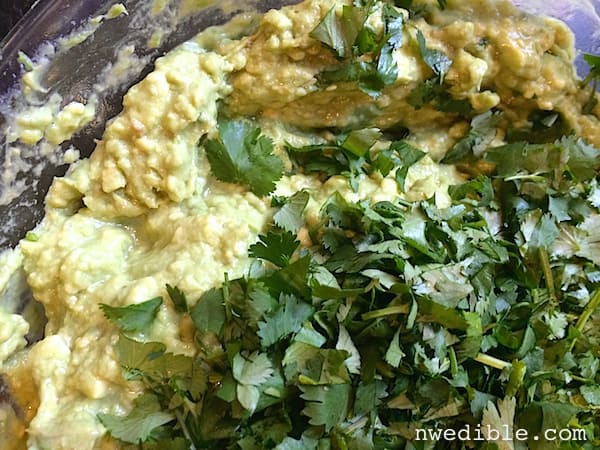 Fold everything together and do a final taste to make sure it is the way you like it. Set aside any guacamole you want to eat fresh in the next few days, cover it tightly, pressing plastic wrap or parchment tightly against the surface of the guacamole, and pop in the fridge.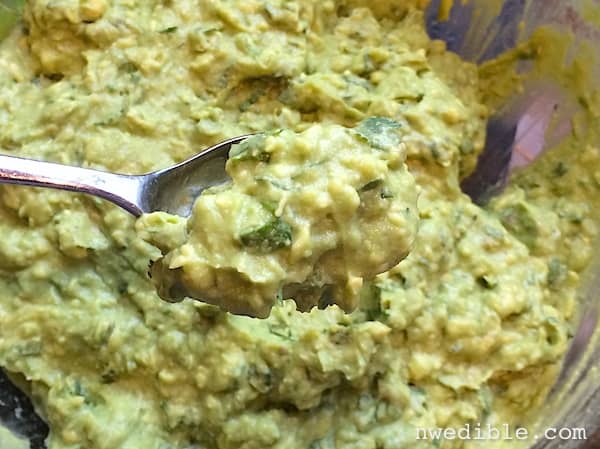 To freeze the rest of your guacamole, set a quart size or smaller plastic freezer bag inside a cup or wide-mouth mason jar.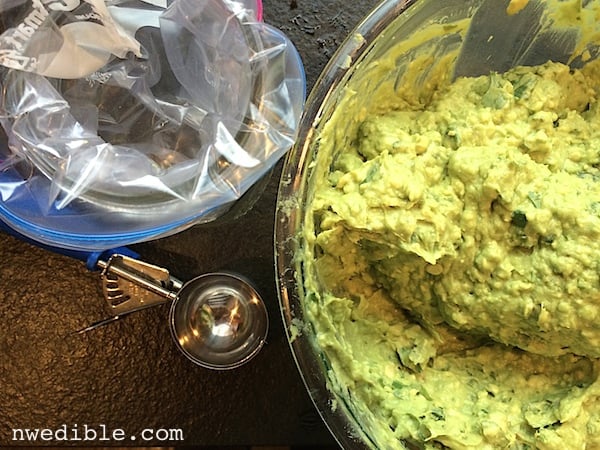 Scoop a reasonable meal-sized portion of guac into the bag. For us, that's about a cup-and-a-half, but as we've covered, I have a guacamole-eating problem.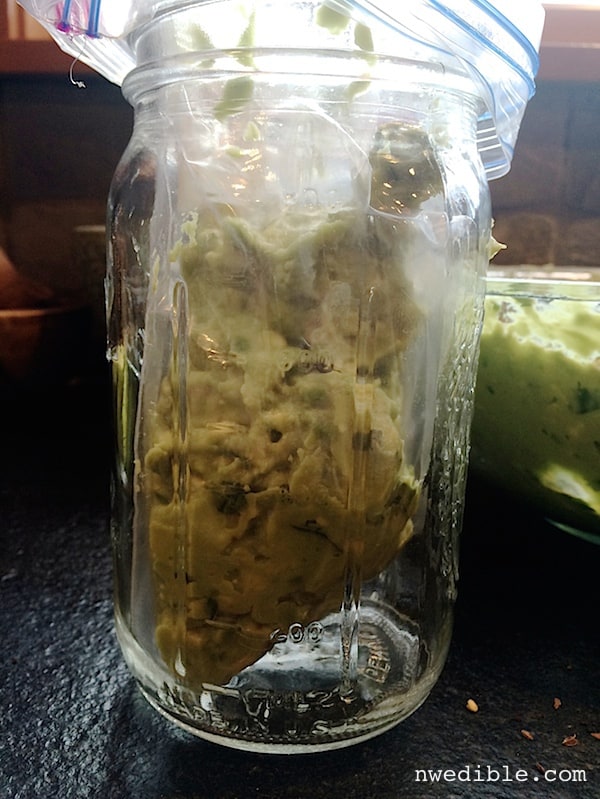 Shake the guacamole to the bottom of the bag, then squeeze gently towards the top of the bag. The goal is to get out the air bubbles that are trapped as best you can. Close the bag nearly closed, and work the guacamole up and toward the bag seal while squeezing out all the residual air. Close up your bag and repeat until your guacamole is bagged up.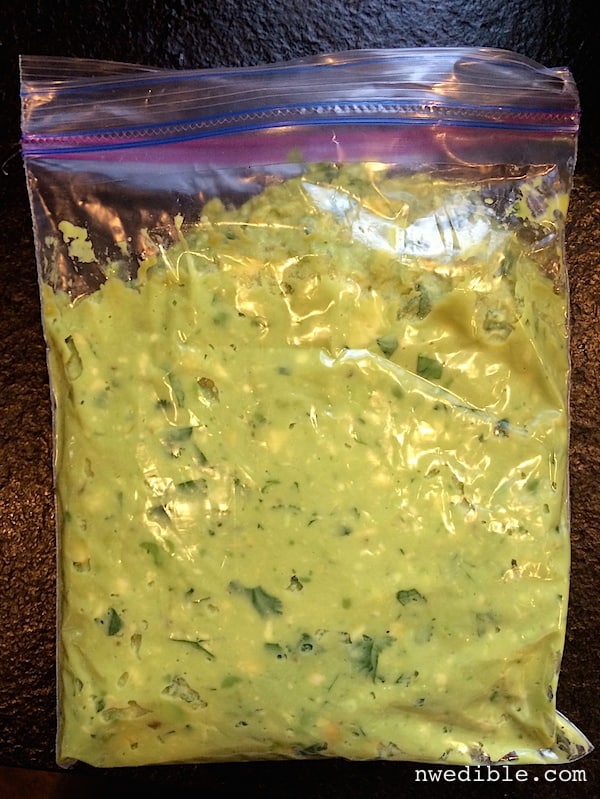 Smooth out your closed bags so they are uniform and even. Lay flat to freeze. When the bags are fully frozen, you can stand them up like books to save space.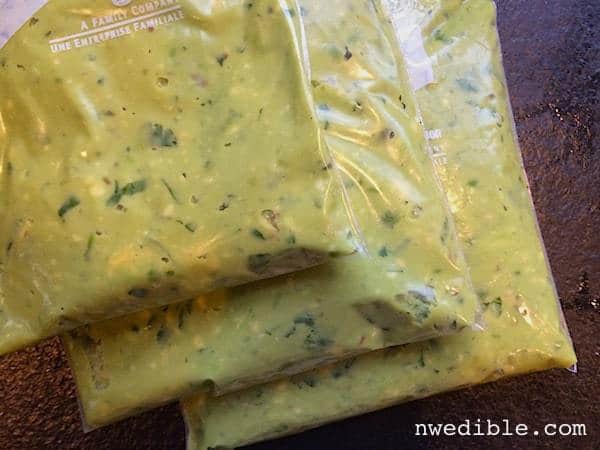 For best texture, use within about 3 months. Thaw overnight in the fridge. If you have a guac emergency, you can rush thaw your little packets of yum in a bowl of cold water as long as you are sure your bag hasn't gotten any holes in it. Do not attempt to thaw in the microwave.
That's it!
Do you freeze guacamole?
742