Ernest Hemingway is one of my father's favorite authors. I grew up surrounded by The Old Man And The Sea, The Sun Also Rises and For Whom The Bell Tolls (about that last one – don't ask).
My favorite Hemingway piece has always been The Short Happy Life of Francis Macomber. Or maybe A Clean, Well-Lighted Place. I tend to like Hemingway's brevity in brief and consider his short stories superior to his longer works.
Perhaps it's a bit odd that, while my peers were all falling in love with Nirvana, I was coming to enjoy Hemingway. He is a man's-man literary figure, after all. Hemingway loved drinking, big game hunting, outdoorsy and war-related personal angst, drinking, terse language and bars. Oh, and drinking. Did I mention the drinking?
So it shouldn't be a surprise that there is an actual drink named after Ernest Hemingway. It's the Hemingway Daiquiri and, according to legend, was invented in Cuba at Hemingway's behest while he lived in Havana in the 1930s.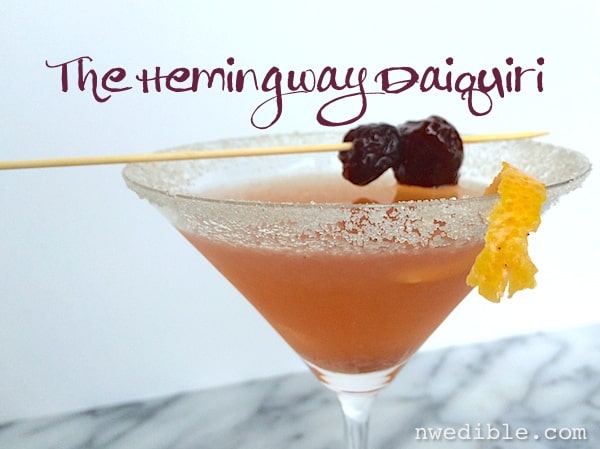 The Hemingway Daiquiri is a fine quaff distinguished from a traditional Daiquiri by the addition of grapefruit juice and an overall reduction in sweetness. Hemingway himself was not a man overly fond of the sweet, it seems, and his namesake drink reflects this.
I approve of drinks that balance sweet, tart and boozey without leaning on the cheap staff of sugar too hard, and the Hemingway Daiquiri is a good example of drink that deserves to be a classic.
In my variation, I use homemade cherry preserves instead of the typical maraschino liqueur and go with the naturally sweeter Ruby Red type grapefruit.

Ingredients
1 tbsp. cherry preserves
1 oz. freshly squeezed ruby red grapefruit juice
1/2 oz. freshly squeezed lime juice
2 oz. white rum
Method
If desired, run a wedge of lime around the rim of a cocktail glass or a Marie Antoinette champagne glass. Dip rim into sugar and set aside.
Shake all ingredients together hard with ice. Strain into prepared glass.
Garnish cocktail with a grapefruit twist and a few preserved cherries.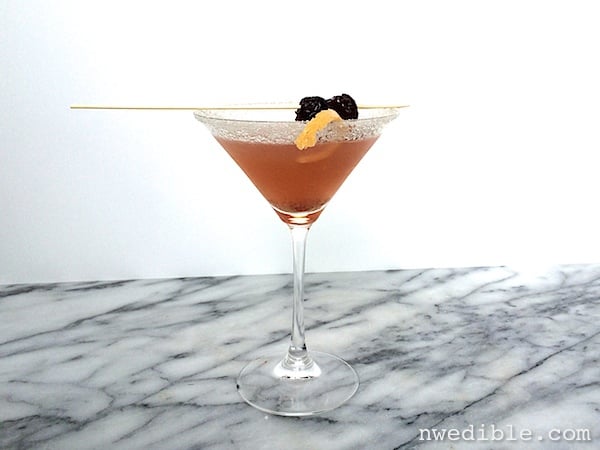 Happy weekend, friends!
1