"Mom, can we go to The Muffin Store?" asks my son, again.
Visits to the local cafe he calls The Muffin Store – because the muffins are fabulous – had become something of a post-preschool tradition for us. A few times a week after I picked him up, we would walk the several blocks to the cafe. I'd get a drip coffee or a tea and he'd get a muffin. For a long time, bran was the longstanding favorite but recently blueberry had come into favor.
"No honey, we aren't going to The Muffin Store this month."
"But we HAAAAAAVVVVVVE to. We Have. To. Go. To. The. Muffin. Store." He punches the air with little fists as he reiterates his request, this time in demand form. I recognize the self control inherent in this: not so long ago he would have been punching me. His little body is learning to control his huge emotions.
I offer homemade muffins.
No.
I offer homemade chocolate muffins.
Noooooo.
I offer homemade chocolate muffins with extra chocolate chips mixed in.
Pause. He considers this. No, he decides, holding out for The Muffin Store.
I offer homemade chocolate muffins with extra chocolate chips mixed in that he can help me make and we can eat together at the park.
Grudgingly, grumpily, as if he suspects this is a trap, he agrees.
"Well, okay."
And then,
"Come on mommy, let's go make MUFFINS!!!!!!!!" And off he goes, running towards the imminent joy of scooping flour and banging wooden spoons and licking batter and stealing lots of chocolate chips.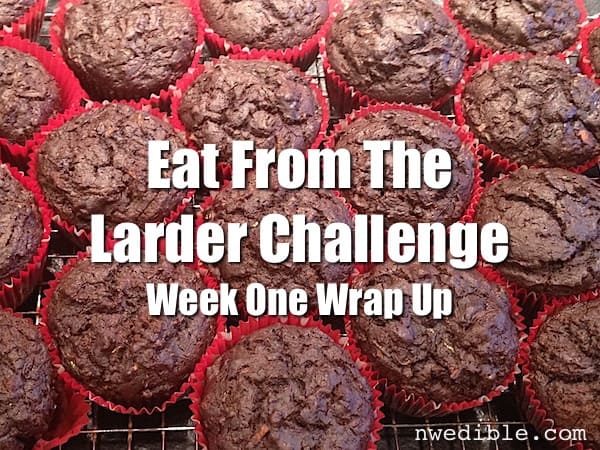 Really, it's not about the muffin. Most of the time at the cafe he picks at his muffin, eating at most a third of it before declaring himself done. It's about the tradition. It's about knowing that sometimes – once or twice a week after school – mommy will take him to The Muffin Store where they know him and he can pick out the table where we'll sit and one of the aspiring-musician baristas (all of whom have improbably awesome facial hair) will make him a fancy cocoa with whipped cream and sprinkles on top.
Oliver does not care about the Eat From The Larder Challenge. He just wants his tradition with whipped cream and sprinkles on top.
So a week into this Eat From The Larder Challenge and I'm having more trouble than I would have anticipated. It's not the food – hell, we haven't even eaten down our perishables yet. It's not the cooking – if anything, a focus on using my preserved foods makes my cooking faster and easier. (Meals of the "Pour, Heat, Eat" variety make use of pantry stores effectively.)
The challenge is the psychology and the family push-back for those treats and convenience items that have snuck into our lives over the past year and are now not a choice. I realize my son in particular strongly associates "outing" with "food." The more he's denied his trips to The Muffin Store the more he's pushing for them, or for alternate favorite food-destinations like The Hamburger Store Without A Door.
I continue to say no (usually gently) and am working on tradition-swapping, which has been more effective than anything else. Muffin In The Park has gone over well. After school library trip instead of after school cafe trip seems like a winner.
This early push-back from the littlest member of the family has been an unexpected (but probably should-have-been-expected) challenge. While I don't expect my three-year-old to understand food storage or frugality, my hope is that, as "Homemade Muffin in the Park" becomes the new expected tradition, I'll spend less time saying no and explaining that restaurants and cafes aren't an option this month.
The Psychology of Choices
This brings up an important consideration in the psychology of choices. People are evolutionarily wired to attempt to maximize our available choices, and having options makes people happier. But sometimes, with apologies to Mae West, too much of a good thing isn't wonderful.
Take food. For most of human history we have eaten a diet of a few locally bountiful staple foods made interesting with spices, wildcrafted herbs, vegetables, and foraged fruit as available. People ate (and continue to eat) mostly cheese and bread, or coconuts and seafood, or corn and beans, or caribou and huckleberries because those were the items that were available to grow, pick, hunt or otherwise procure in their region.
Without locale, season or transportation to limit our options, your average First World'er has more food choices available to them on a random Wednesday than a king on his coronation day would have had 500 years ago. It can take a ton of mental and emotional energy to wade through and assess these choices every day (affording them is a different issue) and a question as simple as "what's for dinner?" can turn paralyzing.
I get that. I can easily find the full scope of modern food options marketed at us exhausting – almost depressing. And it's not not just me. Barry Schwartz, the author of The Paradox of Choice, says,
Regret avoidance and anticipated regret are some of the most detrimental effects of overchoice. He states, "the more options there are, the more likely one will make a non-optimal choice, and this prospect undermines whatever pleasure one may get from one's actual choice." (Psychology Today)
One of the reasons I keep a big-ass larder is honestly because walking down the cereal aisle of a typical supermarket can send me into an option-overload fugue state. I keep hens primarily so I never have to confront the word-salad that is the mostly-meaningless marketing of eggs (cage-free! free-range! humane certified! organic! all natural! get locally laid by happy chicks!) ever again.
What Does Choice Mean For Eating From The Larder?
I've heard from quite a few readers doing this challenge that certain items are sacred – a special tea, bananas, whatever. I get that. I wouldn't go without coffee unless the Zombies were literally fogging up my window with their rotting unbreath.
But when we think about what foods we want to store, and how to live our lives in such a way that our food storage is useful, and how we would adapt if there was an emergency like a job loss – the issue of choice needs to be considered. Building in variety to your larder, and being able to swap favored choices is important. I keep cocoa powder in my larder because there very are few situations in which handing a kid a cup of hot cocoa isn't going to help a little bit.
But at the same time, we need to think about what would happen to us, and our family, if suddenly the world of options available to us shrank. What if our choices were far smaller than they are now? What if your particular The Muffin Store wasn't an option? How would that challenge you or your family? How would you deal with it? What can you do now to encourage flexibility in yourself and your loved ones?
The point of these challenges are to challenge us while the training wheels are still on. Our food storage is so dialed in, that I honestly didn't think my family would even notice a change this month. Boy was I wrong – but the challenge hasn't been From The Larder, it's been in how we've dealt with the psychology of traditions and choices that just aren't available any more.
What We've Eaten, Week One
From a cooking perspective, the refrigerator still has milk and perishables, so it doesn't feel like we are eating much differently. I'm being more careful than usual about husbanding the cheese. I want to make that stuff last.
While we haven't done any grocery shopping, food is coming my way nearly as fast as if we had. My parents are remodeling their kitchen (I didn't plan this, I swear) and my dad gave me several pounds of his homemade sausage while my mom passed on some dry goods they didn't have room to store.
Here's what we've been eating.
Breakfasts
Lots of eggs! Omelettes, egg scrambles, etc. The hens are putting out the goods like crazy. We've also had skillet flat breads from pre-made whole wheat dough I had in the freezer, breakfast fried rice from left-over rice, and pancakes and bacon. The pancakes were from a large batch I pre-made last month. We use them for fast school-day breakfasts.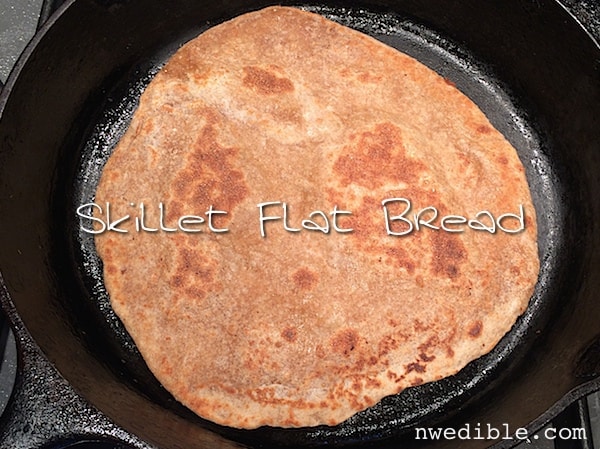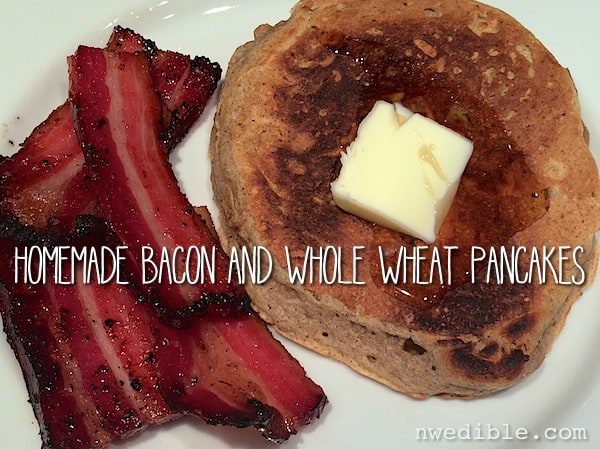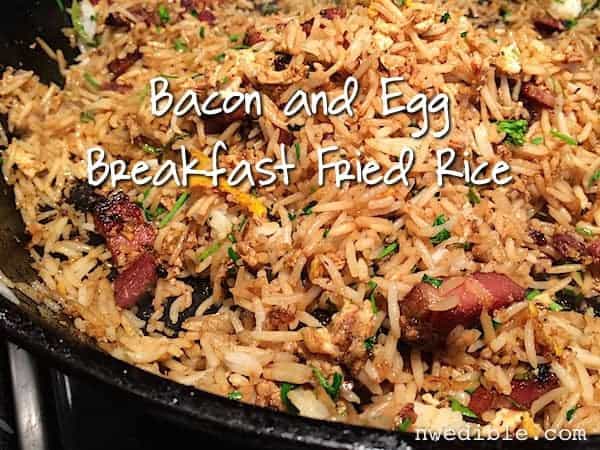 Lunches
During the week, my daughter packs her lunch to eat at school, my son will eat 4 hard-boiled eggs and a canned peach or some similar snacky-type meal, and I'll often just have a small snack before tucking into a huge dinner, so there's not a lot to show for lunches.
I made a few late-lunch, soup-type meals using pantry basics. Canned elk and canned chickpeas got cooked together with curry and ginger and the last of the carrots. This made a tasty stew!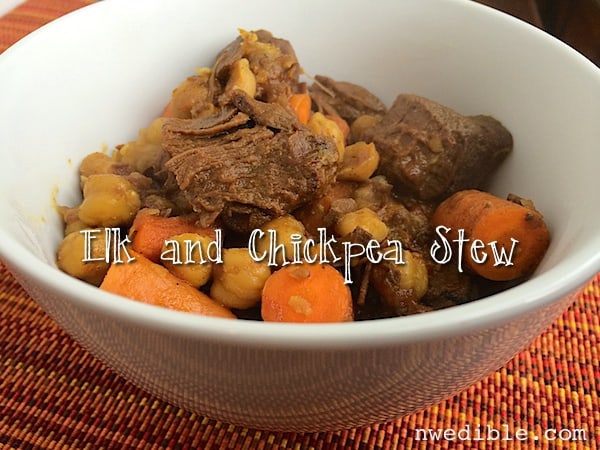 Probably the huge hit of the week was a Faux Pho soup I made. We had roasted chicken the night before and I made a broth with the carcass and seasoned it with star anise, soy sauce and half a sliced onion. The meat from the carcass and Vietnamese-style rice noodles were added to the broth and simmered just until tender. The kids ate their chicken and rice noodle soup plain; Nick and I added homemade plum sauce, Sriracha and sprouts to ours.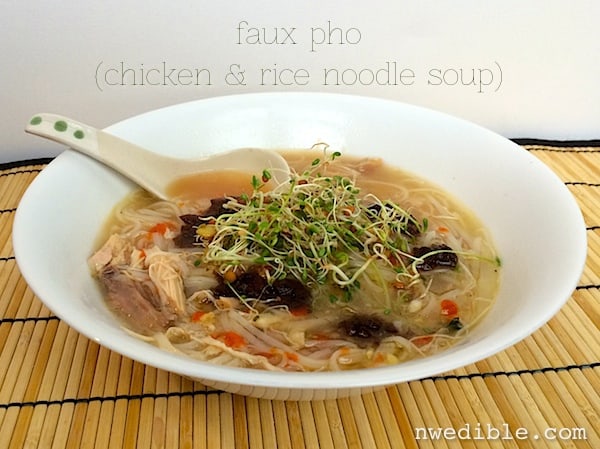 Dinner
Dinners have been pretty normal. I do wish I had more green veg to harvest, but it's ok. Typically we eat a dinner that looks like: protein-starch-veg. Nothing has really changed except I'm still waiting on the garden to produce my veg!
These pork cutlets were awesome – talk about kid friendly, too. We pounded pork loin thin, then dusted it in flour, egg and breadcrumbs and shallow-fried until crispy. Served that with the last of the salad greens and some boiled lentils. My daughter made a sauce with boiled cider, apple cider vinegar and homemade whole grain mustard that we poured over the pork.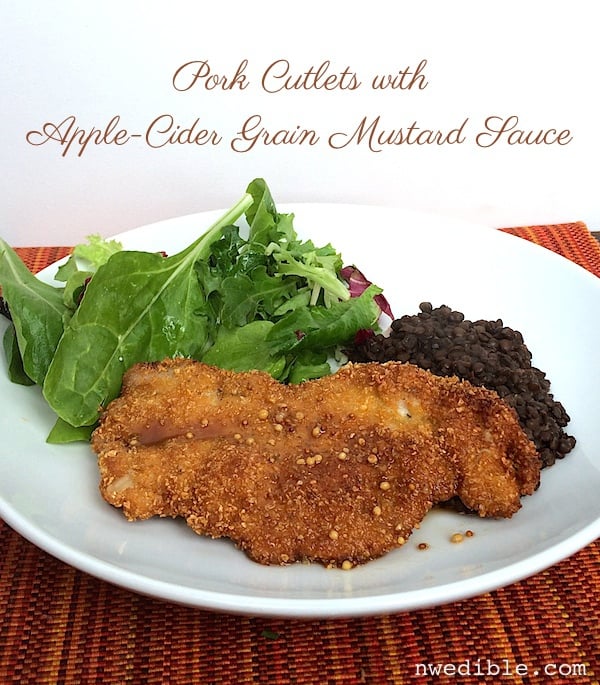 Lots of pork this week. That wasn't really planned. Anyway, this was ground pork cooked with sprouting kale (yes, you can eat the sprouts from kale!) and preserved lemon. I served it over pasta. The pork fat and preserved lemon juice made a nice vinaigrette-type sauce to coat the pasta. This made so much we ate it two days in a row.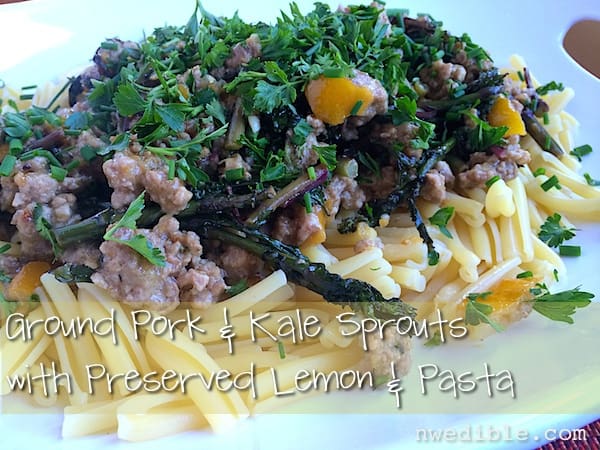 Basic roast chicken. I cook mine in a cast iron skillet in a 500-degree oven. I made a pan gravy with preserved lemons (yes, I really want preserved lemon in everything) and served it over rice. This was also a big hit with the kids.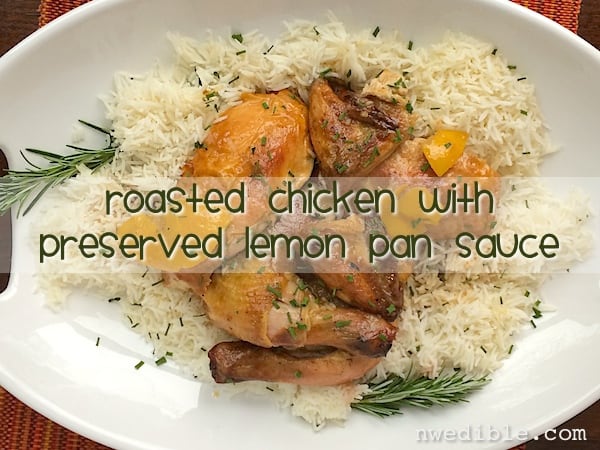 How is your Eat From The Larder Challenge going? What have you found difficult and what have you been cooking from your pantry stores?
2