Ok, here's the deal. Kale, collards, broccoli, brussels sprouts, cauliflower, cabbage, turnip, kohlrabi – all these amazing, diverse plants have been bred from the same wild cabbage ancestor.
Kohlrabi was bred to make a juicy, swollen stem, and you'll notice it tastes like broccoli stem because, well, botanically, it pretty much is. Brussels sprouts look like teeny cabbages because they are – the breeding for brussels sprouts was to form heads on the axillary buds of the plant, and for cabbages we bred for one giant terminal bud.
Broccoli was selected to make big, tender florets and stems. Each little green bud on a head of broccoli will open into a cool yellow flower if you are too late to the harvest. (Read more: When and How To Harvest Broccoli and Cauliflower)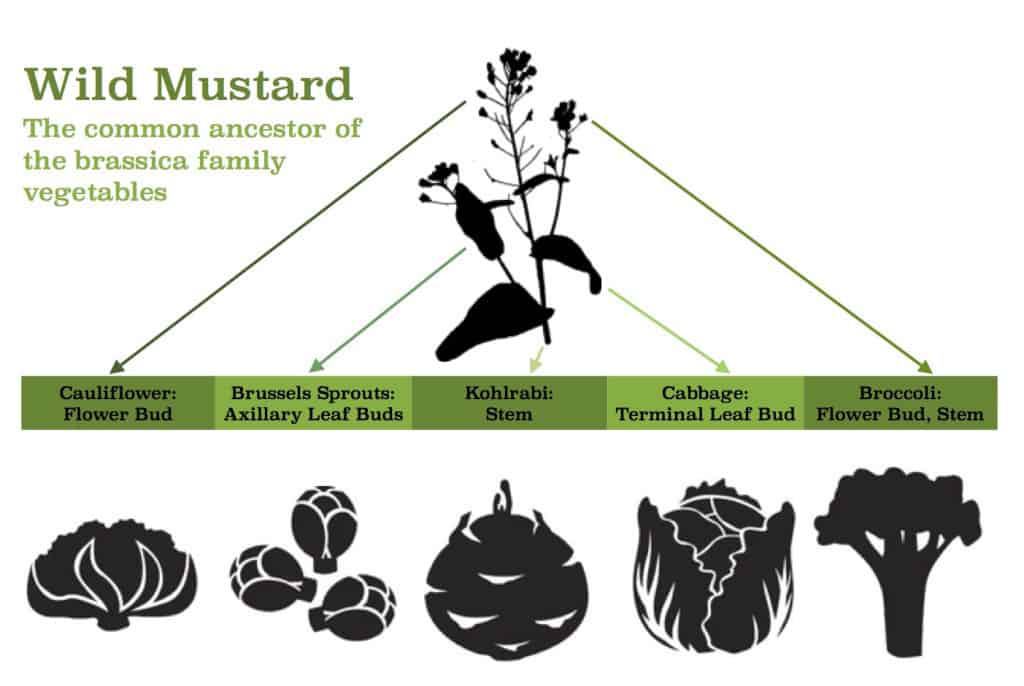 The important take-away is that brassica plants make all kinds of edible parts beyond what you think of as the vegetable sold at the grocery store. Broccoli leaves are edible, and taste much like collards. Brussels sprouts typically make an open-leaved, super-sized sprout at the top of the plant that you you cook like a small cabbage.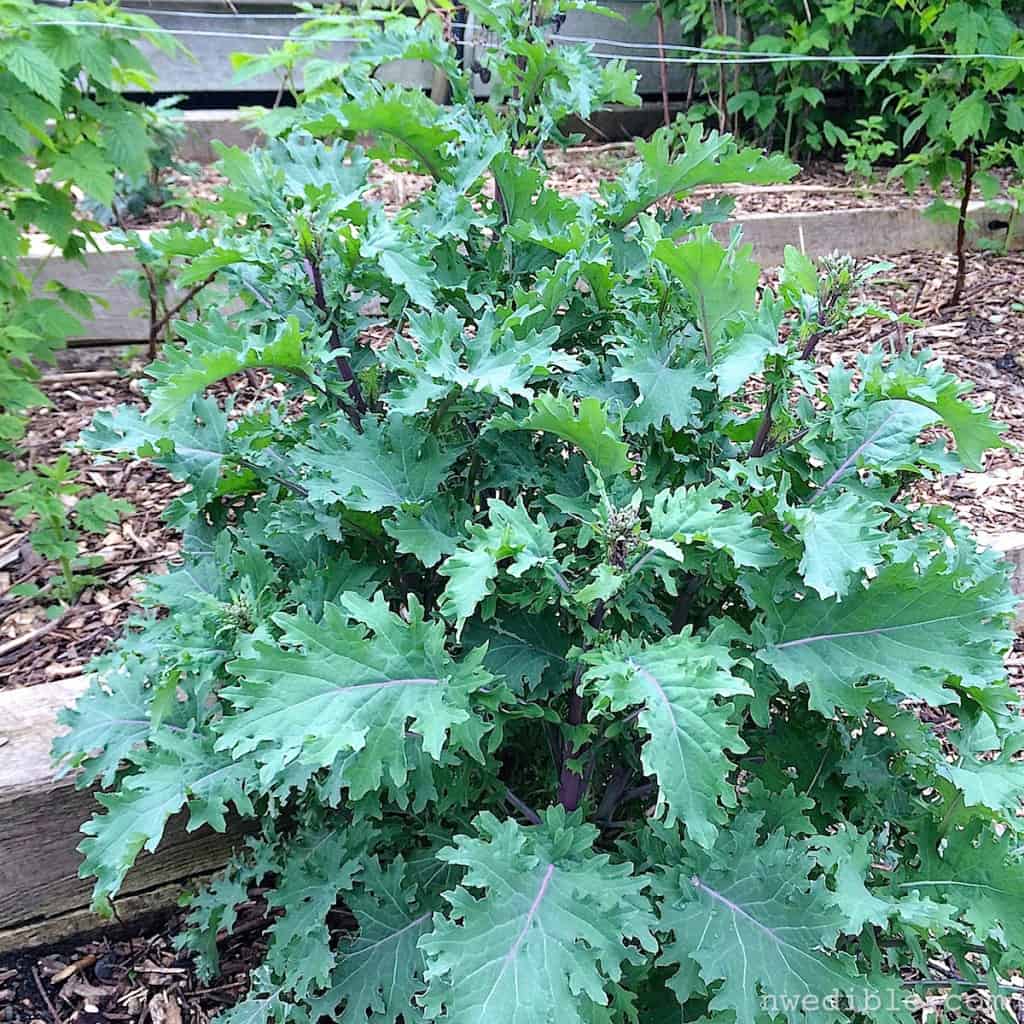 Which brings us to kale florets. Kale florets are the soon-to-be-flowers of the kale plant. They look and taste much like sprouting broccoli, and they couldn't come at a better time. Nothing much is harvestable right now in the hunger gap of early spring, but stalwart kale sees warmer days ahead and starts pumping out the florets.
God I love this vegetable.
How do you harvest kale florets?
The florets shoot up from the intersection of stem and leaf. Just look for them there, and snap the floret down – they'll come right off.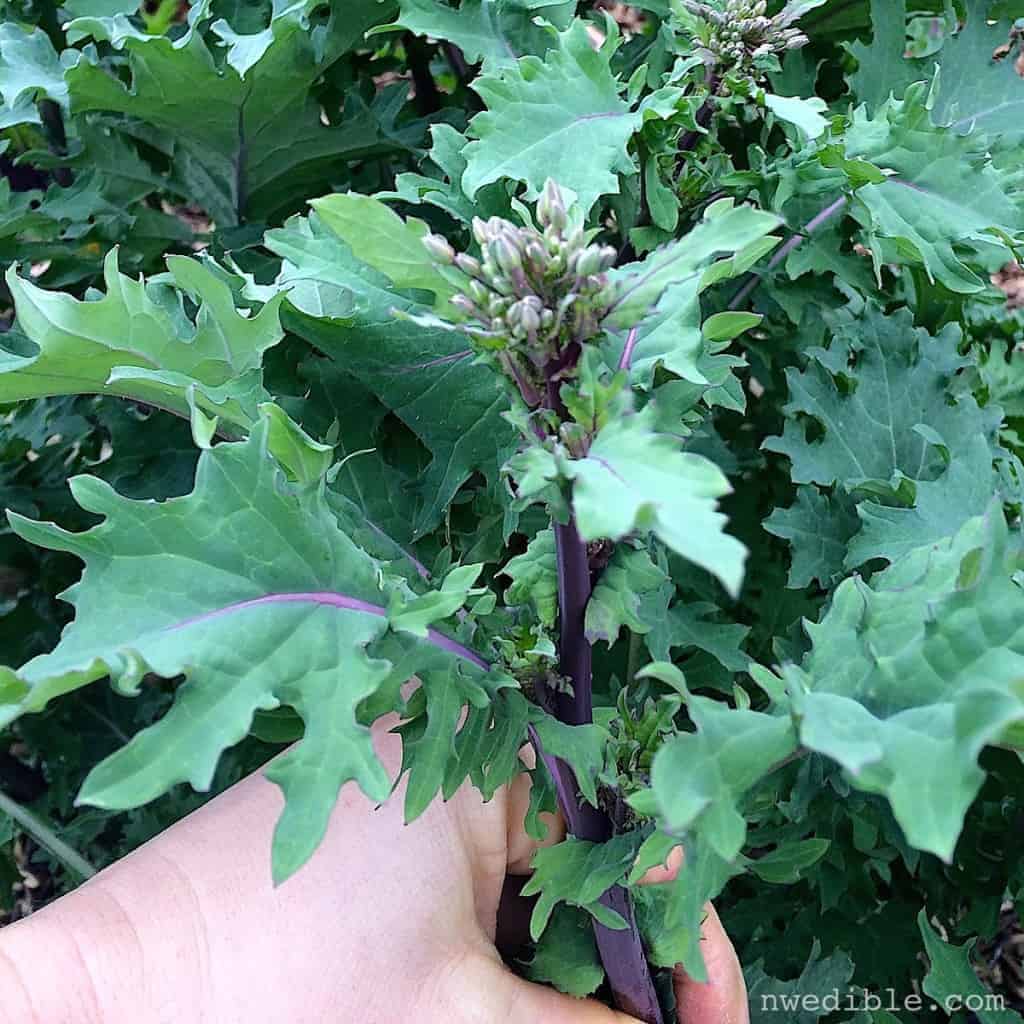 You want to catch them before they flower. Just like broccoli, we're eating unopened flower buds here, and while the yellow flowers don't turn toxic or anything, they get tough. Plus, the texture of the flower petals is kinda funny.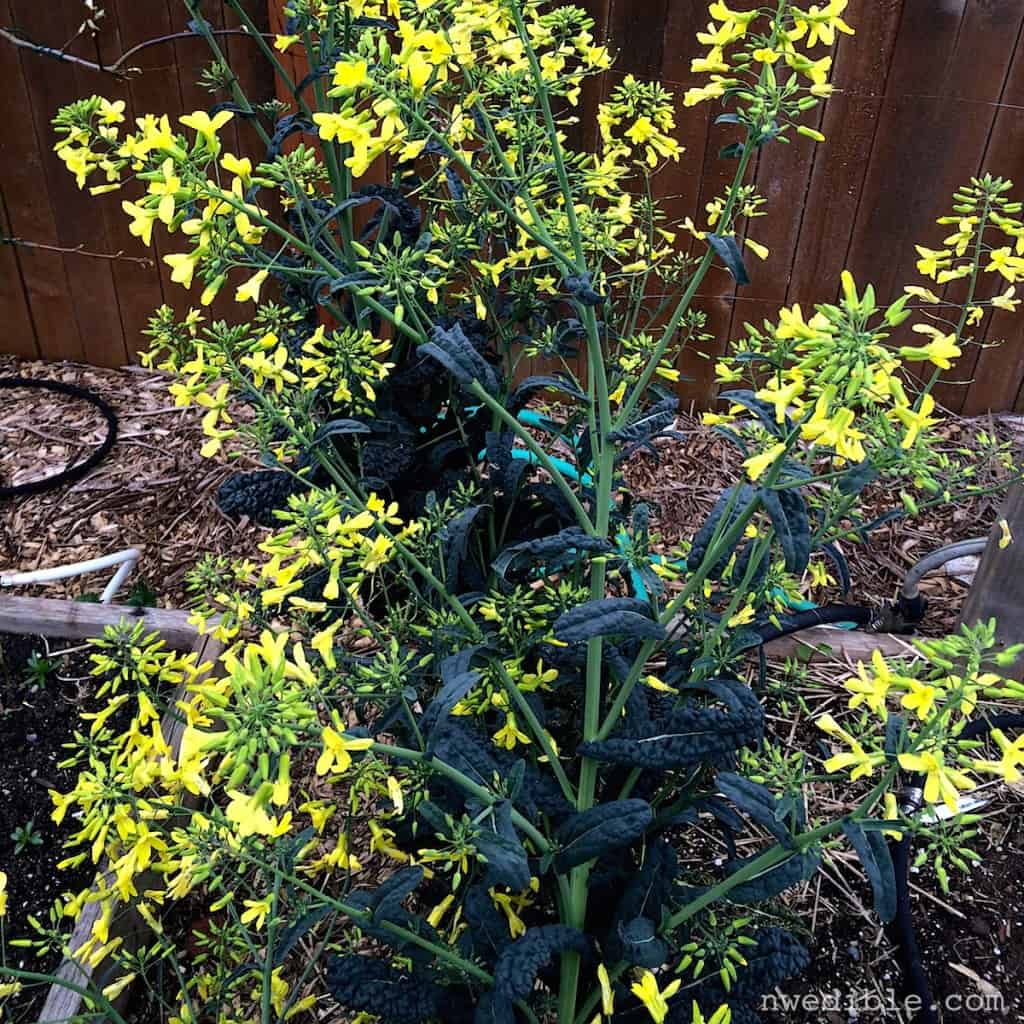 Different varieties will make florets at different points in the early spring transition. My Lacinato Kale is already in full flower, while my Red Russian is pumping out florets like mad. Harvest from the variety that's ready, while the floret buds are still tight and the stalks remain tender.
Does the variety of kale matter?
The brief answer is, not much. There are subtle flavor differences in the kale florets, but to my palete they are more similar than different. I notice greater taste variation in the leaves of the kale varieties I grow than in their florets.
If you have a particular kale you like, you will probably like the floret from that variety. This is a second harvest vegetable, remember. I wouldn't go planting a specific kale for the florets – if you're going to do that, you might as well grow purple sprouting broccoli, which is bred for bountiful floret production in early spring.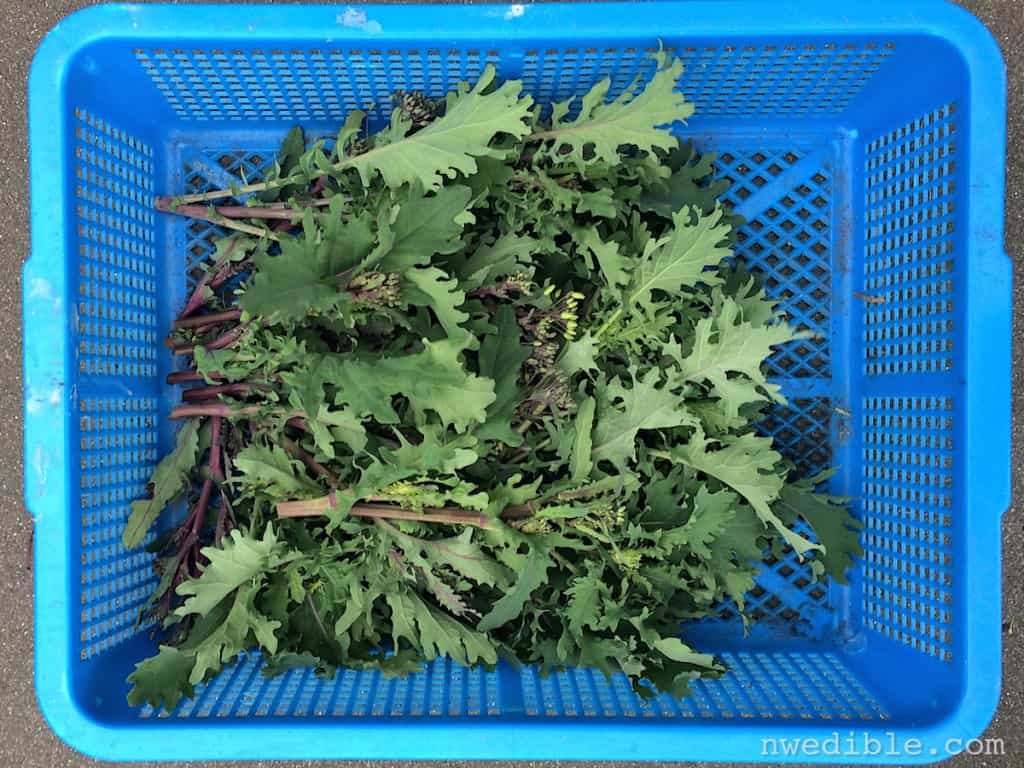 I haven't noticed any yield difference in florets across kale varieties. You'll get more and larger florets from bigger, healthier kale plants regardless of variety. I'm never able to eat enough to strip my plants of all their florets, and eventually the remaining shoots flower and become food for the bees.
Now that you've harvested your delicious kale florets, it's time to cook them! May I recommend something like this delicious Skillet Kale Florets with Garlic, Chili and Lemon?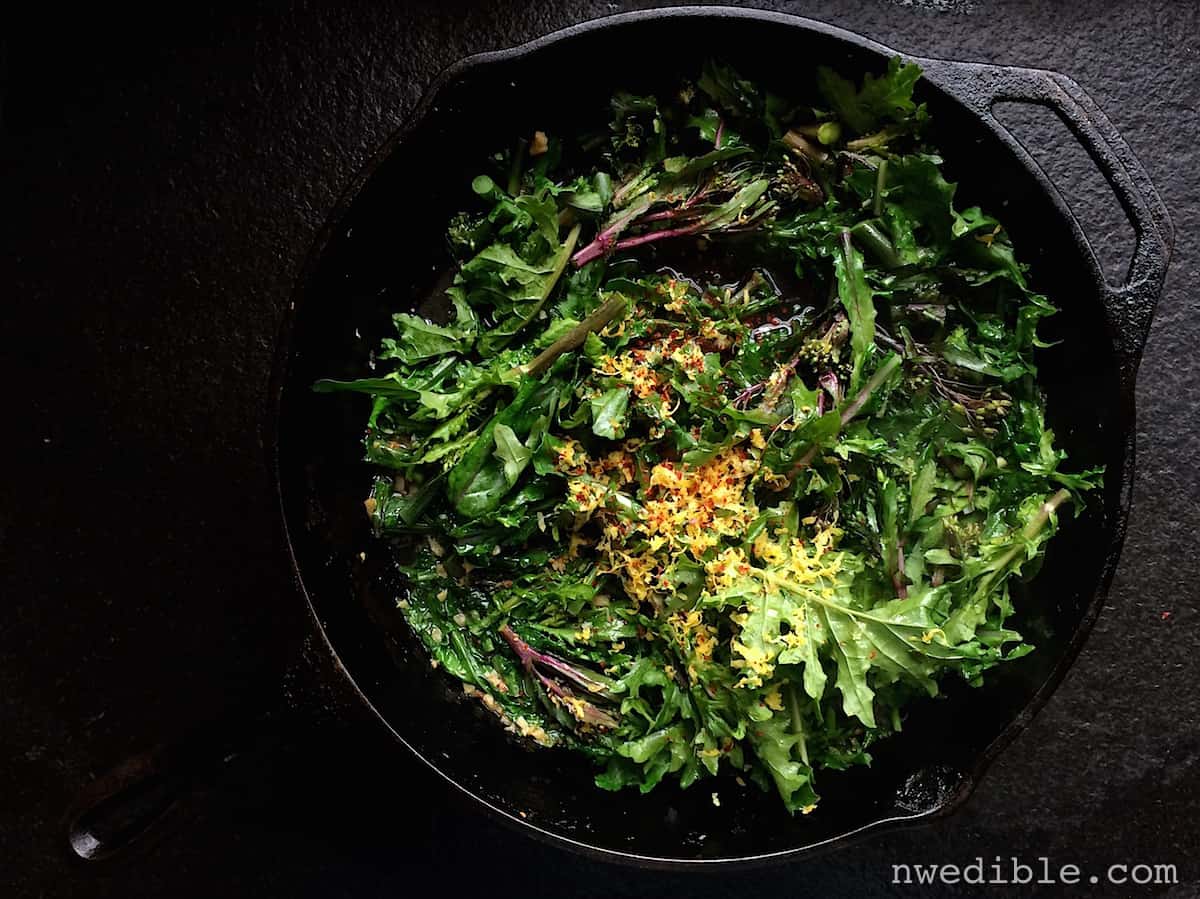 98