It happens to almost every chicken keeper eventually, I think. Your girls are putting out the eggy goods faster than your family can eat them. Our flock as it currently stands has gifted us up to a dozen eggs in a day, and 8-9 per day is pretty typical.
When I find myself staring at a refrigerator or counter full of eggs, I have a few go-to strategies for using up the bounty.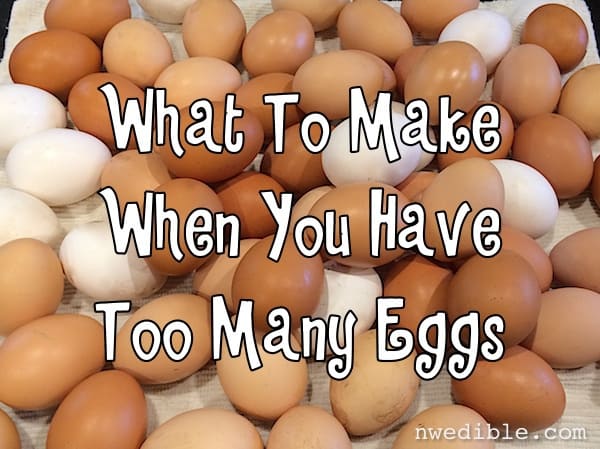 Hard Cooked Eggs
You may know these cooked-in-their-own-shell-ovum as "Hard Boiled Eggs." I did too, until culinary school, when a chef-instructor drilled into our brains that you never, ever, under penalty of shame, humiliation and possibly death, boil an egg. Ever. We were instructed to call them the more accurate hard cooked eggs, and so I  do.
Hard-cooked eggs are kinda boring, sure. But they are also the perfect, portable, tasty high-protein snack. My kids are like Jack Spratt and his wife when it comes to hard-cooked eggs. My daughter only likes the yolks and my son only likes the white. It works out.
I see pre-cooked eggs in their shell at my local Yuppie-Hippie Market. Those things are being sold for a buck each – unpeeled. That's crazy-talk, especially when you consider that a dozen unpeeled, hard-cooked eggs will last in your fridge for an easy week or 10 days. I think if every gym-rat hopped up on protein shakes would just switch to homemade hard-cooked eggs, a bazillion dollars a year could be saved and every hardbody would stay just as shredded.
So, when I find myself with a glut of eggs, the first thing I do is hard-cook a dozen of the oldest. As an egg ages, the air sack gets bigger and the shell becomes far, far easier to peel when hard-cooked. I prefer to hard-cook eggs that have aged about a month in the fridge, or at least 3-4 days (a week is better) at cool room-temperature.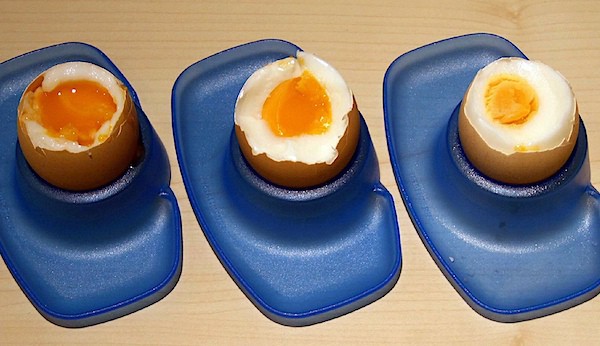 Image: Wikipedia
My preferred way to hard cook eggs is to get a pot large enough to hold all the eggs you want to cook in a single layer. Set your eggs in the pot carefully, and add enough cold water to cover the eggs by about an inch. Bring the pot of water to a hard simmer uncovered. As soon as the water hits that almost-boil point, slap a lid on the pot and remove the pot from the heat. Set a timer for ten minutes and leave the pot alone.
While the timer is counting down, get a bowl of ice water set up to shock-chill your eggs. Use plenty of ice, and just enough water to make it slushy. You want to cool those eggs in a hurry. As soon as your ten-minute timer goes off, use a slotted spoon to transfer the eggs from the pot of hot water to the ice bath. Let your eggs cool for at least five minutes, then crack, peel and eat (or refrigerate for later use).
Ten minutes reliably gives you fully cooked but creamy yolks. Adjust time up or down by a minute or two depending on the doneness you prefer (I actually prefer 8-minute eggs but the kids think they aren't cooked enough.) Don't overcook or you'll get the dreaded green-grey ring around your yolks. Ick.
From hard-cooked eggs comes egg salad – my kids love any mayo-bound "salad" sandwich – and that retro favorite, Deviled Eggs. I find I can use up a dozen eggs pretty fast if I make a batch of egg salad sandwiches for lunch.
Speaking of mayo, I also use my friendly backyard fresh eggs to make Magically Fast and Easy Mayonnaise. It takes less than a minute to whip up a pint-jar of fresh mayo if you have my favorite kitchen small appliance, a stick blender.
Quiche, Egg Casserole, Frittata
These are all just variations on a theme. Egg casserole is pretty much crustless quiche. Take out most of the extra dairy and make the whole thing thinner and less custardy and you've got a frittata.
The best quiche in the world comes from world famous über-chef Thomas Keller. His recipe for quiche in the tremendous Bouchon Cookbook is roughly 76 pages long, and takes about 3 days to complete (slight exaggeration). It's totally worth it, except, you know, when it just isn't.
Smitten Kitchen does a great job of (slightly) simplifying the Bouchon Quiche recipe here. Or you can read the full thing here.
When I can't find a spare long-weekend to devote to making quiche, I make egg casserole, aka baked eggs. I don't have a recipe, and I'm not sure this dish really needs one. Take a bunch of eggs. Whisk the heck out of them together with salt, pepper, freshly grated nutmeg and a good splash of cream.
Add in some cooked, drained greens – kale is nice because it doesn't throw a lot of water – or whatever cooked veggies you have left over in the fridge. Mushrooms, potatoes, peppers or roasted asparagus are all nice. Some cheese and some diced up cooked ham or bacon or sausage is good, if you like that kind of thing. Put the whole mixture into a buttered baking dish or deep skillet and cook at 350 until the center is no longer wiggly, about 30-40 minutes.
If you are squirming for proportions, this recipe for egg casserole looks very similar to what I do, except I don't typically add extra yolks to my egg casserole.
A frittata is even faster, since it's mostly a skillet/stovetop thing and you just pop it under the broiler to set the top at the last minute. Alton Brown has a good basic, adaptable recipe but for the love of indoor air quality, use a cast iron skillet, not a coated non-stick pan, okay?
Freezer Breakfasts: Get Your Baking On
Eggs are already a fast, easy breakfast, but if I serve my kids scrambled eggs every morning for weeks on end, they start to protest. So I also convert some eggs into a more diverse selection of breakfasts that are easy to pull from the freezer. I've found the easiest way to do this is with baked goods.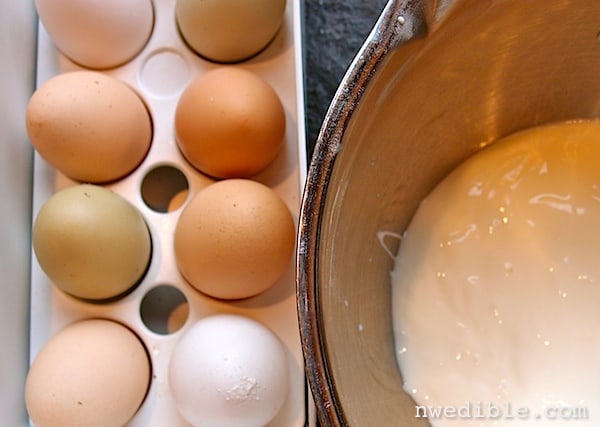 A few kid favorites are French toast (if I plan ahead, I like to make a loaf of cinnamon raisin bread and use that to make French toast ), waffles, pancakes, morning glory muffins and, seasonally, zucchini bread or muffins.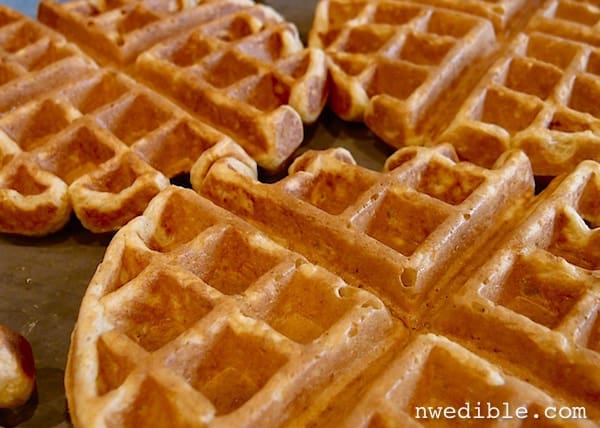 Typically on the weekend I'll just whip up a double batch of whatever easy-to-freeze breakfast item sounds good, serve some for breakfast and pop the rest in gallon-size ziplock freezer bags. The extras are stored in the freezer and then the kids have that option when we need a fast weekday breakfast.
Or Just Freeze The Eggs
You can freeze raw eggs for later use – like when all your hens go on strike and egg production drops to nil. Eggs will keep for a year when frozen.
Freezing eggs isn't hard, but I highly, highly recommend freezing them in portion-sizes that make sense. For this, it helps to have a ice-cube tray or a silicone muffin tin.
You have two options: to separate, or not to separate. If you want to freeze whole eggs for later use, crack the eggs and blend until totally combined. I like to use a stick blender for this, but an actual blender or food processor will work too. Carefully fill silicone muffin tins with 1/4-cup portions of eggs. Each 1/4-cup portion is equal to one egg. Once thawed, you can use these frozen whole eggs for any baked good or for things like egg casserole. Personally, I wouldn't use frozen eggs for omelets or scrambled eggs, but you could in a pinch.
Freezing the yolks and/or whites separately is a good option when you are doing a lot of baking and your yolk or white usage is uneven. This happens to me when I make custards or curds that call for extra yolks (leftover whites) or meringues that call for lots of whites (leftover yolks).
To freeze egg components separately, crack and separate the eggs. Be careful that you don't get any yolk into your whites – this stops whites from whipping well later. The whites can be frozen as is. Place one white in each cell of an ice cube tray. When whites are frozen, pop them out and keep in a freezer container.
Yolks are a bit trickier. They get too gummy to use if frozen as-is. Once you've separated your eggs, for every 4 yolks, add 1/8-teaspoon fine sea salt (for savory applications) or 2 teaspoons sugar (for sweet applications). Whisk together and carefully fill your silicone muffin tin with 1/4-cup portions of eggs. Each 1/4-cup portion is equal to four yolks. 
Other Options
Breakfast for Dinner. This is a real thing in my house, I'll even put it on the menu plan. For some reason if I serve scrambled or fried eggs at night, the kids think it's terribly fun and eat their eggs without complaint. But serve those same eggs in the morning, and I get picky forks.
Pound Cake. Traditionally made with a pound of eggs and it freezes well. Great go-to dessert. I like this classic version.
Share, Gift! Give away a dozen eggs and earn goodwill from friends, neighbors and co-workers.
What do you make when you are over-blessed with eggs?
---
Related Stuff…
(These are affiliate links. Purchases made through these links cost you nothing extra but help to keep this site going. Full financial disclosure here. Thanks for your support, guys!)
406