Do me a favor. Don't call this an Apple-tini, ok?
Okay, now that we've gotten that out of the way, Happy Valentine's Day! Make this drink for the apple of your eye and prepare to impress. It has all the flavors of a luscious, juicy slice of apple pie without being cloying.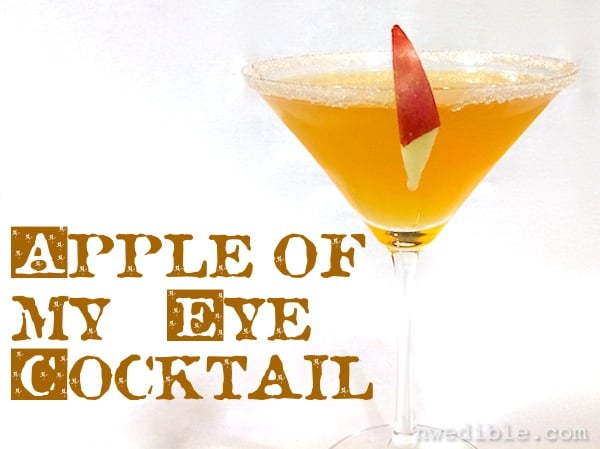 The Apple of my Eye calls for a fairly well stocked liquor cabinet. You will need apple brandy or calvados, bourbon, amaretto, cardamom bitters, and hard apple cider. The cocktail also calls for a bit of brown sugar and a lemon.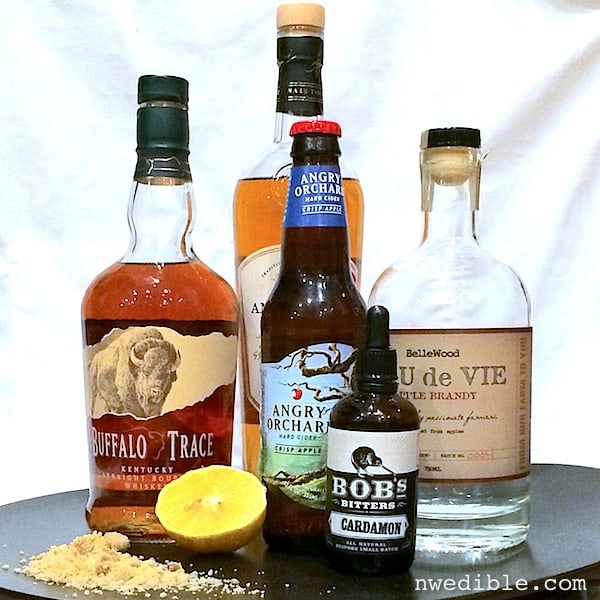 As craft cocktails have become quite trendy, there's been a revival in boutique bitters. The cardamom bitters called for in this cocktail give a nice "cookie spice" flavor note to this drink that goes really well with apple. Don't substitute Angostura bitters, but feel free to play with vanilla or ginger bitters if you have them.
Ingredients
1 oz. apple brandy
1 oz. bourbon
5 drops or one dash cardamom bitters
juice of half a lemon
2 tsp brown sugar
2 tsp amaretto
1-2 oz. hard, dry apple cider
Method
If desired, run a wedge of lemon around the rim of a chilled cocktail glass. Turn the glass upside-down and dip the rim of the glass into unrefined sugar. Set aside.
Add all the ingredients except the hard cider to a cocktail shaker or mason jar filled with crushed ice. Shake hard and strain cocktail into the prepared glass. Top cocktail with a float of hard apple cider. Garnish with a small slice of apple and serve right away.
P.S.
If you want another option for Valentine's Day libations, I humbly recommend another favorite, The Hallmark Cocktail, which combines the flavors of flowers, chocolate and champagne into one dynamite romantic drink.
---
Related Stuff…
(These are affiliate links. Purchases made through these links cost you nothing extra but allow me to more "research" into the most delicious way to home grow your happy hour. And yes, by research, I mean drinking cocktails. Sometimes this gig is pretty awesome. Full financial disclosure here. Thanks for your support, guys!)
1