Lets's talk about molting.
Anyone who has ever kept chickens knows about the molt, that egg-production pause where hens shed old feathers and turn into tiny, ugly dinosaurs for a few weeks. During the molt, a natural response to reduced daylight, egg laying stops. Chicken's can't throw energy into making new feathers and eggs at the same time, so a molt also provides the hen's reproductive system with a much deserved rest.
Eggs used to be a seasonal item. Consumers expected color and texture changes as the diet of pastured hens changed with the year. During the winter, short daylight hours meant that egg supply went down, so egg prices went up. Before our food supply chain got all bizarre and terrible, farmers would pamper their hens with extra feed, hoping to delay molt as long as possible. The farmer that could keep their hens laying could charge higher prices, reaping a tidy return.
But this all changed with the advent of factory farms. The food-buying public grew to expect cheap, plentiful eggs at any time of year. Nowadays, big egg producers need hens laying all year long, not just on a natural spring-through-fall cycle. They do this by managing chickens in a totally synthetic environment.
Living in long, low sheds called "blackout houses," factory farmed laying hens experience nothing like real "daylight" or "seasons." What light they get is dusky red-orange: the dimmest illumination necessary, at the optimum spectrum, to trigger a hen's laying reflex. When you are paying for lighting instead of letting the sun dictate the seasons, every watt-hour cuts into profits. In the Matrix-like synthetic world of these blackout sheds, a cohort of hens can be raised from eggs to layers thinking that longer days start in October and that fall comes in May.
These blackout sheds allow large scale commercial egg producers to keep multiple age flocks, strategically rotating one flock out of production and through molt while others are laying. This keeps egg production as consistent as possible.
Controlling daylight is easy, since it isn't really "daylight" at all. But playing with light levels isn't enough to force an entire shed of hens to molt simultaneously. More dramatic manipulation is necessary to keep egg productivity sky-high and egg prices dirt-cheap.
Since natural molting is an inconsistent thing, varying from bird-to-bird even within a breed, the big growers do everything they can to get an entire shed to go into molt at once. The technique they use is called "forced molting."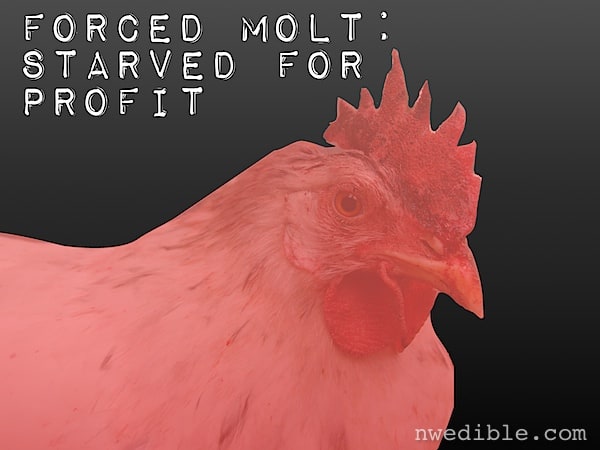 To start a truly simultaneous molt of thousands of birds precisely enough to maintain near-constant egg supplies takes more aggressive measures than turning the lights off earlier. The technical terms are phrases like "dietary restriction" or "dietary stress" but the net effect – for chickens in many American egg farms – is two weeks of starvation.
At the same time that their fake "daylight" suddenly ramps down to a bare minimum, these hens find their feed rations dramatically reduced or, more commonly, eliminated altogether. Because factory chicken farms are aware that starving egg layers for two weeks attracts a very negative public reaction, research is underway to determine the best, cheapest alternative. This turns out to be nutrient deprivation – withholding essential vitamins and minerals – to trick the birds bodies into thinking they are being starved without literally starving them. This technique reminds me of the terrible stories of aspiring models eating Kleenex to fill their bellies without ingesting calories.
Just how stressful is this? Over the two week period of a forced molt, a factory chicken farm expects to lose 1-1.5% of its flock from what is, essentially, starvation. That's 2-3 times the regular monthly mortality rate for chickens in an operation like this (yes, 0.5-1.0% of a commercial flock dies every month).
Why bother with this forced molt stuff at all? In a synthetic world, why not just keep the hens laying year 'round under conditions of high summer fake-sun? Well over the course of a laying season (about eighteen months for a new hen, and eight months for one that's been through a molt) productivity gradually trails off. The molt provides a "reboot" of the egg-laying system and jumps productivity back up a bit. It also reduces the chances of reproductive illnesses.
The commercial egg farms have done the math. They know that taking hens "offline" for two weeks – even if it costs them 1.5% of their flock – pays off in greater post-molt productivity. And hey, not having to pay for two weeks' worth of feed probably doesn't hurt the bottom line either. 
There's plenty to worry about as an egg or poultry consumer these days. Debeaking, cage conditions, waste streams, and more. How can a concerned egg consumer do their part to change – or at least avoid – these practices. In many countries outside the United States, forced molting through starvation is circumscribed or outright banned. But here, it is the norm for the 75% of egg producers who rely on blackout houses.
Don't assume that labels such as "Cage Free" or "Free Range" necessarily mean a cheerful happy-go-lucky Portlandia-approved bird frolicking in the sunshine, either. Plenty of open-floor blackout sheds exist, where the confinement may not be there, but the dusty dim air certainly is.
Most of the various labels that pepper an egg carton at your local yuppie-hippie market fail to address forced molting – the Humane Society has a nice summary of different egg label standards. "Certified Humane," "Animal Welfare Approved," "American Humane Certified," "Food Alliance Certified," or "United Egg Producers Certified" are the ones to look for if you're concerned about forced molting through starvation.
Even better than trying to decode the morass of claims dotting an egg carton is to buy from a producer you know and trust – someone who welcomes you to their farm and will proudly show you how their hens live. Blackout houses are largely the purview of large scale producers, so a farmer's market or co-op grower is probably a safe bet.
Of course I'm partial to just doing the whole thing yourself! Our little backyard flock keeps us well fed for eggs – we get more eggs than my family can consume – while also supplying us with fantastic fertilizer.
References:
6