Last Sunday I presented a garden-to-table cooking demo called Sensational Cool Season Salads at the Northwest Flower and Garden Show. I showed how to make salads that highlight great winter produce.
I'm always a huge bundle of nerves before any public speaking engagement, but I think it went pretty well. I crammed four salad demos into an hour-long presentation. It was a close-run thing at the end, and I used every minute, but I did get all the salads made! Phew!
My friend Jason, a master gardener and the owner of Third Spring Landscape Design, snapped this photo of me up on stage with my salads once the presentation was over.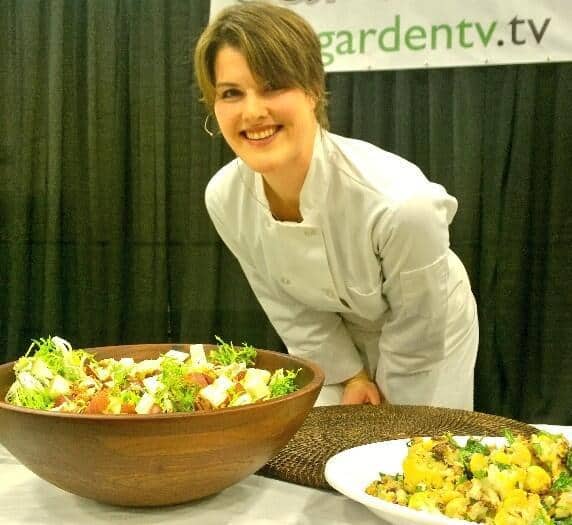 For all you guys who weren't able to make it, here are the recipes!
---
1. Kale Caesar Salad
All Kale Caesar! The classic Caesar flavors of garlic, anchovy and parm get tossed together with salted kale, homemade croutons and grape tomatoes. The homemade croutons are key – box croutons are not allowed. Make your own and you'll never go back to cardboard croutons, I promise!
The dressing for this salad is the variation preferred by Pioneer Woman. The addition of a bit of sweeter balsamic really works with the kale.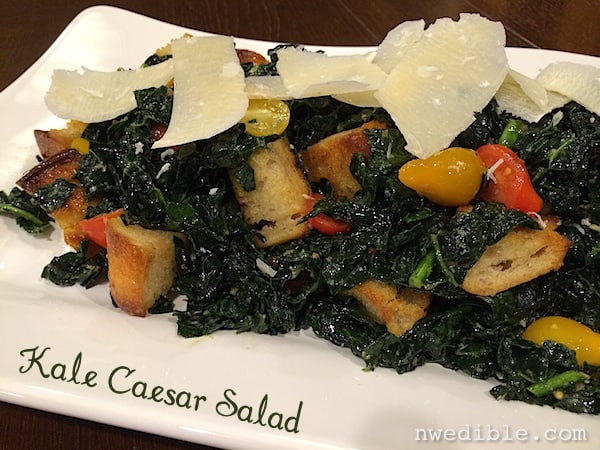 Printable Recipe for Kale Caesar Salad
---
2. Roasted Cauliflower and Chickpea Salad with Tahini-Orange Dressing
This salad makes a great vegan light entree. The dressing is made with tahini, which is like peanut butter, but made with sesame seeds. It works very well with the cauliflower and chickpeas in this salad.
If you have salt-cured lemons, use them. (See more: How To Make Salt Cured Meyer Lemons.) They really help the salad to pop. If you don't, some extra lemon juice wouldn't be out of place.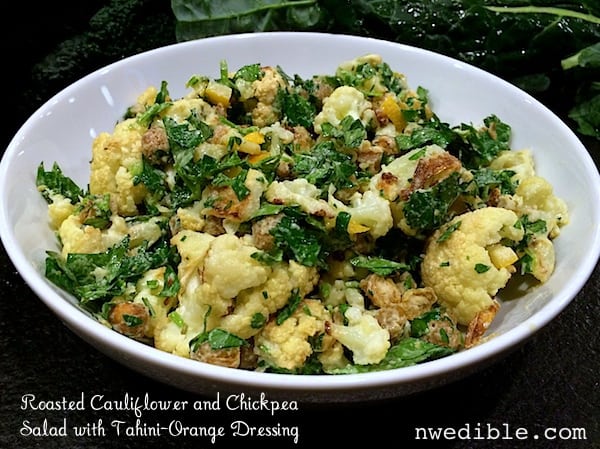 Printable Recipe for Roasted Cauliflower Salad
---
3. Beet Carpaccio with Goat Cheese and Walnuts
A meatless take on the beef carpaccio presentation, this salad brings together the classic flavor combination of roasted beets, goat cheese, walnuts and arugula.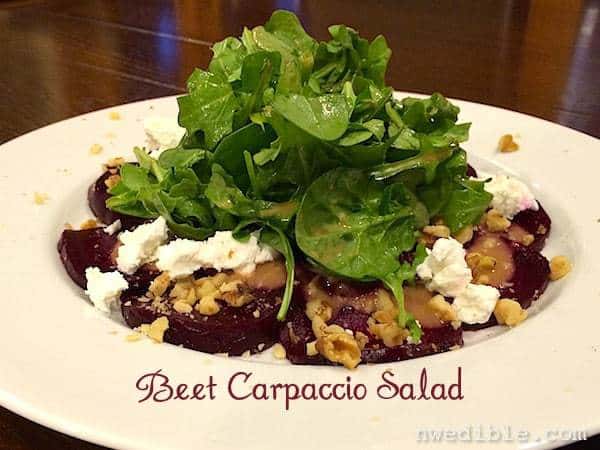 Printable Recipe for Beet Carpaccio Salad
---
4. Frisée with Warm Bacon Vinaigrette, Pear and Blue Cheese
Frisée is a lovely cold-weather green in the chicory family. It's less bitter than chicories like radicchio, and is particularly mild when grown in cool weather. It has a nice texture and stands up well to rich accompaniments like bacon and blue cheese. Both are used in this salad, along with pear and pecans, making this salad substantial enough to serve as a light meal.
I used my homemade, unsliced slab bacon here, and so was able to cut it into chunky lardons. (See more: You Can Make Bacon At Home.) If you are buying bacon, get the thick-sliced kind. Once you cook down paper thin bacon there isn't really anything to it and it doesn't work well in this application.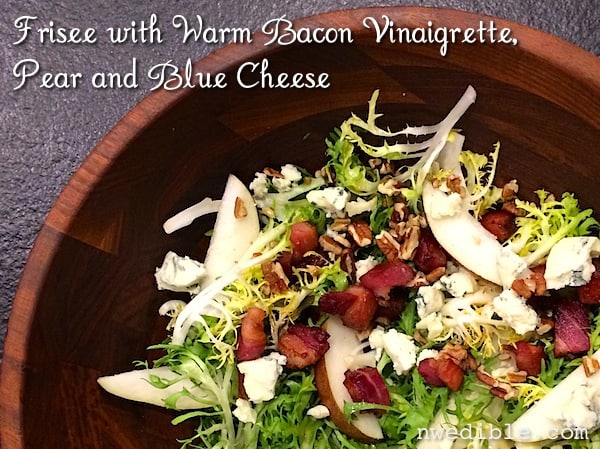 Printable Recipe for Frisée with Warm Bacon Vinaigrette, Pear and Blue Cheese
Happy salad making, and thank you so much to everyone who came out to the Northwest Flower and Garden Show! I can't tell you how much it means to have friendly faces in the crowd. You guys make this kind of thing a lot of fun.
2