Our best-est couple friends, Colin and Jo, are about to have their first baby. Yay! Last month, I co-hosted a baby shower for them. Here we all are. Everyone looks happy except Oliver, who resents being forced to stay still for eight seconds.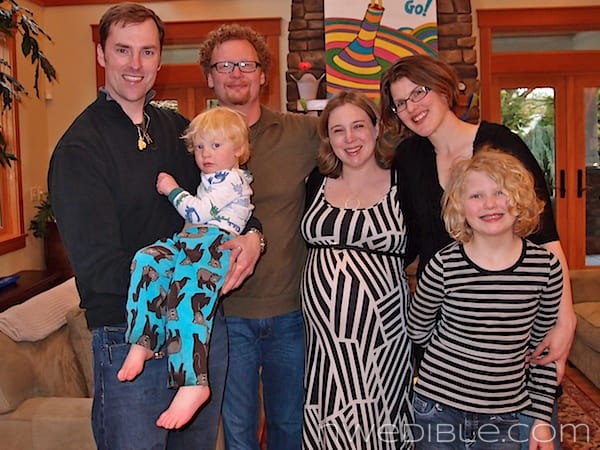 My amazing co-hosts, Roxanne, Sarah and I agreed that a children's book theme shower would be appropriate for our well-read guests of honor. 
The Invitation
After cruising through Pinterest for inspiration, I designed the shower invite to look like an old fashioned library card. I downloaded some cool stamp-style fonts to get the right look, and color printed the invites on manilla-colored tagboard at a local copy shop. Certain details about this invitation have, obviously, been modified to protect people's privacy, but this shows the layout.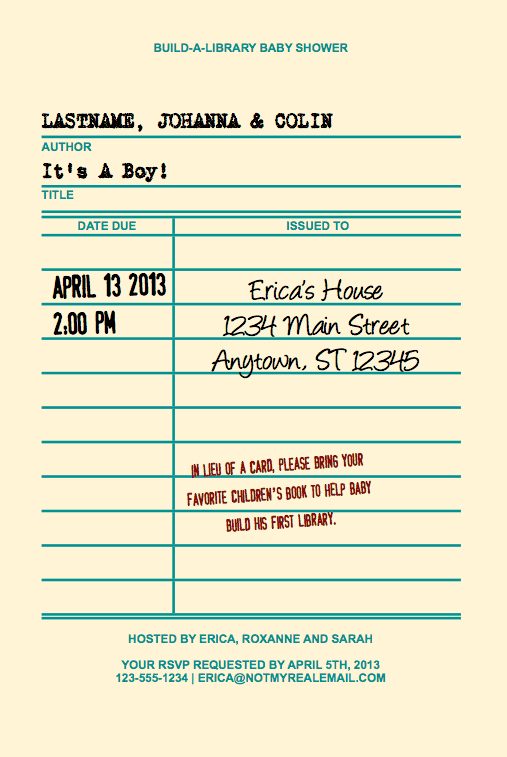 The Sweets
The buffet was divided into a sweet section and a savory section. The sweet section also acted as a kind of decorative display, with a Cat In The Hat cake at the center.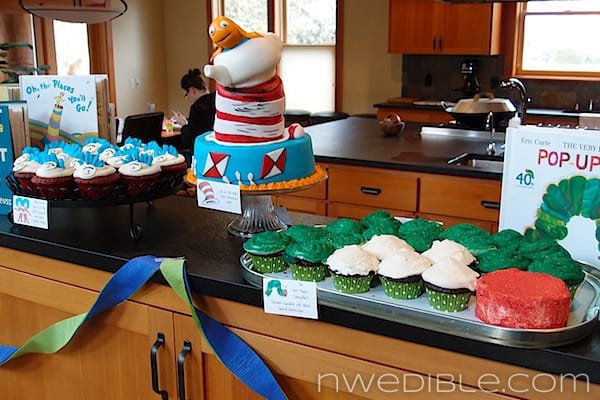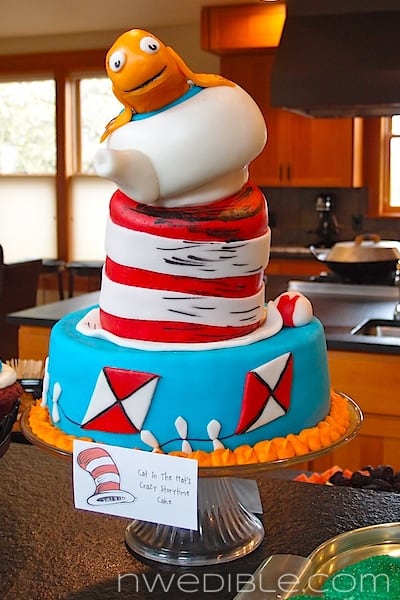 Jo's favorite flavor cake is Red Velvet with Cream Cheese frosting, so I made "Thing One and Thing Two" cupcakes in that flavor. My daughter helped me make blue fondant "hair" and edible white chocolate nametags for each cupcake. Children's books were propped up everywhere, and formed a major part of the party decor as well.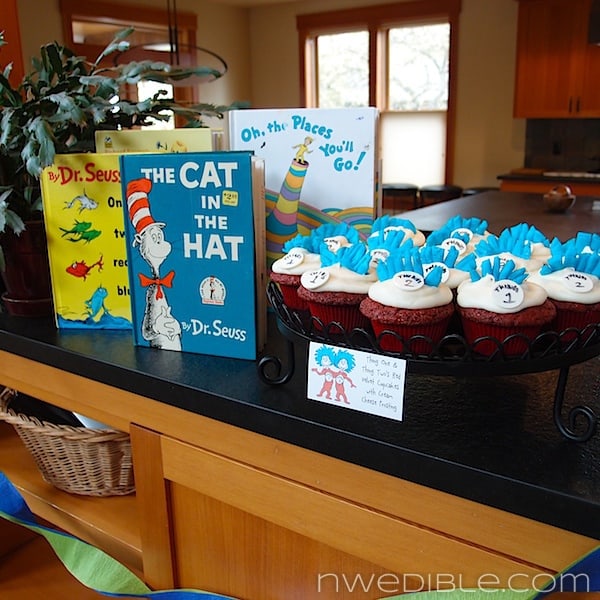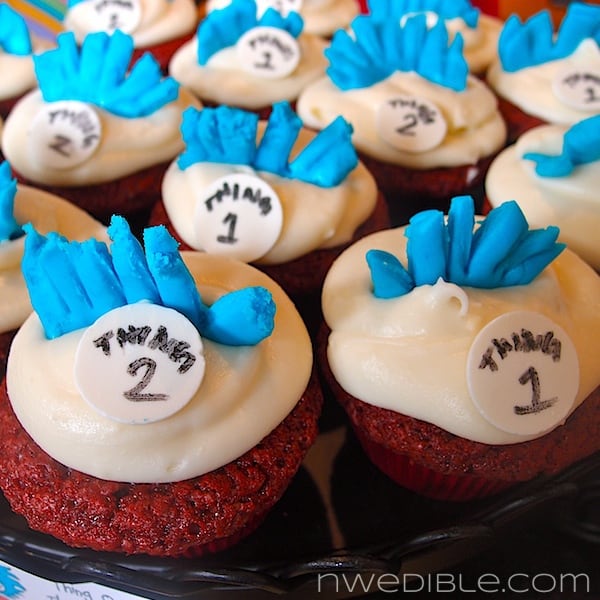 For chocolate lovers, I had dark chocolate cupcakes with caramel Italian meringue buttercream. The buttercream was tinted then covered with decorator's sugar and the cupcakes were arranged to make a Very Hungry Caterpillar display.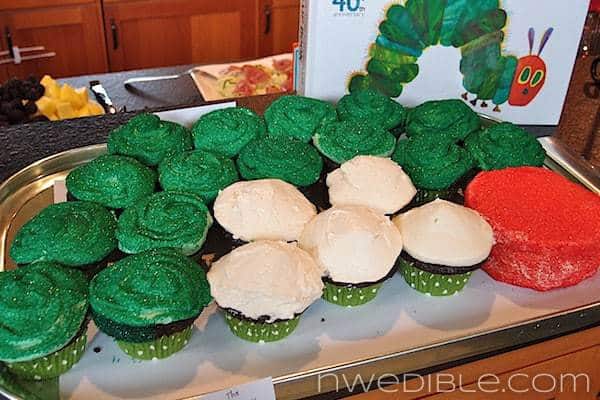 And finally, we had a platter of If You Give A Mouse A Cookie Cookies. I broke with the book just a bit and made chewey oatmeal chocolate chip cookies because they are some of my favorites.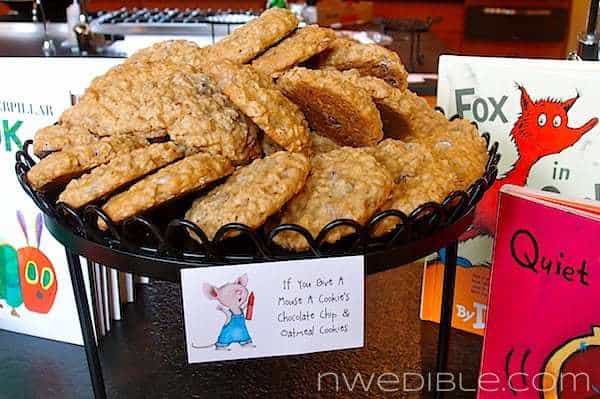 The Cat In The Hat Cake
At some point in planning this shower, I got it in my head I wanted to attempt a really cool, children's book inspired cake. Again with the Pinterest. Now, I am honestly not a particularly good baker, and I'd only worked with fondant twice before I made this cake, and it didn't turn out that great – did you know fondant can melt right off a cake?
So there was a good chance this could have turned into a cake wreck situation, but I figured I'd give it a shot and just make lots of cupcakes in case the cake bombed. (Hence the multitude of treats on offer.)
I started by sketching a three-tiered Cat In The Hat inspired cake and got to work making a ton of marshmallow fondant, chocolate cake and chocolate ganache (bottom tier) and red velvet cake and vanilla buttercream (hat and teapot tiers).
Then, I just took it step by step and checked the intergoogles whenever I got confused. I'm pleased to say I think it turned out pretty great! Actually, not to brag, but I'm really proud of myself for pulling this off because I'd never made fondant before and I'd only made one multi-tier cake before this. It was so fun to learn those new skills.

Pretty cute, huh?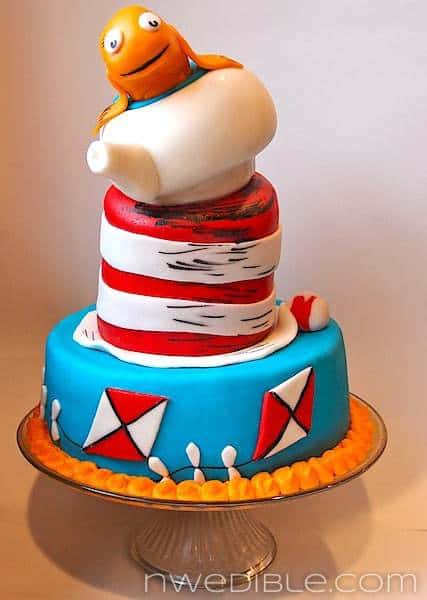 The fish jumping out of the teapot is pure marshmallow fondant that I made several days before the party and let kind of dry out at room temp. The black details on the fish (and the rest of the cake) are made with edible black marker – basically food dye in felt-tip form.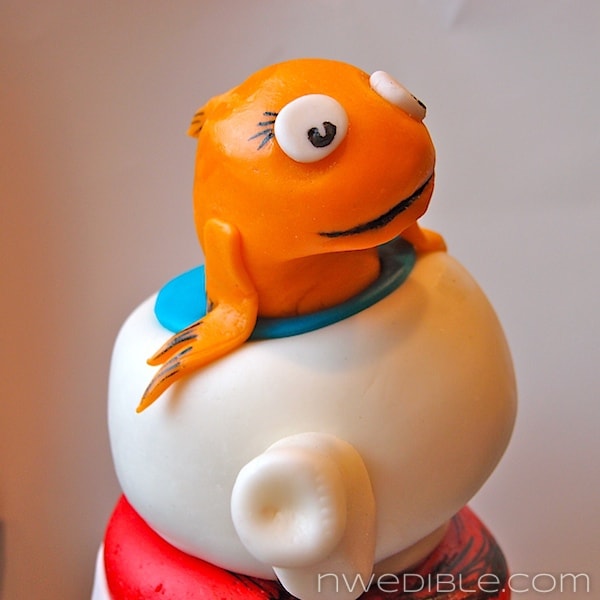 The hat was stacked and shaped deliberately to be crooked, but that was only obvious from certain angles. Bamboo skewers helped hold the tiers together.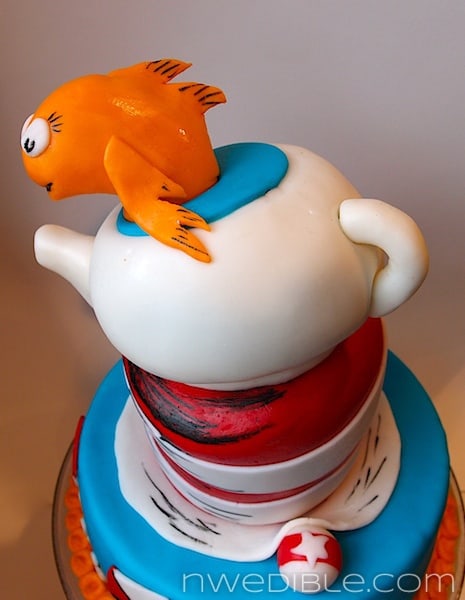 After shaping and spackling the cake tiers with a mixture of buttercream or ganache and cake crumbs (depending on the tier), I had a smooth surface over which to apply my layer of fondant, tinted as appropriate to the tier. I did get a few minor cracks at the edges of the red fondant covering the hat, and on the hat "brim" but I tried to just take my time and all in all it went on pretty smooth.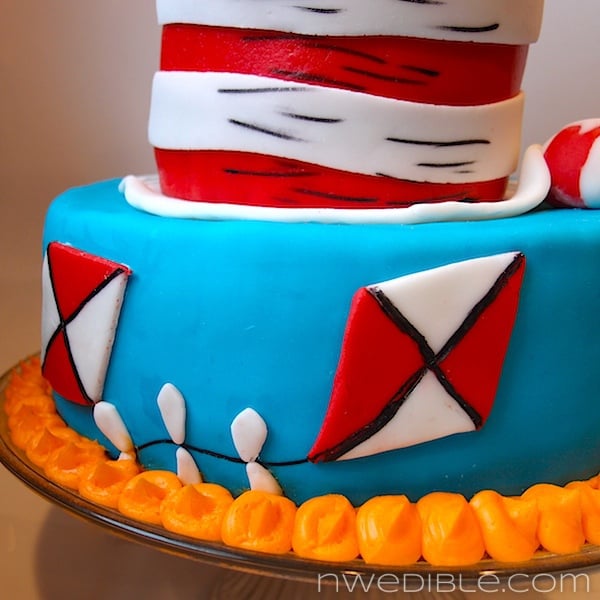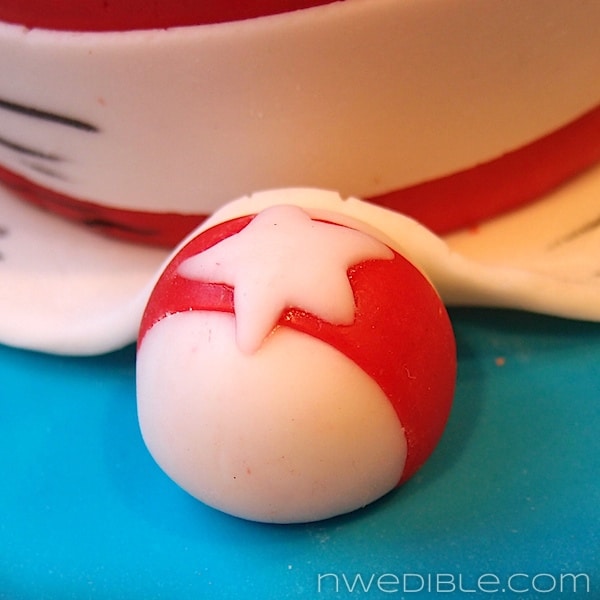 The Food
All the food was designed to be children's book themed. We had:
Green Eggs and Ham – Herbed Deviled Eggs topped with Prosciutto.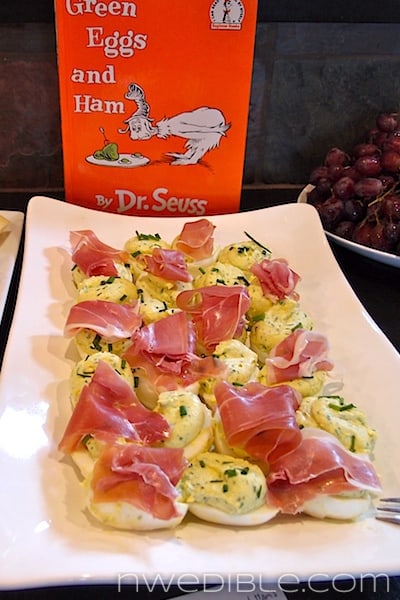 Very Hungry Caterpillar Fruit and Cloudy With A Chance of Meatballs Chicken and Pineapple Teriyaki Meatballs. (Broke out the Crock Pot cause I'm not afraid of goin' retro style, yo.)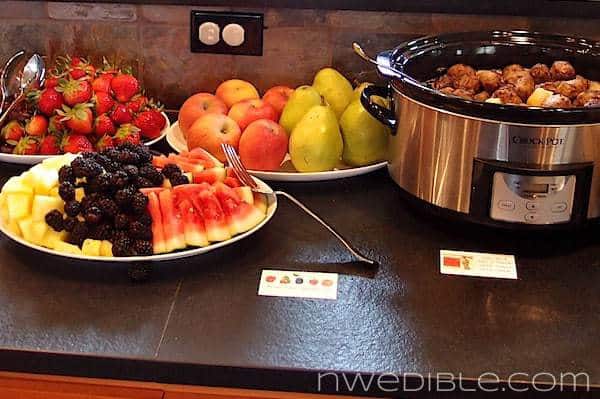 Chicka Chicka Boom Boom Coconut Curry Grilled Chicken Skewers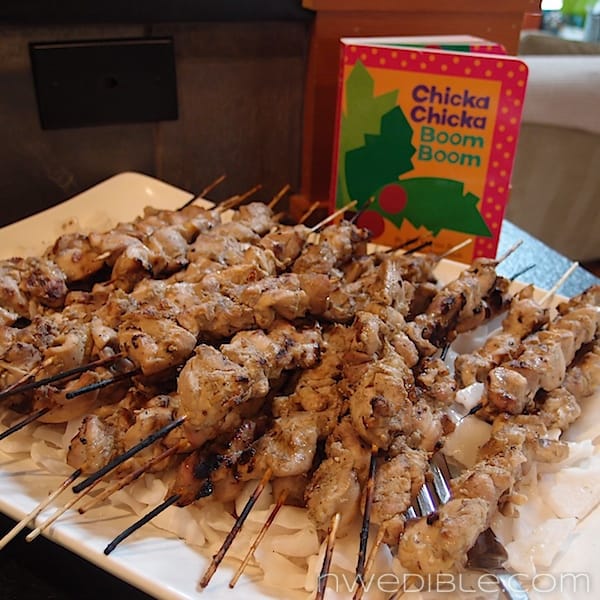 Strega Nona Pasta Salad with Pesto, Spinach and Tomatoes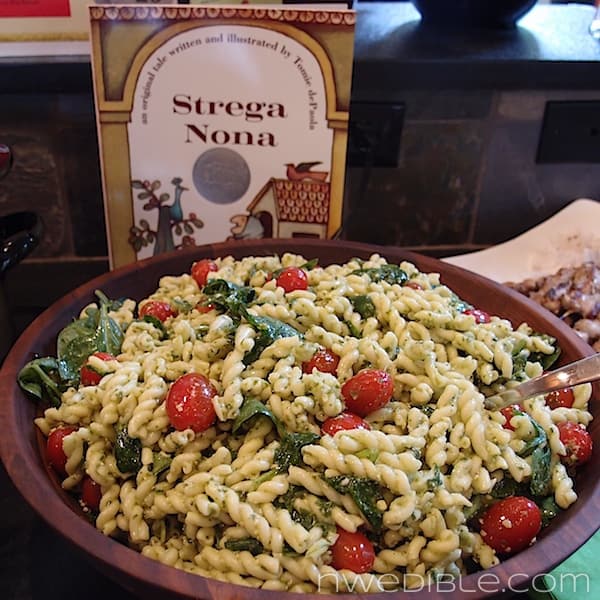 and The Very Hungry Caterpillar Cheese and Salami.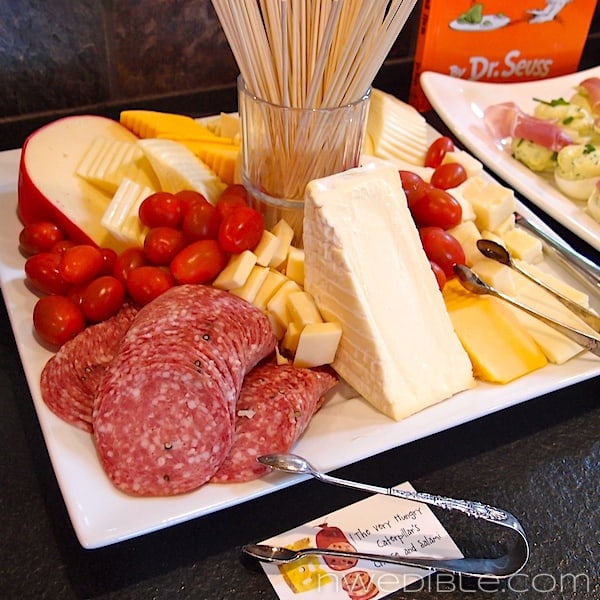 Decor – Children's Book Inspired Paintings
I thought it would be cool to have really big, graphic decorations. I used to paint quite a bit, so I broke out the ol' brushes and some large canvases I had in storage and created paintings inspired by iconic children's books. I managed to get four done (The Very Hungry Caterpillar was planned, but I flat ran out of time).
I painted Oh, The Place's You'll Go by Dr. Seuss, a classic if ever there was one. (I just copied the cover.)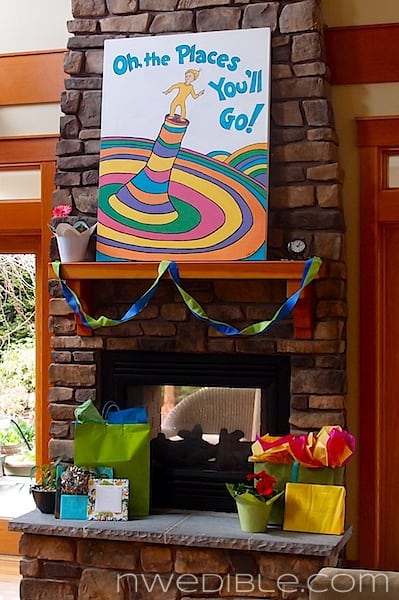 Two paintings (a sort of a diptych) were modeled after the illustrations in the adorable kid's board book Quiet LOUD by Leslie Patricelli.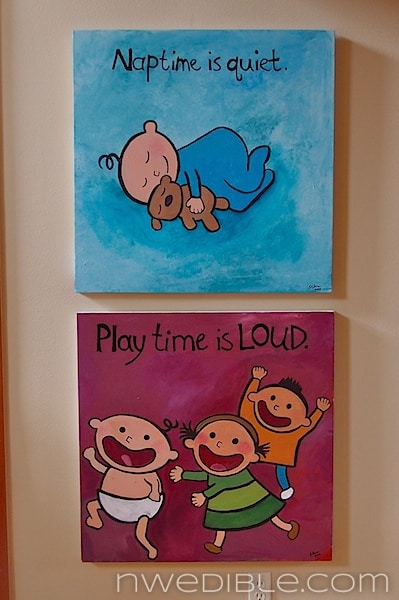 And the last painting was inspired by the absolutely charming book, Harold and the Purple Crayon by Crockett Johnson. My co-host Roxanne (a recent new mom herself!) liked this one so much I sent it home with her to use as decor in her baby's room.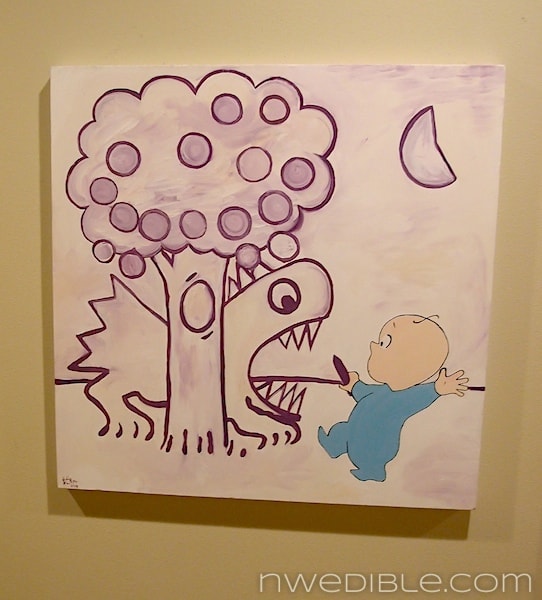 I also picked up a dozen potted gerber daisies from Costco. My dad ran all around town on the day of the party looking for the perfect covers for the pots, and found them! So we had these fun, high-color flowers in complementary pots dotted all around the house. It was very (and I can't believe I'm about to use this word without irony) whimsical.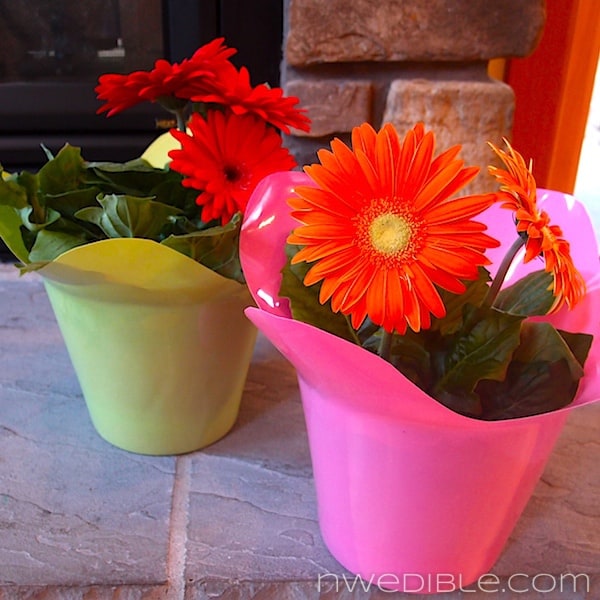 The Favors
I kept favors pretty simple. I bought new 4-ounce mason jars (this size is perfect for so many things!) and filled them with M&Ms. Then I made a cute label for the jars – "Food For Very Hungry Caterpillars" – and stacked the jars pyramid style by the front door so guest could take one on their way out. (I keep these inexpensive labels on hand for making labels for my home canned food. You can read more about that here if you want.)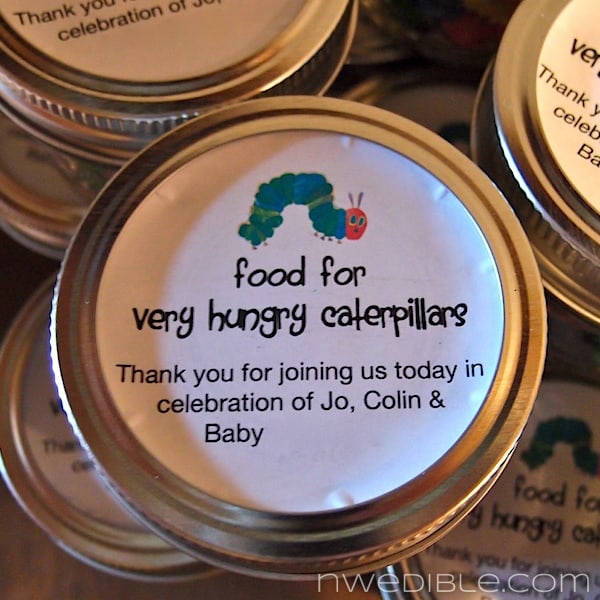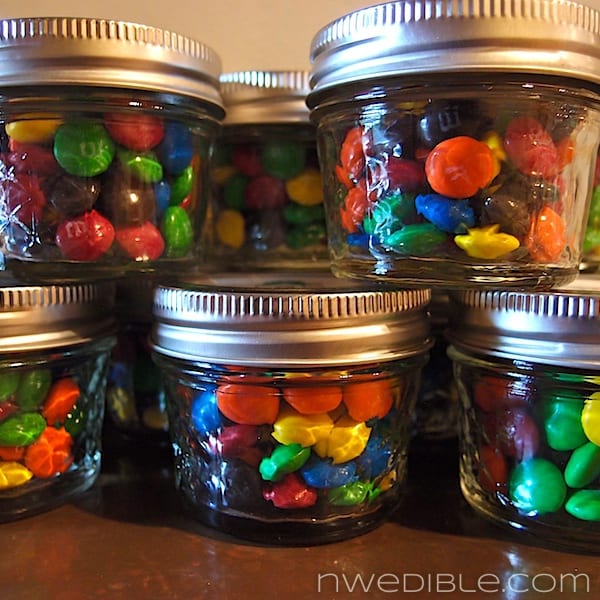 I also made bookmarks using office tags and business cards.
I printed a Dr. Seuss quote about reading, along with various Dr. Seuss clipart characters I found online, on standard printable business cards, laid out like this: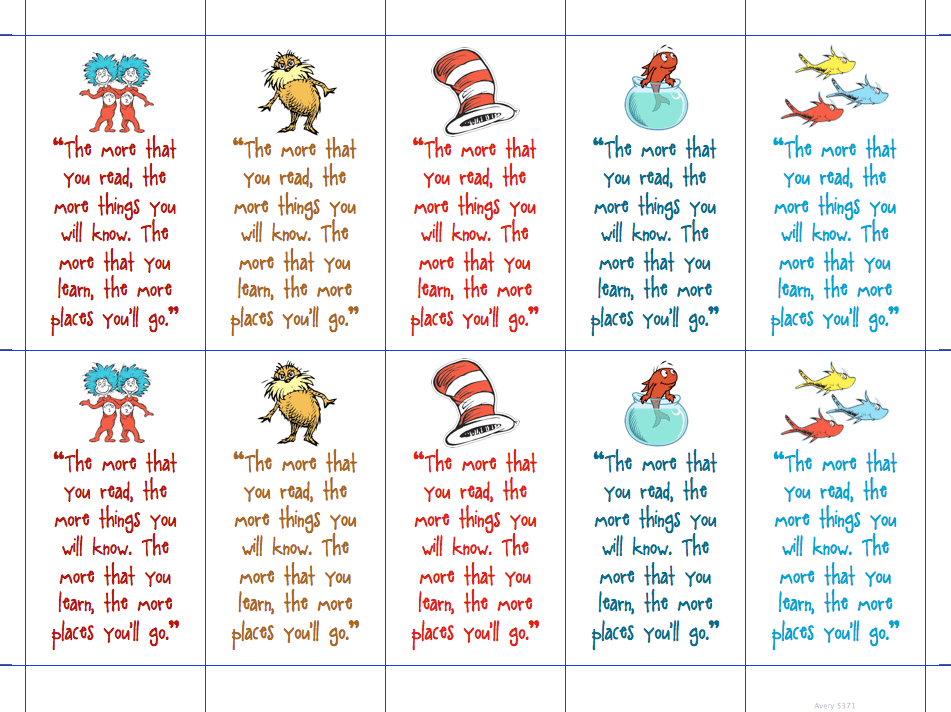 Then I just glued the business cards onto large manilla shipping tags.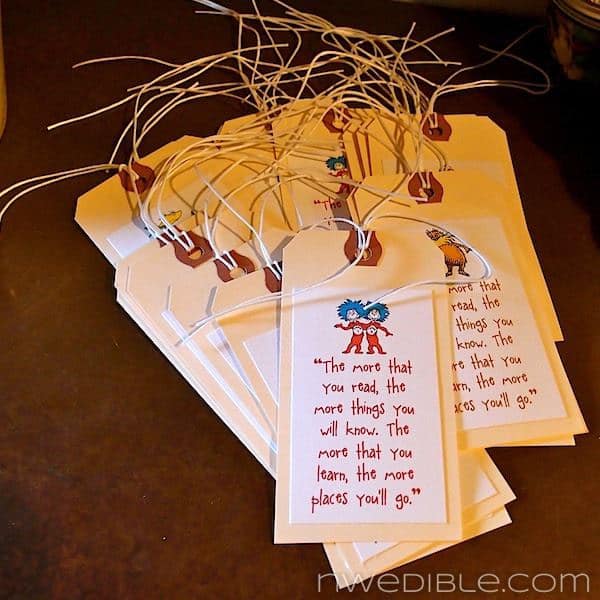 Crafts and Activities
On the invite, we asked folks to bring a children's book instead of a card, and I think everyone obliged. We had bookplate stickers set out so that people could tell the new baby why the book they selected for him was special.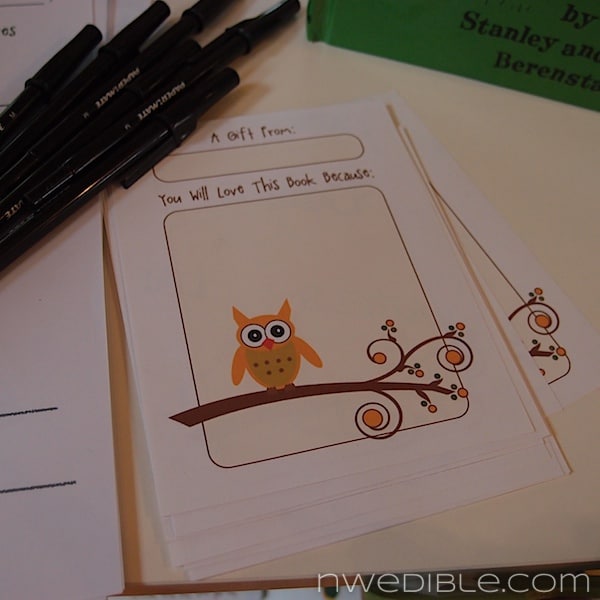 My co-host, Sarah, procured a bookcase and a bunch of paint pens. We asked guests to sign the bookcase as a functional keepsake for Colin and Jo.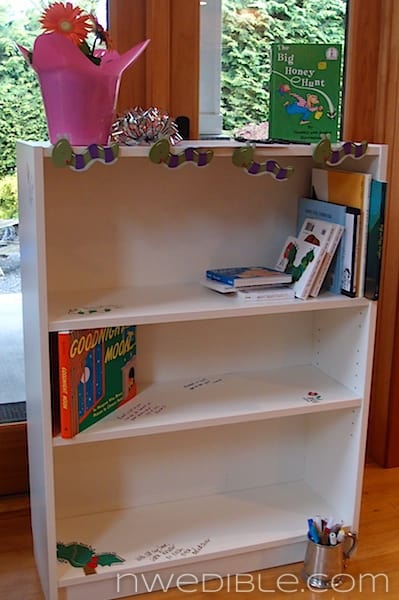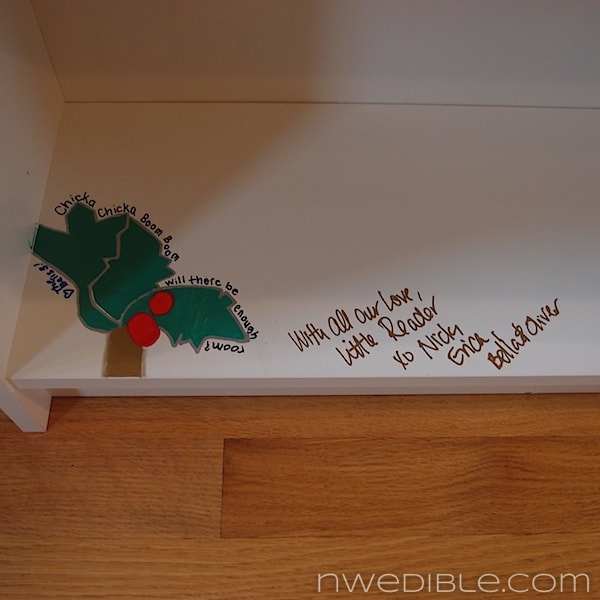 Co-host Roxanne set up a huge table of scrapbooking supplies, too, and guests took turns making ready-to-go scrapbooking pages for various events in baby's life.
We didn't play any games, per se, but we did ask guests to make some fun predictions about the baby: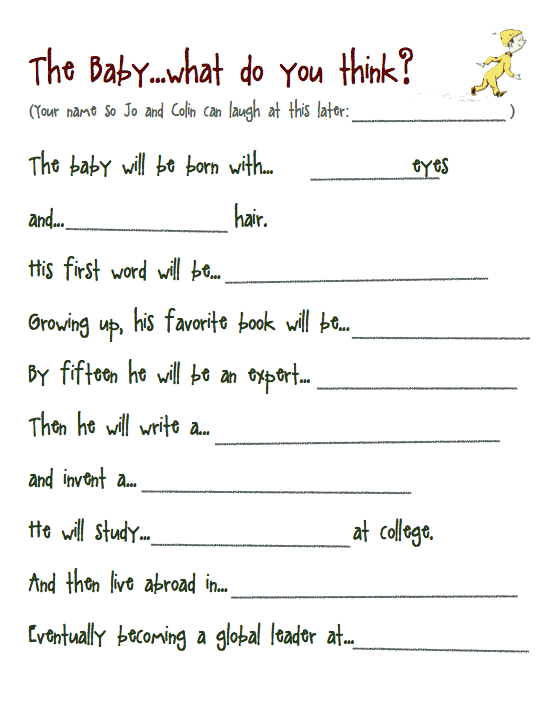 I had a blast getting my Creative Girl on with the cake and the paintings and the graphic design stuff, the guests of honor were appropriately showered with gifts and love, Jo's belly was rubbed about a million times, the guests had a good time, and everyone ate, drank and was merry – a successful event, I'd say!
Do you enjoy throwing parties and showers? What's the most fun part of entertaining for you?
26