The Facial
Years and years ago my husband treated me to a massage and spa facial for Mother's Day. I had never had a facial before. I told the lady doing the facial, "I have really, really sensitive skin" and she said, "Good to know" and then proceeded to slather what I can only assume was battery acid on my face. (Later the Skin Sadist told me it was a "Vitamin C Ampule" which I think was code for "Orange Flavored Battery Acid".)
Now I want you to picture the scene in Lord of the Rings where Sam puts the Elvish rope around Gollum, who begins to scream "It burns! It burns us!"
Pretty much that was what was going on inside my head during this "relaxing" facial. As a woman, I am of course well trained in the art of not offending people who are chemically burning my face off while I pay for the privilege, so out loud I said, "That's really quite tingly. In fact it's even burning a bit. Is it supposed to do that?"
And the Skin Sadist said, "Yes, that means it's working, but I can wipe it off if you want."
"Yes, I think that's a good idea," I said, panic just mixing with that ridiculous apologetic voice that women use when they are worried that they are inconveniencing someone by suggesting they do the obviously right thing.
So the Skin Sadist took a rough Kleenex and wiped most of the battery acid off my face. (She left it around my eyes, I guess figuring that the tears leaking down my cheeks at that point would rinse that area off eventually.) Then she put on some sort of "Calming balm" on my face – I'm positive it was Mentholatum in a $90 bottle. That overwhemed whatever facial skin nerve endings were still functioning and a painful, numbing cold took over. It was what I imagine frostbitten mountain climbers feel right before their toes turn black and all feeling goes away forever.
At the end of this tortuous 50 minute hour of spa service, the Skin Sadist asked me to buy the Battery Acid Ampule and the $90 Mentholatum.
I declined. I ran to the spa locker rooms and took a shower, truly shocked that my lips and nose did not literally sluff off down the drain of the shower as water ran over my face.
"How was the facial?" asked my sweet, earnest husband.
"Um, I don't think I'd do it again." I said.
My face was red for four days.
Fancy Face Goo
I wish I could say I learned my lesson from that facial, but the truth is that as I cruised into my late twenties I because convinced I needed The Goo That Would Turn Back Time. So I bought a lot of Fancy Face Goo. None of it did anything quite as bad as the Battery Acid Ampule, unless you count pointlessly parting me from hundreds of dollars over the years.
One day I had my Hope In A Bottle revelation and I just Stopped Buying Goo. I stopped all Undereye Serum Miracle Cream Rejuvenating Acid Peel Plumping Anti-Aging Toner Regimens.
The less Goo I used, the better my skin looked. Eventually I got rid of all Goo and all regimens. I don't think faces should be on regimens.
Now, in my mid-30s, I think my skin looks pretty good. I get the occasional zit and I have those little crinkles around my eyes, but now that I've stopped doing most everything, it's good enough for someone who spends most of her day chasing kids and chickens, that's for sure.
These days I have only a few "products" that I use, and they are all very simple DIY type things. I've already written about my Lard Moisturizer, which I still think is the best for super dry, very sensitive skin.
But my current favorite product is a two-ingredient exfoliator using coconut oil and baking soda. It does an amazing but gentle job of removing dirt and rough skin from the face and lips (I stay away from my eyes and recommend you do to) and leaves skin super soft. And though my facial skin doesn't do well with coconut oil as a straight moisturizer that you leave on, I've never had a problem with this exfoliator, because everything is gently rinsed off.
Facial Exfoliator Using Coconut Oil and Baking Soda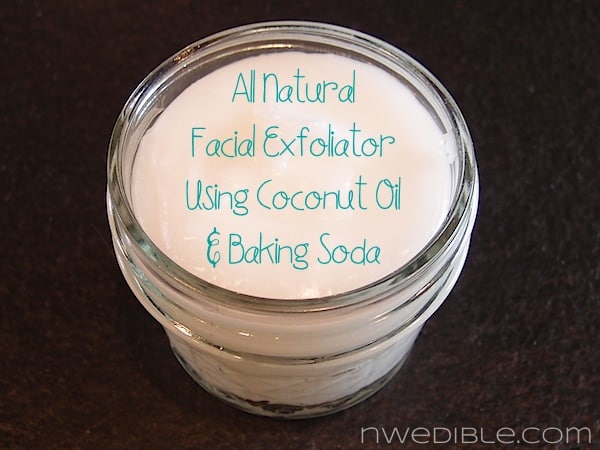 Ingredients
1/2 cup organic coconut oil, melted or very soft
1/4 cup baking soda
I use these: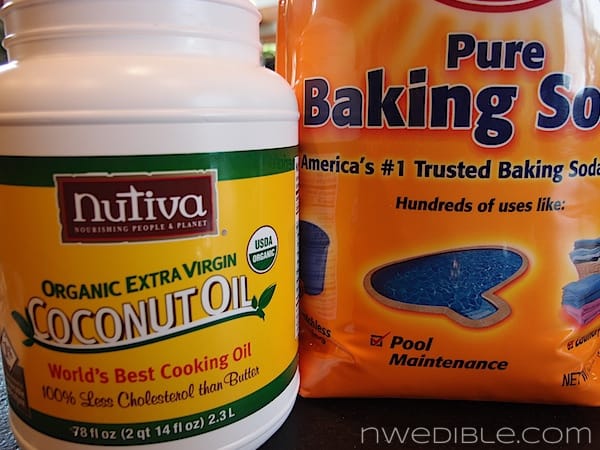 Mix ingredients well, until thoroughly blended and creamy to frosting-like in appearance depending on how cold your coconut oil is. Coconut oil should be solidified.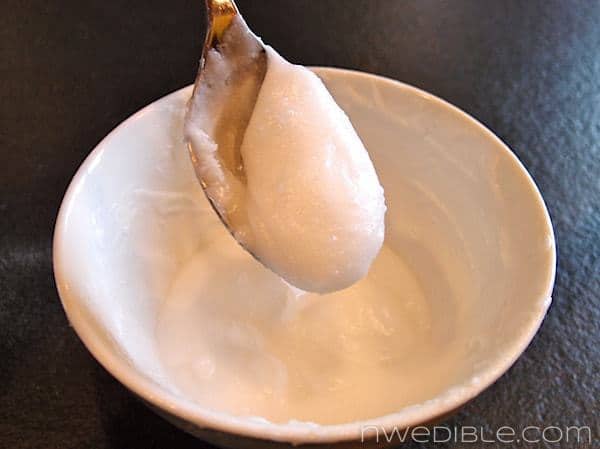 Store at room temperature in a jar with a tight-fitting lid. I like these little 4 ounce mason jars for stuff like this. The exfoliator will keep for weeks at cool room temp.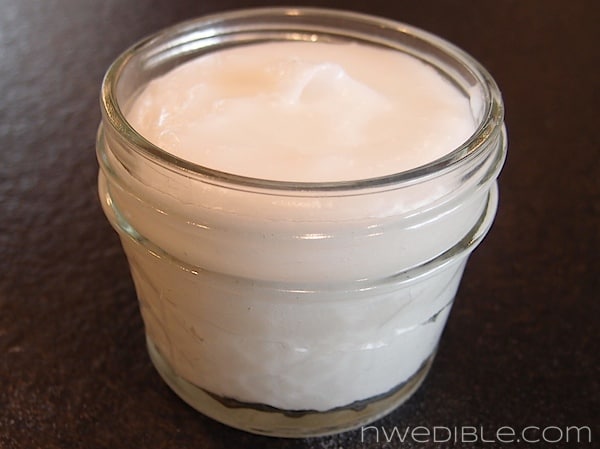 To Use
Rinse face with warm water. Rub a tablespoon or so of the exfoliator between your hands to warm, then gently rub your face and lips with the exfoliator. Rinse skin well with warm water, and pat dry. I use this exfoliator several times a week, or as needed. I wouldn't use it daily, but as I've established, I have pretty sensitive skin.
This exfoliator does a lovely job anywhere on the body, though it isn't quite rough enough for my nasty gardener hands. You can even use it in lieu of toothpaste, if you want. It's very versatile.
I'm not super knowledgable about medicinal herbs or essential oils, but I know this basic formula can be tweaked to include chamomile and lavender and calendula and other soothing, calming things. Perhaps some of the herbalists in the audience will comment about the best way to customize with herbs and essential oils if you want.
Be honest! Are you still buying a lot of Fancy Face Goo? Or are you more likely to DIY your personal care products?
114