You know I love me some Mother Earth News, right? It's been the official publication of simple-living folks and wanna-be simple-living folks since 1970!
Every year, The Mother Earth News people put on the Mother Earth News Fair, which is a giant expo dedicated to urban and rural homesteading and greener, more thoughtful living.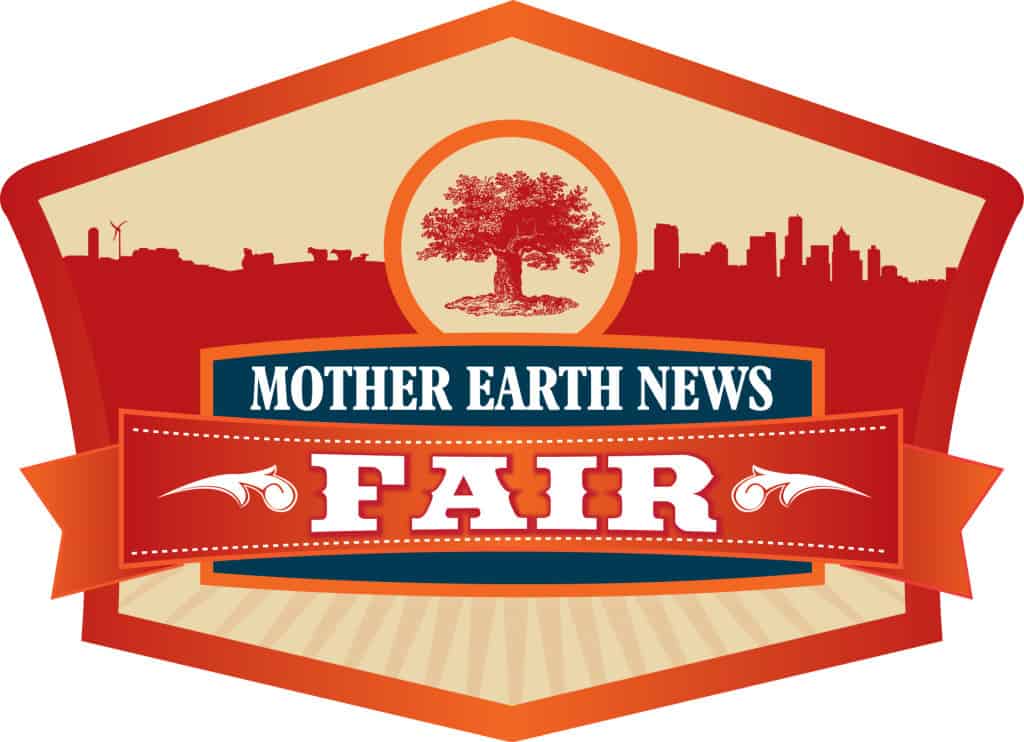 There are hundreds of presentations and demonstrations from experts in, well everything: gardening, permaculture, food preservation, modern home economics, herbal medicine, animal husbandry, solar renovation, off-grid living, raising poultry, green and alternative building techniques, fermentation, farm financing strategies and more.
In fact, my biggest problem with the Mother Earth News Fair is that I inevitably miss presentations I'd love to attend because there are multiple compelling speakers at the same time – there are 14 speaker's stages this year for goodness sakes!
To simplify the arduous selection process, I do have a few must-see speakers I recommend for new attendees:
Must See Speakers
Joel Salatin is one of the keynote speakers and you must go see him. I'm sure you know him as the "Grassfarmer" in Omnivores Dilemma, and maybe from his own fantastic and fascinating books too. In person, he is like watching a high-energy version, hilarious version of every anti-industrial food rant that's ever popped into your head.
Jessi Bloom is a local-girl, garden designer and expert on chicken-keeping and systems-based gardening. She wrote what I consider to be one of the essential books on chicken keeping and she'll be talking about "Easy Peasy Edibles" and how to combine chickens and gardening ("What The Cluck?!") at the MEN Fair. Great, compelling speaker – make sure to seek her out.
Lisa Kivirist is a pro at combining economics and earth stewardship, both in and out of the home. She has written several books detailing how to move from a corporate life to a considered life. Her latest work is a cookbook inspired by the recipes she uses as the owner of an ecologically-focused Bed & Breakfast in Wisconsin. Last year I was highly impressed with her MEN News presentation "Farmstead Chef: Organic Eating On A Dime" so I'm very happy to see she'll be doing that presentation again. If you are trying to eat well but your budget is tight, she has excellent tips.
Ira Wallace, owner of Southern Exposure Seed Exchange, has literally traveled the world building up an encyclopedic knowledge of edible plants and seed saving. She gives wonderful, fun and personal-knowledge-backed presentations and has cooler hair than probably any other presenter. She'll be talking about "Extending The Harvest," "Seed Starting Simplified" and "Growing Great Garlic." Pick one or all, you won't be disappointed. Just remember that her varietal suggestions will be based on her extensive experience growing in the Southeast, so Northwest gardeners may need to adapt the specific varietals.
Meet Up With Me (And My Super Cool Friends) to Chat Sustainability!
At past Mother Earth News Fairs, I've been lucky enough to run into readers of this blog and meet some the wonderful people who make up this community. This year, I thought it'd be fun to formalize a get together time.
So, I'll be hanging out in the food court area (lots of tables) from 2:00 to 3:00 (ish) on Saturday afternoon, drinking coffee and talking to my inspirational friend, simple living expert Lisa Kivirist, about sustainability, women in agriculture, gardening, getting out of corporate servitude*, living a homesteady life and whatever else pops into our heads.
Drop in any time – if you come and join us, we can talk about whatever pops into your head too! Gardening questions? Composting? How to balance kids and  jobs and productive homekeeping? Whatever. It's basically a coffee break.
I know a few other amazing writers and speakers who will be at the fair, and I'm going to try to sweet talk them into joining us, too, if their schedules allow. This could be a really fun group of folks!
All You Need To Know: The Mother Earth News Fair Basics
What – A giant weekend of modern hippie living awesomeness!
Where – Puyallup, WA at the Puyallup Fair Ground
110 9th Avenue Southwest
Puyallup, Wash. 98371
(map)
When – First weekend in June.
Saturday June 1st, 9:00 AM-7:00 PM
Sunday June 2nd, 9:00 AM-6:00 PM
Speakers & Demonstrators – too many to list.
Tickets
One day (Saturday or Sunday) tickets are $20 if you pre-order and $25 at the gate.
Weekend tickets (both Saturday and Sunday) are $30 if you pre-order and $35 at the gate.
Youth 17 and under free. Like, totally, totally free, so bring the kids.
Or enter the giveaway and maybe you can go for free!
Everything Else – more info here.
Giveaway! Massive Giveaway!
I want as many people as possible to come to the Mother Earth News Fair and soak up this info. And Mother Earth News feels the same way, so they're sponsoring this giveaway of five (FIVE!) pairs of weekend passes to the Mother Earth News Fair in Puyallup. Each of these five prizes is worth $70!
Each winner will have their two passes left at the will-call pick up window of the Puyallup Fairgrounds under their name.
This is a fantastic giveaway! I ask that you only enter if you are actually able to attend the Mother Earth News Fair in Puyallup, WA on June 1st and/or 2nd. It would be a shame for these free tickets to not get used, so if you live in New York or something and know you can't fly out for this, please refrain from entering (check out the other locations the MEN Fair will be this year).
To enter to win one pair of free tickets to the Puyallup, WA Mother Earth News Fair, leave a comment below telling me what topic you are most interested in learning about at the Mother Earth News Fair, or which speaker you are most excited to see. Five winners will be picked at random. One entry per person, please. Additional entries will be disqualified.
Contest is open until Sunday, May 19th at 8:00 pm. Winners will be notified on Monday, May 20th by email. Winners must respond to my email by Wednesday, May 22nd at 8:00 pm or their prizes will be forfeited and another winner will be chosen. This is to make sure all winners have appropriate time to make any necessary travel arrangements.
Good luck! Hope to see you at the Fair!
Giveaway is now closed. Congratulations to Deon, Kristina, Nicole, Tanaya and Ginelle. Please check your email for instructions on claiming your prize.
*hat tip to Sarah at Dogs or Dollars for introducing me to the phrase "corporate servitude."
1