Homebrew Husband came home after his commute the other day and told me that local Seattle rapper and my fake internet boyfriend, Macklemore, is overwhelming the Seattle radio scene with his hilarious ode to frugality, Thrift Shop.
Thrift Shop has been making rounds through the money-saver forums for months and months, so I've been loving Macklemore's take on consumerism for quite awhile now. I also recommend his incredibly poignant song, Wings about the influence of marketing on young children.
Macklemore is a great artist and, with Ryan Lewis, tells unique stories through his songs, so I'm not surprised that Thrift Shop is blowing up the airwaves.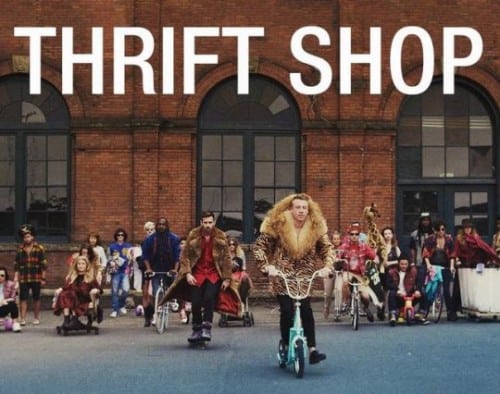 If you have somehow remained unfamiliar with Thrift Shop, you can watch the official video here, but you should know that this song is as profane as it is fabulous. All the words you don't say in front of your Grandma are here. Don't say I didn't warn ya.
The basic message behind Thrift Shop is that spending a bunch of money on status labels doesn't make you cool, it makes you an idiot. In contrast, not forking your dollars over to a giant corporation and instead showing a little creativity while embracing uniqueness in style and, one presumes, in life, is fresh, sexy and more likely to get you laid at the club. In other words, cool.
They be like "Oh that Gucci, that's hella tight"
I'm like "Yo, that's fifty dollars for a t-shirt."
Limited edition, let's do some simple addition –
Fifty dollars for a t-shirt, that's just some ignorant bitch shit.
I call that getting swindled and pimped, shit
I call that getting tricked by business.
That shirt's hella dough,
And having the same one as six other people in this club is a hella don't.
Peep game, come take a look through my telescope:
Trying to get girls from a brand? Then you hella won't. Then you hella won't.

-Thrift Shop
With lyrics like this, Macklemore has created more than a delightful, obscenity-laced, slightly political rant about the joys of second-hand shopping. He's also created a modern anthem for Conspicuous Frugality.
You remember conspicuous consumption, don't you? Spending to show that you could spend? That's what people did before we all realized those credit card bills weren't gonna pay themselves and a $300 clutch purse isn't very good for carrying poop-stained cloth baby diapers home from the library. Conspicuous consumption is what happens when you start to believe the oft-told line that what you buy makes you what you are.
Well, somewhere along the line everyone cool woke up and realized conspicuous consumption is really fucking stupid. Some of us have transitioned to a less consumption-driven life, opting for a more DIY, productive-home type scenario. Some of us are working, through choice or necessity, on just spending less money, and some of us are focused on making sure every dollar we spend (vote with) goes to something we actually support.
Some people who were terribly un-hip all through the recent spate of conspicuous consumption phase, what with their paper bag re-use and second-hand shopping and money saving backyard gardens, suddenly (and much to their own surprise) found themselves pretty cool now that the name of the game is conspicuous frugality.
Tables have turned. A song about how cool thrift shoppers are has hit and held the top spot on billboard charts all over the world. Who woulda thought? People who wouldn't have deigned to shop Value Village five years ago are swapping purple-tag tips with their girlfriends over a homemade pot of coffee. Spending less and doing more with creativity is trendy.
People are shopping second-hand and they aren't ashamed of it. That's the key. Thrift is being redefined as a virtue again, not something to be ashamed of or, God help us, something UnAmerican. Folks are bragging about their great, cheap find. A guy on a forum I frequent once commented he'd never pay more that $8 for jeans, and he said it with pride.
The mood has officially shifted. I've been feeling this for awhile, but I've been putting it off to the circles in which I travel. When you are surrounded by greenie, frugal, hippie-gardener types who haven't watched cable TV in eight years, sometimes you forget that people still go to the mall – for fun. But now I think conspicuous frugality is officially mainstream. Macklemore's deserved success confirms it.
But, just a skeptic's word of caution – any time something becomes really popular there is the risk that it will get played out. Any great song, on the 50th playing, will feel tedious. My dear husband tells me, with notable regret, that Thrift Shop is getting overplayed on the radio.
Conspicuous frugality risks being popularized and hipsterified beyond all recognition, too. If I'm not mistaken (and remember I know nothing about clothes, so I might be), isn't there is a store called Anthropologie that specializes in that thrift shop look for a lot more? How long until conspicuously frugal people start to brag about their thrift shop find that isn't – because it's really a $130 "slightly distressed look" new, mass-produced product made with sweat shop labor in China? And don't even get me started on some of the items in the Williams-Sonoma Agrarian collection.
Trends come and go and eventually thrift shop chic and conspicuous frugality will probably fade. And then some of us will be left with our no-longer-cool front yard vegetable gardens and thrift store clothes and silly old fashioned ideas about staying out of debt. And people will look back and laugh about how they spent that summer canning tomatoes when they could have gone to the Caymans on credit and bought tomatoes in a can anytime they wanted.
The thrift bubble will pop. Unless, unless…maybe we can go from beyond trend and start redefining thrift as the new normal. Maybe conspicuous frugality can just be…not conspicuous, just normal life. New normals can be defined. Smoking used to be normal. Now it's considered gross across a pretty big swath of the population.
Maybe Macklemore's Thrift Shop will be like the ticket in for people, a hook-filled, funky, non-threatening way to get people to start to think about how they spend. Maybe it will give people permission to permanently reject the idea that the $50 t-shirt makes them somehow more awesome than the thrift shop t-shirt.
Because that would be fucking awesome.
0