"I don't have a short attention span, I just….hey, is that a broccoflower?"
Gardeners generally take the looonnnnng view, at least by the standards of today's soundbite culture. And while it's probably true that, "a society grows great when old men plant trees in whose shade they know they shall never sit," at a day-to-day level, sometimes you just have to hustle, ya know?
The Speedy Vegetable Garden promises crops perfect for Short Attention Span Gardeners, including bean sprouts, microgreens and rapid-maturation varietals of more traditional crops like tomatoes and potatoes. The idea is, with minimal space and minimal time, anyone can harvest a "crop" of something. I love this concept.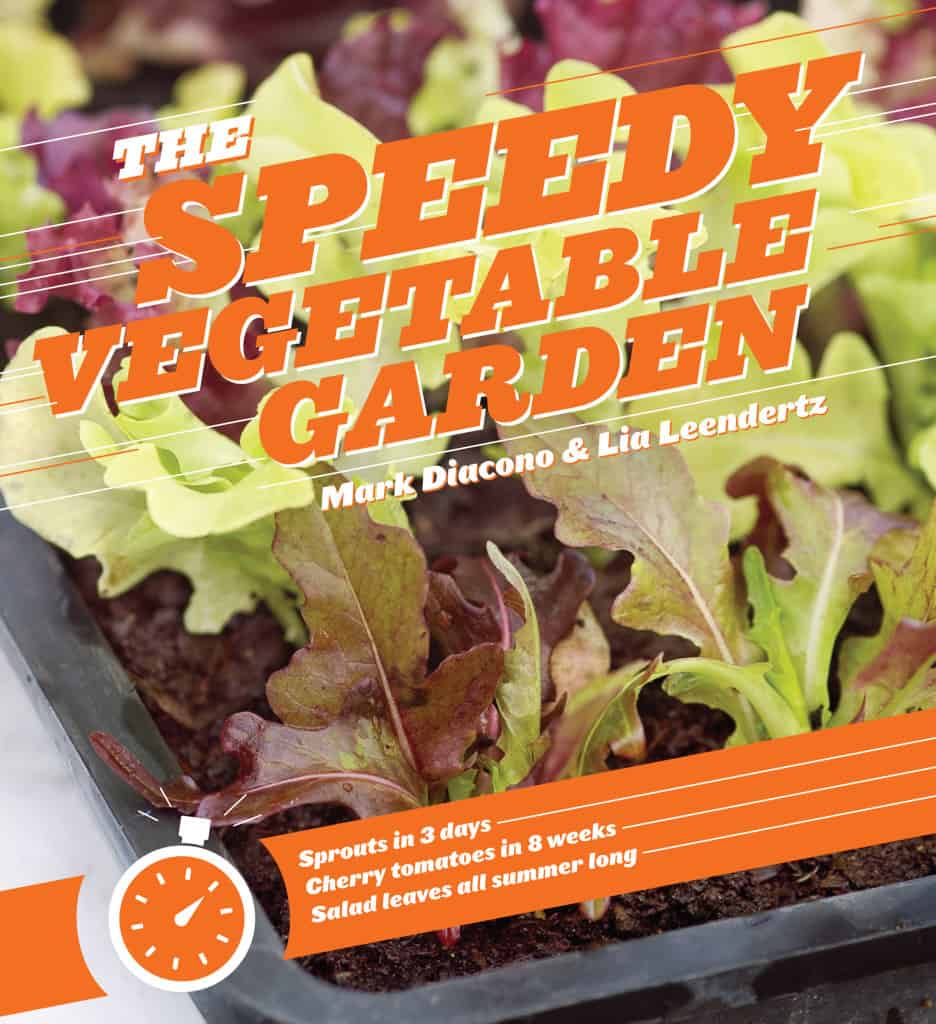 The Speedy Vegetable Garden is divided into five sections: soaks and sprouts, micro greens, edible flowers, cut and come again salad leaves and quick harvest vegetables. While there is a lot I like about this book, the first sections of the book are, to me, more compelling than the quick harvest veg section. I'll lay out the Pros and Cons as I see them and you can decide for yourself.
Pros
Excellent for encouraging early and frequent harvest, something that gardeners can have trouble with ("You mean I have to actually cut my beautiful lettuce?!? No, don't make me kill my veggie baby!")
Introduces and promotes unusual greens and herbs, including claytonia, sorrel, erbette, mibuna, komatsuna, gai lan, red amaranth and fennel sprouts.
Many techniques and crops are very appropriate for year-round indoor culture and no space gardeners – you could live on the north side of a no-balcony apartment in the middle of the city and still enjoy winter harvests of home-grown "crops" like sprouts, soaked nuts and microgreens. With a small investment in a grow light, the CCA lettuces would be within reach too.
Encourages the use of edible flowers, and offers a small but rather bullet-proof selection of great flowers for eating and kitchen use.
The book is dotted with several very good tips, like, in the summer, sow your lettuce in the cool of the evening so the seed has several hours of cooler soil in which to start its germination. I also liked a suggestion to sow microgreens in lengths of guttering (I do peas this way) at 10 day intervals, resowing as you harvest, to ensure a consistent batch of greens.
Cons
This book was written by British gardening experts and, frankly, it feels like it wasn't fully adapted for an American audience. This is most problematic in the Quick-harvest Vegetable chapter, where terms like cordon tomato, courgette, and mange tout pea may be unfamiliar to many US gardeners.
My biggest concern is that many of the speedy seed varieties recommended appear to be UK specific. There are options for US seed purchasers, but (and just call this a feeling from someone who reads a lot of seed catalogs) I suspect many of the varieties in this book are far more readily available  in the UK than over here in 'Murica. For example, The Speedy Vegetable Garden directs US readers to Burpee Seeds and Johnny's Seeds. It also recommends seven types of courgette/zucchini seed. I searched both Burpee and Johnny's for each zucchini variety. Burpee carried none, Johnny's carried one, 'Raven'.
Does this mean you couldn't follow The Speedy Vegetable Garden's suggestions for fast maturing vegetable varieties? Of course not. In this age of the internet, you surely can get these seeds if you want them badly enough. Keep your Baker Creek Rare Seeds catalog handy (never a bad idea anyway, actually), don't count on finding these varieties off your neighborhood seed rack, and be prepared to make substitutions based on listed days to maturity.
Who This Book Is Great For
This book is absolutely spot-on perfect for flat dwellers in London. Every Londoner frustrated by their lack of a proper allotment should run out and buy The Speedy Vegetable Garden and start growing basil microgreens right now.
For those us in the US, if you can get over the lack of Amero-centrism in this book (maybe think of it as practice for a changing world?) the information itself is good, and the combination of information is unique among gardening books. I'd particularly recommend this book to small space or no space gardeners interested more in the potential of year-round flavor boosts from sprouts, soaked seeds and microgreens than in total garden yield.
While not specifically targeted as a year-round growing book, I think it's biggest appeal will be to people (like me) who like a fresh harvest year-round, and are willing to grow indoors to get it. Basil microgreens on your counter in late August? Who cares, when there are basil macrogreens in the garden? Basil microgreens in January? Now that's cool.
The Speedy Vegetable Garden is also a great choice for gardeners interested in raw food-type preparations of legumes and nuts, as techniques for soaking and sprouting are very well described.
The section on soaked nuts was my favorite part of the book. Following the general instructions in the Soaks and Sprouts chapter, I soaked raw peanuts and they were totally transformed. I'd never soaked nuts before, and I was quite taken with the flavor change between the unsoaked and soaked nuts.
I made a salad of chopped hothouse cucumbers, grilled chicken, feta and soaked peanuts and it was fabulous. The soaked peanuts added a juicy crunchy component that worked very well with the cucumbers and salty feta.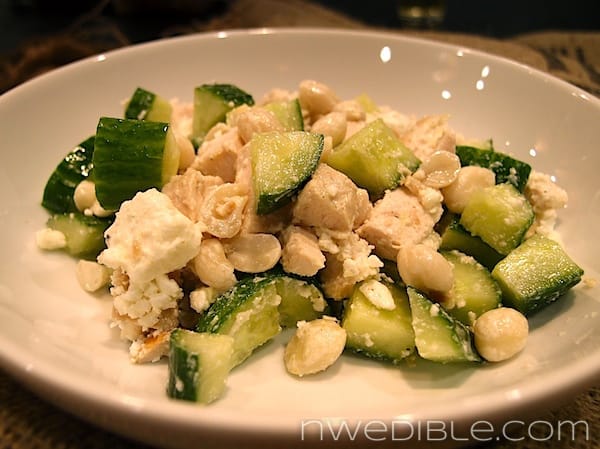 The Giveaway!
Timber Press, publisher of many, many awesome books including this one, is sponsoring a giveaway of The Speedy Vegetable Garden.
To enter to win your own copy, leave a comment below answering the following question: What is your favorite fast turn-around crop to grow and why? 
Giveaway open February 18th, 6 pm PST. Winner will be notified by email. Only entry per person, please, additional entries will be disqualified from the drawing. Good luck!
0