So the past week my kids have taken turns with the sickies. First the girl spent a week coughing her lungs out, then just when she had recovered enough to return to school, the boy spent a night puking all over me. Good times, good times.
So, what does this have to do with gardening? Everything! Two sick kids was just the enforced down-time I needed to finalize my 2013 gardening plan. You what I found tremendously rewarding? Since I codified my year-round planning method into something that I can actually explain to people as a step-by-step process, I've found my own planning is made even easier. If you want to really know something, teach someone else, right?
So, I've got my plan and I'm loving it. The garden is 100% perfect right now, because it's 100% imaginary, but I think I've got a fair shot at pulling most of this off out in the big, bad, slug-infested real world too.
You can download a PDF of the whole thing here, or by clicking on the image below.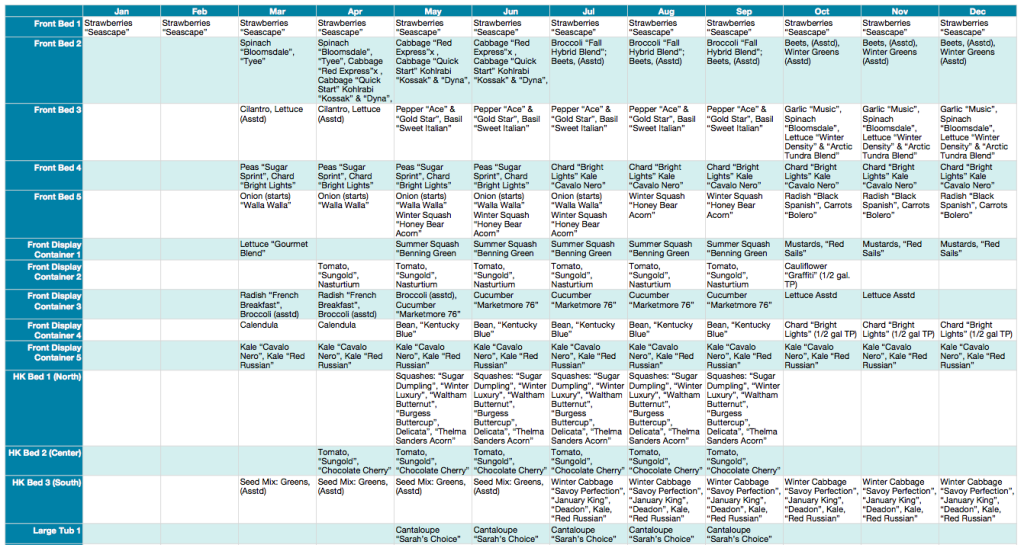 So, how did I make this garden plan, and how can you make one too? Well, don't let the massive blocks of text put you off, its really pretty simple, actually.
What Do You Want To Grow?
You've already got this figured out, no doubt. It's been months of seed catalogs by now. Maybe your seed order is already in your hot little hands, maybe you are still trying to decide between different kinds of beets. (I was stuck on summer squash this year and, predictably, just over ordered.)
It's a good idea to have a list of your seeds in front of you when you decide what you'll be growing this year. If you have some seed that's probably still good but might be losing viability, you can opt to give it one last big planting to finish the pack, or just use it for sprouting or "mixed greens blend" or something where perfect germination isn't as critical.
What's Your Garden Look Like?
I started, as I do every year, by making a drawing of my garden. Actually, because of the way my garden has grown into multiple sections, I made three drawings – one for the front beds, one for the back beds and one for the hugelkultur area. The garden planner I use (and sell…ahem.) has 1/4″ grid paper which I print out, then make 1/4-inch to 1-foot scale drawings of my beds. This level of precision is not necessary – a simple sketch will do just fine – but it does help if you are trying to cram as many plants as possible in your space.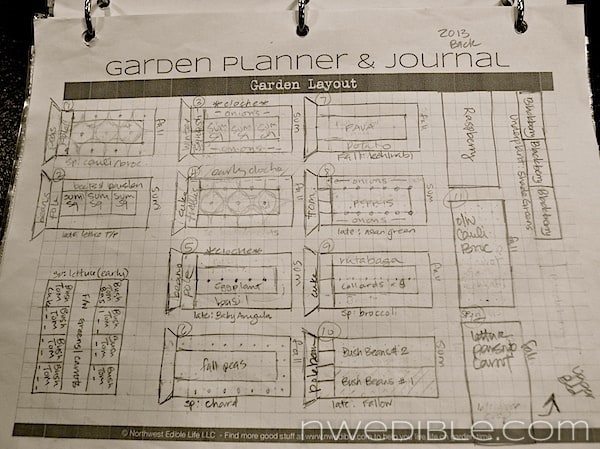 If you're gonna have a garden, I say you might as well make it pretty. Or else, you know, just have a yard and be done with it. For this reason, I often mix up plantings in my beds or plant in patterns. A typical pattern I like to use in my beds is a row or two of climbing thing to the North, grown up a trellis, with some large framed stuff like tomatoes or cabbage in the middle of the bed, and a border of little, ideally colorful things, like beets or onions. I repeated that pattern a lot in my garden planning this year as you can see. It seems to maximize space and variety and it looks good.
I designated beds as either Summer or Fall beds, just like I talked about in my recent Succession Planning post. Something that occurred to me that I didn't mention in that post is that, by simply alternating back and forth between Summer/Late Crop and Spring/Fall beds, a pretty decent level of year-over-year crop rotation will naturally happen. Bonus!
Once the bed/zone drawings are in place, I just start penciling in my crops. Summer crops went into summer beds and Fall crops went into fall beds. Then I made notes for what Spring and Late crops would coordinate with the main plantings. I use pencil for a reason – this is an iterative process as you add a cabbage here and subtract a tomato there.
How Many Plants Can You Cram In There?
Most of us urban gardeners want to maximize our yield in minimum spacing. In terms of plant spacing, if you aren't sure how much room a plant is going to take up, I recommend reading up on the Square Foot Gardening method's plant spacing guidelines. SFG is an excellent starting point just to wrap your head around efficient grid spacing while planting.
It is my experience that the Square Foot Gardening spacing is 50-25% too small if you are interested in growing full sized vegetables, particularly the fall and winter crops I get so excited about (If your mature January King cabbage takes up one square foot of space, you did something wrong. Sorry.). But despite some limitations it's probably the simplest place to start for spacing info.

If Square Foot Gardening is a bit too simplistic for your style, and you think I don't put out nearly enough charts and gardening spreadsheets on this blog, then you might adore the plant spacing methods in John Jeavons' How To Grow More Vegetables, possibly the most chart-heavy gardening book sold to the layperson. (Personally, I find How To Grow More Vegetables to be quite tedious, and I am inclined to love garden geekery, so that's saying something, but many people absolutely swear by this book.)
The best way to learn plant spacing is just to observe your plants over a few years. I know that's not much help to brand new gardeners, but it's the most honest method. The ideal spacing for your plants will depend on your soil, the plant variety, and if your goal is big veg or small, so in the end this, like most things in life, is negotiable.
Plug and Play

On the grid-paper drawing I made I started to rough out about how many plants I thought I could squeeze into my primarily 4×8 beds. I made a note of this, which will help me when I start seeds or buy transplants. I always start too many plants, and I'm trying to moderate that impulse a little bit, to save time and money on seed and potting soil.
I finalized my detailed planting plans, in terms of what varieties and what quantity of plants I plan to grow, using my basic Year Round Planting Spreadsheet. You can download your own copy for free on the Downloadables Page. (It's towards the bottom, right under the Apricot Jam labels. One of these days I'll organize that page!) This spreadsheet breaks down your garden into various growing zones.
Each bed, container or growing zone gets a row, and each row is broken up over twelve columns, one for each month. Then, you just note what crop will be occupying what space durring what month. Pretty simple.
Most summer stuff goes out in May and is done by late-September or early-October, so under the appropriate bed I listed the varieties of summer crops I plan to grow in the May to September cells. Any very late or overwintering crops that I planned followed these.
Spring and Fall crops were put in the same way, with most Fall crops going in July (many as transplants started in mid-June).
I double checked varieties, making sure that my Fall varieties were, in fact, cool-season appropriate and my Winter crops were as hardy as they come. I also checked that things like lettuce and carrots would have a rather continual harvest, and that I wasn't over-represented in anything.
Two things I'm opting not to grow this year are Brussels sprouts and corn. While we like both these crops, I want to focus on other veggies that have a bit more bang for the time and space buck.
That's it! Massive year round garden plan. I feel very good about this plan, but, as with everything related to gardening, I look at it as a guideline to make my life easier, not a horticultural straightjacket I'm zipping myself into. If the weather doesn't cooperate, and things run long or short of typical, or if my eyeballs stop working for another several months, I'll just adjust on the fly and just do the best I can.
Do you plan your garden? Please share your favorite methods and any tips you've picked up.
11