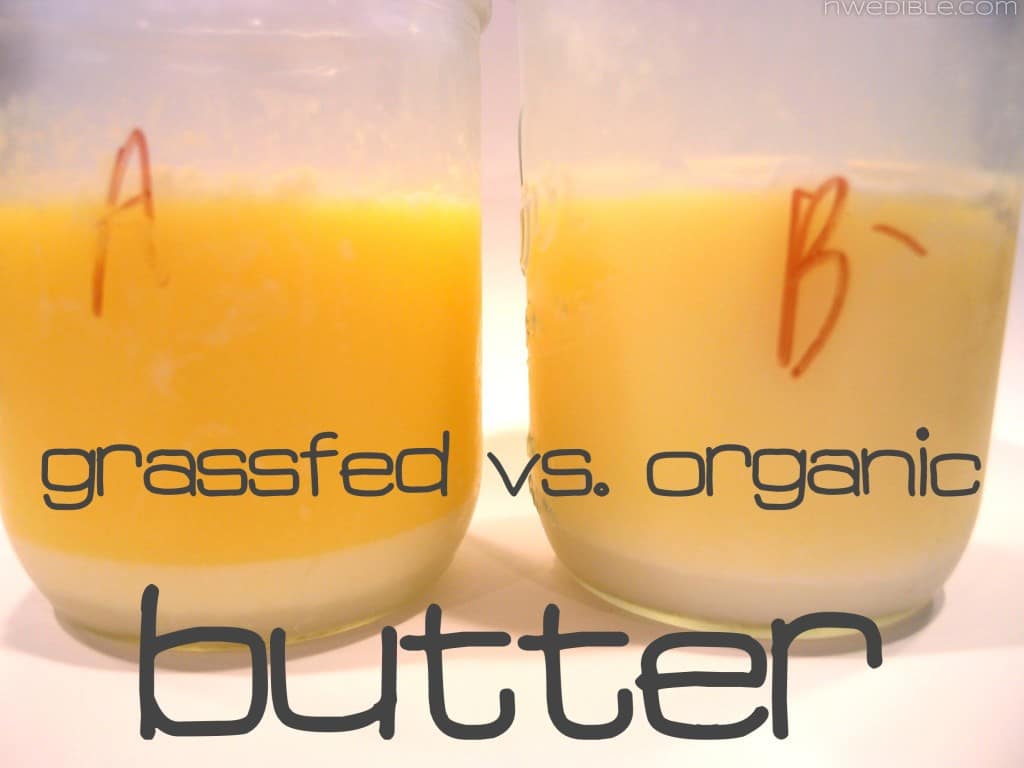 Butter Basics
Butter. Oh yum, butter. Butter on corn, butter on scones, green beans in brown butter, buttercream icing, herb butter… Oh, butter, no other fat is quite like you, and we love you for it.
But let's start at the beginning. Cow's milk is separated into milk and cream. Butter is made from agitating (churning) this cream until the fat globules stick together and separate from a thin liquid called buttermilk. In the US, commercial butter must be at least 80% fat. The rest is generally water, milk solids and salt.
Basic butter quality is determined by freshness, fat content (higher fat means a richer product) and salt levels. Salting both flavors and preserves butter, helping it to last up to several months longer than unsalted butter. The longer shelf life of salted butter is both a blessing and a curse. Added salt means your butter in the fridge or on the counter stays fresh longer, but also means the store can sell you older butter, and the butter manufacturer can use older cream to make the butter.
In general, quality flaws and age can't be "hidden" in unsalted butter. Plus, when you use butter as an ingredient, the salt level in the butter can change the flavor of your finished good. This is something bakers, in particular, think about. For these reasons, the standard advice is to go with unsalted. You won't get an argument from me, but I but, to be frank, I like salt and I usually buy salted butter.
Grassfed Butter vs. Organic Butter
I compared two butters. In all photos, (A) on the left is Kerrygold, a rather well distributed grass fed butter from Ireland. (B) on the right is the Costco Kirkland Signature Brand Organic Butter I normally buy.
The Kerrygold at Costco was $6.99 for 3, 8-ounce bars, or $4.66 per pound. The KS organic was $7.99 for 2 pounds, or $3.99 per pound.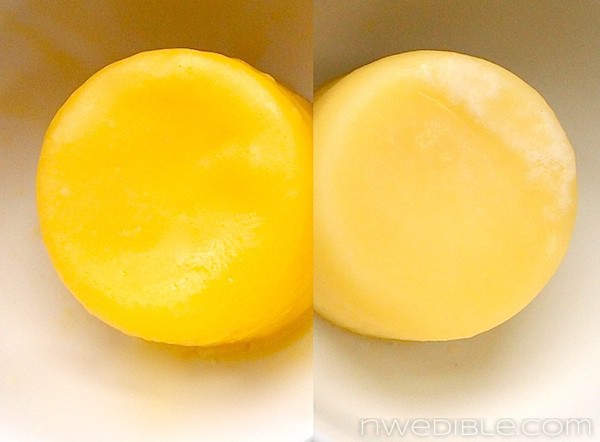 I know some people have a problem with Kerrygold (hello, environmental impact of butter from Ireland!) and I'm sure it is not as delicious as the cultured butter some of you make from raw milk you get from a farm 14 minutes away, but it's commercially available for a moderate price more or less nationally, so it's good for this taste test.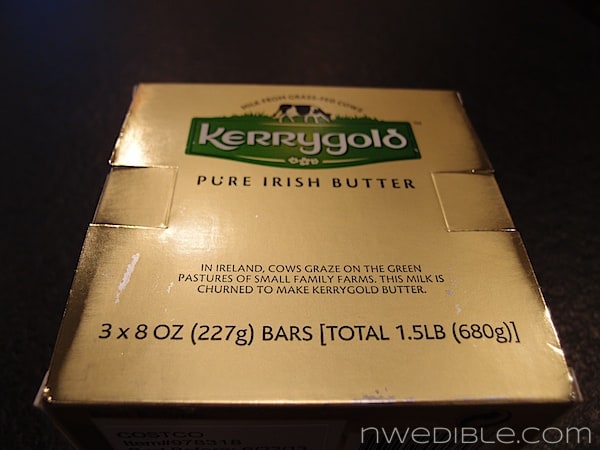 The Taste Off
So, which delicious slab of saturated fat was more delicious? The grass fed butter was noticeably darker and more deeply yellow than the conventional butter. The photo below doesn't actually capture how different the color was in person. Striking difference.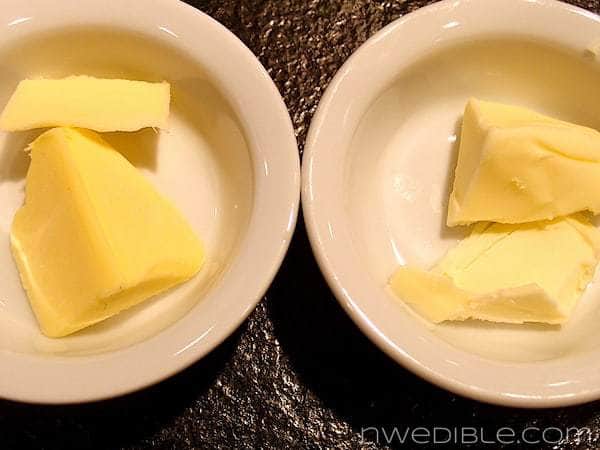 I asked my husband and daughter to weigh in with opinions on which butter they preferred.
My daughter on the appearance: "(A – grassfed butter) is more yellowy, a soft yellow. (B – organic butter) is more white and plain. It looks harder." (Note both butters were at the same cool room temperature.)
Neither was told which butter they were tasting when they gave eyes-closed feedback.
Comments about (A) – The Grassfed Butter
"Hell of a lot more going on."
"Full and creamy, nicely salty."
"It tastes like it lasts a lot longer in your mouth, like after you swallow it you can still taste that there is butter there."
"Melts like butter. Soft."
"Really good."
Comments about (B) – The Organic Butter
"Smooth, slightly sweet."
"Tastes…like butter."
"Really salty but the flavor doesn't last very long."
"It's more lubricating than flavorful."
"Feels hard but melted quickly."
My daughter concluded, "I would rather have less salty (A) for longer than super salty (B) for a short period of time." Both definitively preferred the flavor of the grassfed butter, praising a more complex and longer lasting flavor. In contrast the organic butter seemed overly salty and simple in flavor profile.
Clear Winner: Grass-fed
Why Organic? Why Grass Fed?
Why buy fancy-pants butter in the first place? Most people who seek out organic dairy do so because they believe it to be healthier, both for the planet and for the end-consumer. I'd guess that everyone who seeks out grassfed dairy thinks they are buying a healthier product.
But the specific "better" reasons for these two specialty butters tend to have a slightly different focus. Organic dairy is thought to be less contaminated by pollutants and toxins, whereas grassfed dairy is primarily praised for a better micro-nutrient profile, including much higher levels of CLA, better Omega-3 to Omega-6 fatty acid ratios and dramatically higher levels of Vitamin A and E.
Now, I happen to agree with the grassfed proponents on the nutrition stuff, and go out of my way to buy grassfed beef and, slightly less consistently, grassfed milk.
Let's talk contamination. Pesticides, herbicides and toxins tend to build up over time in the fat, including in the dairy fat of animals. (More on this later.) It is a reasonable assumption that animals fed foods less tainted by these pesticides, herbicides and toxins would make foods, including milk and dairy products, less tainted by them.
Most large scale dairy operations practice some degree of confinement feeding, where corn and soy based feed are brought to the cows, instead of sending the cows out to eat grasses. This is true even for large organic dairies, with the major difference being that the corn and soy feed is (supposed to be) certified organic.
My sister, a professional animal scientist specializing in dairy breeding, once described to me the facilities at a major (major) organic dairy she toured. The cows walked around on bare dirt and were fed grain from troughs. The only thing that distinguished this operation from any other industrial dairy was the organic certification of the pesticides sprayed on the feed grains that were eventually given to the cows. My sister was not impressed.
Be that as it may, the theory is that, because of reduced exposure to pesticides, herbicides and other toxins on the feed, organic dairy is less contaminated than conventional dairy.
Grassfed dairy cows, like grassfed beef cows, graze only on pasture and dried forage and are therefore in theory are not getting any added toxic chemicals in their diet. But in practice, as you probably guessed, it's more complicated.
Will Your Butter Kill You? The Giant Toxic Dairy Fat Issue
Unless you are opposed to butter on ethical (animal product) or fat-avoidance (fat! fat! fat!) grounds, there doesn't seem to be a whole lot not to love about this substance. It's delicious. It has great mouthfeel. It carries other flavors beautifully.
But there is one little thing that takes the shine off butter, and it's called bioaccumulation. It turns out that animals tend to store many of the various chemical environmental toxins they are exposed to, like dioxins and nasty pesticides, in their fat. Fat is like the body's savings account for building up a nice stash of terrible toxins.
In lactating mammals (including dairy cows and nursing moms) these chemicals are stored in the milk fat, too, and are in turn absorbed by whomever consumes that milkfat, be they calf, infant, or Starbucks Venti Whole Milk Latte lover. (Infants, our littlest, most vulnerable people, have some of the highest levels of toxic burden shoved upon them because of this milk fat toxin issue.)
Since butter is mostly fat, it is one of the most concentrated food sources of these bioaccumulative toxins. According to the Environmental Protection Agency's Evaluation to Measure Persistant Bioaccumulative Toxic Pollutants in Cow Milk (link goes to a PDF):
The US EPA estimates that approximately 35% of an adult's daily intake of dioxins is derived from dairy products. The percentage for children is even higher. Persistent, bioaccumulative and toxic pollutants (PBTs), including dioxins, bioaccumulate through the food chain and ultimately result in low-level contamination in most animal fats. It is important to understand the PBT levels in milk, as milk fat may be one of the highest dietary sources of PBT exposure. Analysis of milk also allows the opportunity to investigate geographic variability, as milk is produced and distributed on a regional scale.
So, to summarize, dairy cows store many icky chemical pollutants in their fat, including their milk fat. Dairy items highest in fat, including cheese, ice cream, cream and, alas, butter, are the most likely to contain concentrations of those icky chemical pollutants, and whenever we eat these goodies, the toxins go right into us.
And these bioaccumulated toxins? They are all really quite nasty. You would do well to avoid them as much as possible.
So, does buying organic or grass-fed butter lower your exposure? I wish I could say here that grass-fed dairy is inherently safer from a toxin accumulation stand-point – because I sure believe grass fed milk and butter are better from a micro-nutrient level – but the evidence I found actually suggests the opposite.
In the case of dioxin exposure in particular, animals that graze on contaminated soils and ingest that soil show the highest level of dioxin accumulation. The more contaminated silage or forage and soil they ingest, the more contaminated they become.
Grain finished ruminants, as distasteful as I find it to admit, may actually show lower dioxin levels because they spend less time eating contaminated grass.
According to the USDA report, Dioxins in the Foodchain (Link to PDF):
For terrestrial animals, the intake of vegetation or roughages is considered the most important dioxin exposure factor (Fries 1995a). Feeds derived from seeds contain lower concentrations of dioxins, since the seed is not directly exposed to the air. Ruminants therefore are more vulnerable to dioxin exposure than poultry and swine, as their feed source is predominantly roughage based…Finishing cattle in feedlots is thought to significantly reduce concentrations of dioxins in beef. This is hypothesized to be due to the feeding of a predominantly grain based diet for several months before slaughter (Lorber, et al. 1994).
Again with the summary: grains aren't as contaminated because they aren't in contact with the soil. Grass is. Therefore grain-fed cows may be less contaminated by dioxins than grass fed cows.
Oh, the humanity! Are you freaking kidding me? Is nothing sacred?
But, before you decide that you really can't trust anything anymore and that even happy-hippie organic and grassfed foods are out to get you, know that sewage sludge, which contains all kinds of nasty bioaccumulative and heavy metal contaminants, is not allowed in USDA certified organic food production. So that's something at least.
And in the case of Kerrygold butter in particular, we have the advantage of pretty good information about the level of dioxins occurring in milk, thanks to annual reports from the Irish Environmental Protection Agency which detail just this issue. And I'm no expert, but it appears that contaminants of Irish milk are very low.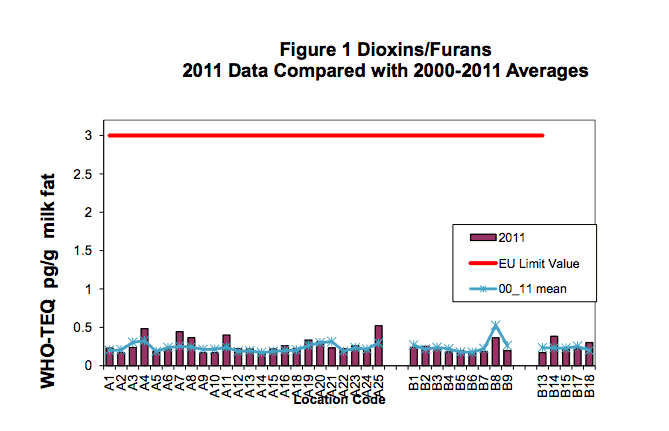 This chart shows dioxin levels in Irish cow's milk compared with the EU limit value (the red line at the top of the chart). According to the report, Ireland compares favorably with other European countries, and the report says that exposure of Ireland's citizens to dioxins is low.
From this I tentatively conclue that dairy products which are made with Irish cow's milk, including Kerrygold butter, are probably very low risk from a bioaccumulative toxicity perspective. This, it would seem, is the best of both worlds: low toxin levels in the butterfat and the superior micro nutrient profile of grass fed dairy .
People eating a lot of grass fed butter (I'm looking at you, Mark's Daily Apple guy) would probably be wise to investigate any known dioxin or other long-term contaminent issues in the area where the cows from which their butter is made graze in order to reduce their own bioaccumulation buildup.
What's the takeaway from all this? Probably that you should consider moderating your consumption of dairy, particularly delicious high-fat, lovely, tasty dairy like cheese and butter. Sorry, that wasn't the answer I was hoping for either. In fact, if I had known what I would find when I started this research I would have chosen to remain happily in ignorance, assuming I could eat grass fed butter and organic cheese with impunity.
But I am convinced that the superior flavor and low likelihood of contaminents make the relatively minor price increase between organic and Kerrygold butter worth it for my family. So it looks like I'll be going grass fed from now.
What is your relationship with butter? Do you buy fancy grass-fed or organic butters?
742