The thing about this chili is, you pretty much just open up a bunch of jars and simmer. So on a difficulty scale of 1 to 10, 1 being "Boil Water" and 10 being "The Food They Invent at Moto" this chili is maybe a 2, and that's only if you need to rummage around for a while in an overstuffed drawer to find your can opener.
But ease doesn't mean bland or boring or not homemade, when the ingredients going in the pot were home-canned.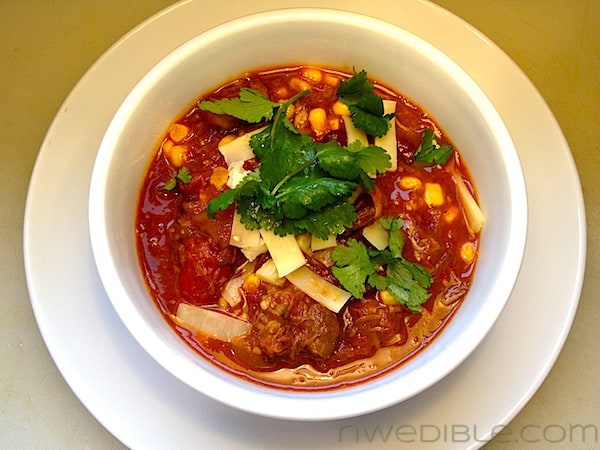 Three Sisters in Seattle Chili
Ingredients
2 tbsp oil or lard

1 large onion, chopped

3 cloves garlic, smashed and chopped

2 tablespoons chili powder 

1 tablespoon cumin, ground

1 tablespoon smoked paprika

½ cup strong coffee or espresso

2 quart jars home-canned whole tomatoes 

1 small butternut squash, peeled and cut into 1-inch cubes (about 1 pound cubed squash)

1 quart jar home-canned red, black or pinto beans

1 pint jar home-canned pork shoulder

1 pint jar home-canned beef chuck

2 cups sweet corn kernels, frozen, fresh or home-canned (not creamed corn).
Method
In a large dutch oven, heat the oil or lard over medium-high heat. Add the onion and garlic and saute until golden.
Add in the chili powder, cumin, and smoked paprika to the onions and saute until fragrant. Take care not to burn the spices.
Add the coffee and canned tomatoes to the onions, and roughly break up the tomatoes with a potato masher or by tearing with your hands.
Add the butternut squash, beans, pork and beef (along with any fat) to the dutch oven, and bring all to a simmer. Cover, reduce heat to medium-low and let simmer until the squash is just tender. Add in the corn kernels and continue to cook until squash is fully tender and flavor is blended.
Garnish with jalapenos, sour cream, cheese or cilantro as desired.
Learn All About It!
This is a Northwest Flower and Garden Show Demo Recipe
This recipe is from the Mealtime Made Easier with Well Planned Preserves  recipe demo and presentation I gave at the 2013 Northwest Flower and Garden Show. Thank you so much to everyone who came out to learn just how fast homemade meals can be when you have the right things in your pantry.
To view all recipes in the NWFGS 2013 series, click here.
1