Regular readers know that my absolute favorite financial and frugality blogger is Mr. Money Mustache, he of the "early retirement through badassity" slogan. In fact, a few NW Edible readers have even told me that, once they started reading MMM, their outlook on finances, hope, freedom and even their future totally changed for the better.
So when Mr. Money Mustache told me he was going to be in Seattle for a few hours, and wondered if we might want to coordinate a reader-blogger meetup, I was on that shit like white on rice.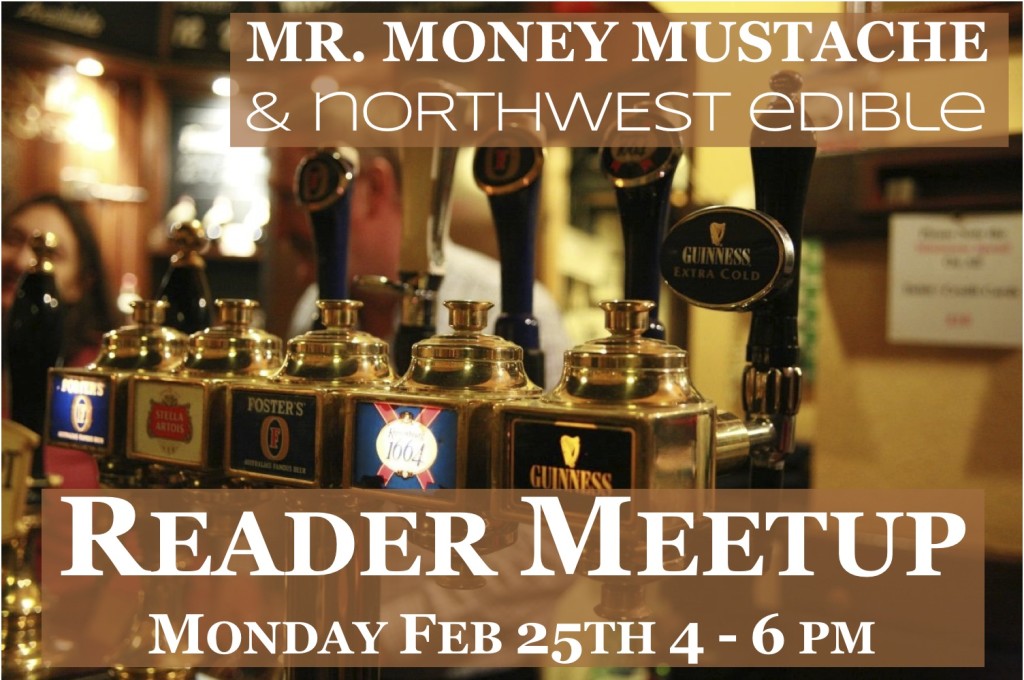 This is your opportunity, Dear Readers, to join both me and MMM for a happy hour beer and a casual Q&A.
Want to meet the people behind the blogs you read? Do you simultaneously have questions about growing veg and getting some hardcore frugality dialed in? I can't imagine there will ever be a better opportunity than this.
Want to share your success, or be inspired by other people with similar goals? Want to meet other crazy folks just like you, with dirt under their nails and pride in their thrift store jeans? Your people will be there!
Want a good excuse to have a beer at four in the afternoon with other cool people? Who doesn't? Come on down!
When? Monday Feb 25th, 4 pm – 6 pm
Where? Elliott Bay Brewing Company on Lake City Way in North Seattle. Map and directions here.
How Much? The Meetup is free, but do plan on ordering a drink or a bite to eat or something so the good servers at the restaurant aren't running around filling up water glasses for no pay for two hours.
Transportation  & Parking? Elliott Bay Brewing has a parking lot. Carpooling is encouraged, and bike or bus riding is even better. This venue is about a mile off the Burke-Gilman.
RSVP: It would be fantastic to be able to give the venue a rough idea of how many people are showing up. So, if you know you are coming, leave a comment here saying so. If you didn't RSVP but are able to come at the last minute, just show up! Don't let a lack of RSVP'ing keep you away.
Questions? Ask in the comments.
Will I see you there?
0