Of all the things I demo'd yesterday at the Northwest Flower and Garden Show, nothing – nothing – rocked people's socks like my favorite technique for making excellent homemade mayo in a hurry, using a mason jar and an immersion blender.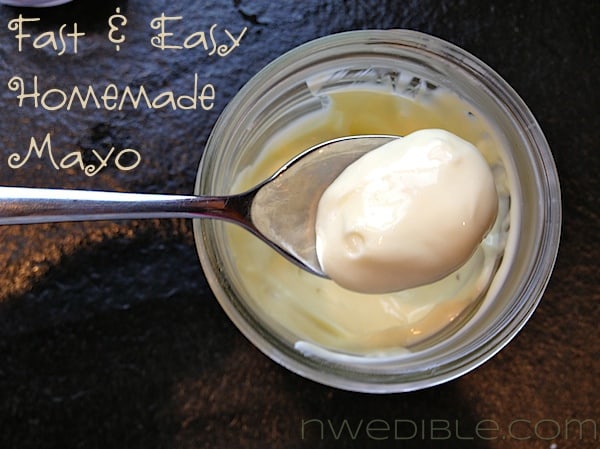 This is the simplest mayo method I've ever tried, and I'm consistently happy with the results. I first learned about this idea from the geniuses at Serious Eats, and have only slightly adapted their recipe to make it even easier (because that's how lazy I really am).
Watch how to make Fast and Easy Homemade Mayonnaise here (the entire thing takes about a minute-and-a-half):
Magically Fast and Easy Homemade Mayo
Ingredients
1 whole egg
1/2 tsp dijon mustard
juice of 1/2 a lemon
pinch salt
1 cup oil
Method
Add all to a wide mouth mason jar. Let the oil rise to the top. Place immersion blender at bottom of jar and turn on. As the mayo emulsifies, slowly rise the immersion blender out of the jar and pulse a few times until the whole mixture is thick and creamy.
Keep refrigerated and use within 2 weeks. May be flavored by adding chopped herbs, spices, or citrus zest.
—-
While I have no problem slathering this mayo on everything and serving it to my family, because this mayo contains raw egg, I wouldn't feed it to someone in the immune compromised category, and I wouldn't make it with month-old eggs of questionable pedigree. Use your best judgement as to whether raw-egg mayonnaise is appropriate for you.
This recipe is from the Eating Local in the Depth of Winter recipe demo and presentation I gave at the Northwest Flower and Garden Show. Thank you so much to everyone who came out to learn just how delicious it can be to eat from your garden, even in the "low time."
To view all recipes in the NWFGS 2013 series, click here.
37