This recipe is from the Eating Local in the Depth of Winter recipe demo and presentation I gave at the Northwest Flower and Garden Show. Thank you so much to everyone who came out to learn just how delicious it can be to eat from your garden, even in the "low time."
To view all recipes in the NWFGS 2013 series, click here.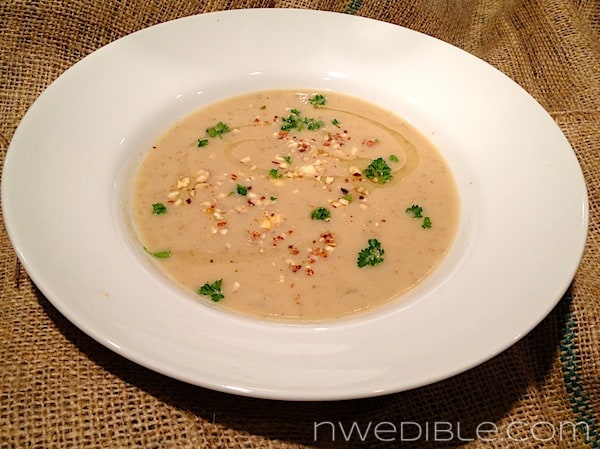 Ingredients
2 tbsp unsalted butter

1 medium onion, rough chopped

1 celery stalk, rough chopped

1 leek, white and pale green parts only, rough chopped

2 large garlic cloves, smashed and rough chopped

2 pounds Jerusalem artichokes, unpeeled, scrubbed very well and chopped

1 quart chicken or vegetable stock 

½ cup heavy cream

⅛ tsp freshly grated nutmeg, or to taste 

2 tbsp. apple cider vinegar, or to taste

Salt and black pepper, to taste

Extra virgin olive or hazelnut oil, minced chives or parsley and chopped toasted hazelnuts, for garnish (optional)
Method
In a large stockpot over medium heat, melt butter. Add onion, celery, leek and garlic and cook, stirring frequently, until fragrant and translucent.
Add chopped Jerusalem artichokes and stock to pot and bring to a simmer. Let cook about 45 minutes, until Jerusalem artichokes are tender. Add heavy cream and season to taste with nutmeg, apple cider vinegar, salt and pepper.
Puree soup with an immersion blender until smooth and thick.
Serve, if desired, drizzled with olive or hazelnut oil and garnished with minced chives and hazelnuts.
0