This recipe is from the Eating Local in the Depth of Winter recipe demo and presentation I gave at the Northwest Flower and Garden Show. Thank you so much to everyone who came out to learn just how delicious it can be to eat from your garden, even in the "low time."
To view all recipes in the NWFGS 2013 series, click here.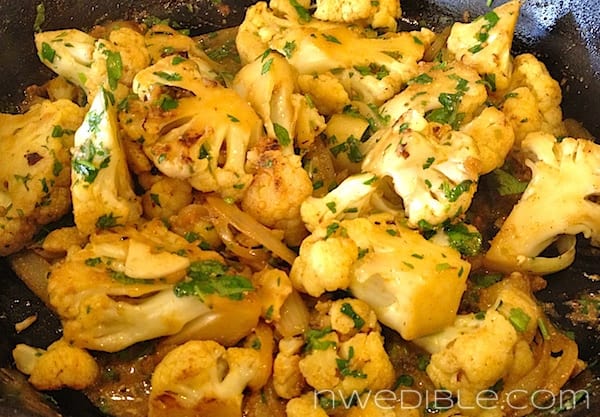 Ingredients
2 tbsp clarified butter (ghee) or oil

1 head medium cauliflower (about 1 pound), sliced into ¾-inch thick, flat sections.

1 tsp yellow mustard seeds (

not

powder)

1 ½ tsp curry powder

½ tsp dried ginger

¼ cup plain, thick yogurt (greek style or other strained yogurt)

¼ cup water

¼ cup fresh cilantro, minced

1 T fresh lime juice

salt and pepper to taste
Method
In a large cast iron skillet set over medium-high heat, warm the clarified butter or oil. Add the sliced cauliflower to the hot clarified butter and cook one side at a time, until cauliflower is golden brown.
Sprinkle the mustard seeds, curry and ginger over the cauliflower. Stir frequently, until spices are fragrant.
Reduce heat to low and stir in the yogurt and water. Stir well and cover. Cook until the flavors blend and the cauliflower is completely tender, about 8 to 10 minutes.
Remove skillet from heat, and stir in the cilantro and lime juice. Season to taste with salt and pepper.
2