This recipe is from the Eating Local in the Depth of Winter recipe demo and presentation I gave at the Northwest Flower and Garden Show. Thank you so much to everyone who came out to learn just how delicious it can be to eat from your garden, even in the "low time."

To view all recipes in the NWFGS 2013 series, click here.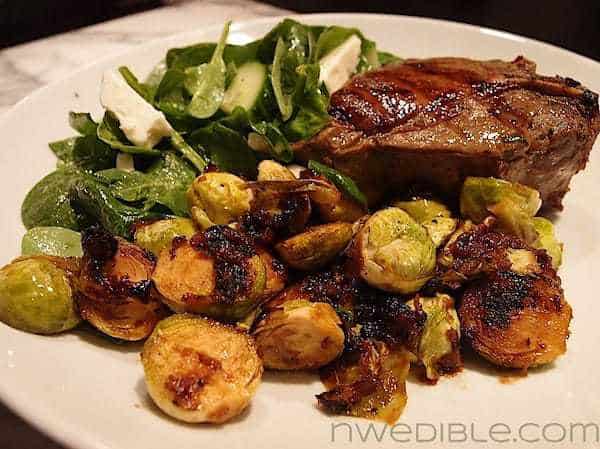 Ingredients
6 slices thick-cut lean bacon, cut crosswise into ½-inch strips

½ medium onion, finely diced or grated

2 large garlic cloves, minced

2 pounds Brussels sprouts, trimmed, peeled as necessary to removed blemished outer leaves, and halved.

Coarse salt and freshly ground black pepper to taste
Maple Bourbon Vinaigrette
¼ cup dijon mustard

¼ cup maple syrup

¼ cup good quality apple cider vinegar

¼ cup bourbon or scotch whisky
Method
Mix all ingredients for the maple bourbon vinaigrette in a small bowl and set aside.
In a large cast iron skillet set over medium-high heat, cook the bacon until brown and crispy. Remove the bacon to a small bowl or a few layers of paper towel and set aside for later.
Add the minced onion and garlic to the hot bacon fat, reduce the heat to medium and cook, stirring occasionally, until the onion and garlic are lightly brown and fragrant. Push all the onion and garlic to one part of the skillet and add the halved Brussels sprouts. Cook without stirring for 3-4 minutes, to allow the Brussels sprouts to caramelize.
Stir Brussels sprouts and add the maple bourbon vinaigrette to the skillet. Stir well, mixing the onion, garlic and sauce all together with the sprouts. Cover the skillet and cook for a few minutes, just until Brussels sprouts are tender and sauce has reduced and thickened.
Add the bacon back to the skillet of Brussels sprouts, and season to taste with salt and pepper.
8