This Chinese inspired skillet stir-fry gets its distinctive flavor from the sour pickled green beans. These are beans that have been traditionally brine pickled through lacto-fermentation, rather than quick pickled with vinegar. Any fairly sturdy sour pickled vegetable will work very well in a dish like this. I adore lacto-fermented turnips with beef and chili sauce!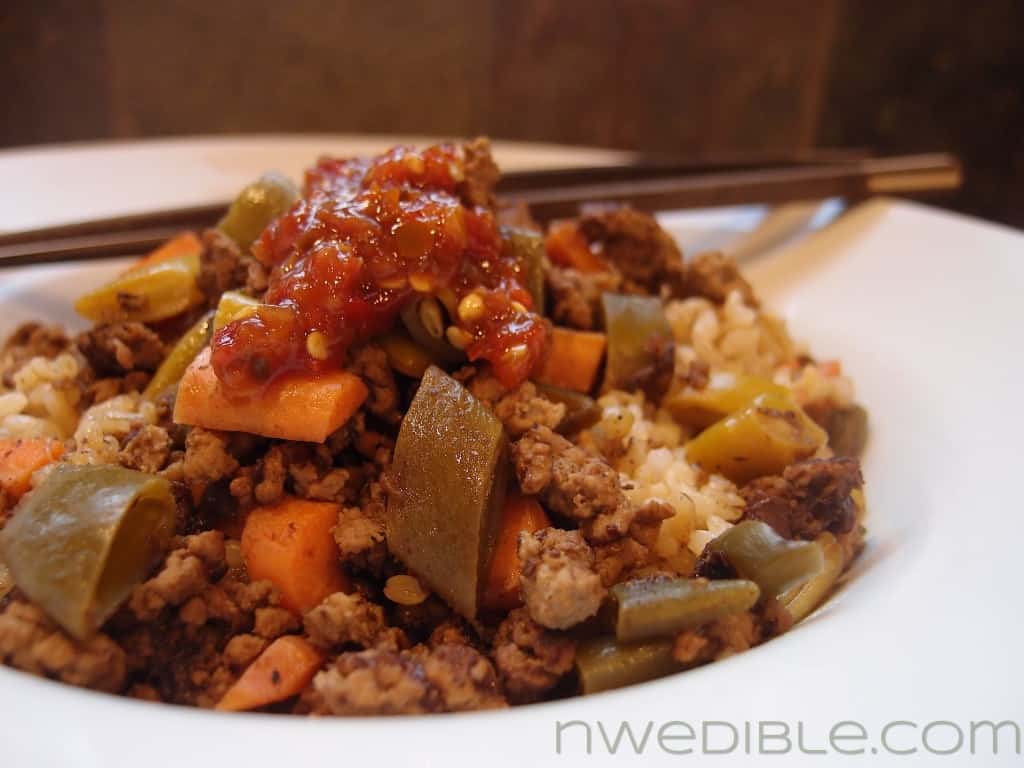 Stir-fry of Pickled Green Beans with Ground Pork
Ingredients
2 tablespoons oil or lard
½ onion, sliced
1 large garlic cloves, minced
1 lb. ground pork
½ tsp ground ginger
½ tsp five spice powder
1 tablespoon black vinegar
2 tablespoons soy sauce
1 tablespoon sesame oil
1 tablespoon sugar
1 lb sour pickled green beans, carrots, turnip or other firm, fermented vegetable, chopped (4 cups)
Method
Heat oil in a large cast iron skillet or wok. Add onions and garlic and cook until golden, stirring occasionally. Meanwhile, in a medium bowl, mix the pork with the ginger, five spice powder, vinegar, soy sauce, sesame oil and sugar.
Add pork mixture to the skillet and break up into bite size pieces. Cook until caramelized. Add chopped sour green beans or other vegetables to the skillet, and continue to cook until pork is fully cooked and flavors meld, about 5 minutes.
Serve over rice, topped with garlic chili sauce if desired.
Learn All About It!
Start Here! —> How to Ferment Vegetables
This is a Northwest Flower and Garden Show Demo Recipe
This recipe is from the Mealtime Made Easier with Well Planned Preserves  recipe demo and presentation I gave at the 2013 Northwest Flower and Garden Show. Thank you so much to everyone who came out to learn just how fast homemade meals can be when you have the right things in your pantry.
To view all recipes in the NWFGS 2013 series, click here.
0