At the Northwest Flower and Garden Show recipe demo I did yesterday I inadvertently shafted my vegetarian friends by focusing on some pretty carnivorous recipes.
So, I made a video showing how home canned chickpeas can be transformed into this super fast vegetarian entree salad in just a few minutes.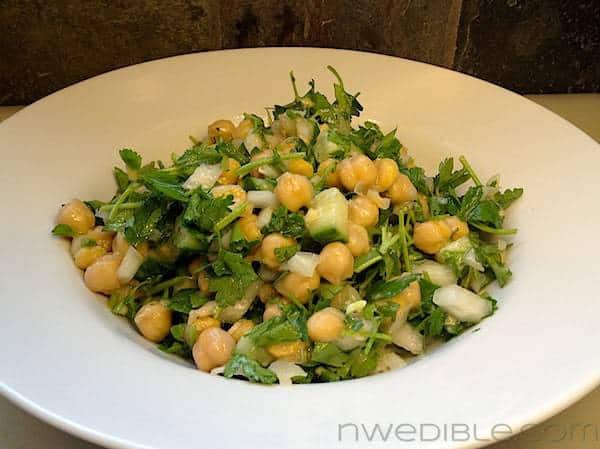 Watch It!
Make It! Marinated Chickpea Salad
Ingredients
1 large clove garlic, minced
1/2 sweet white or red onion, fine diced
2-3 tablespoons olive oil
2-3 tablespoons red wine or balsamic vinegar, plus more to taste
1 quart home-canned chickpeas, drained
1 bunch Italian parsley, rough chopped
1/2 cucumber, diced
salt and black pepper to taste
plus any other vegetables you might like and have on hand, such as carrot, sweet pepper, tomato, broccoli, cauliflower, etc.
Method
Combine all ingredients a bowl and mix well. Add additional vinegar as needed and salt to taste. Serve immediately, or chill for up to several hours.
Learn All About It!
Chickpeas are easy to can and turn out great! Save money and control what's in your canned food. How to can chickpeas and beans.
This is a Northwest Flower and Garden Show Demo Recipe
This recipe is from the Mealtime Made Easier with Well Planned Preserves  recipe demo and presentation I gave at the 2013 Northwest Flower and Garden Show. Thank you so much to everyone who came out to learn just how fast homemade meals can be when you have the right things in your pantry.
To view all recipes in the NWFGS 2013 series, click here.
0