This is a simple one-skillet dish disguised as a fancy-pants chef-type meal. The deception works because we're using slightly more exotic pantry ingredients like salt-preserved lemons and apricot halves in syrup. The salted lemons, apricots and warm spices meld together into a Moroccan-influenced sweet and sour sauce that rocks with the lamb blade chops.
If you don't have apricots, feel free to experiment using the preserves you have on hand. This same dish could be made with bone-in chicken thighs and home-canned peaches and would be excellent. If you don't have salt preserved lemons, for goodness sakes go make some right now! They are wonderful!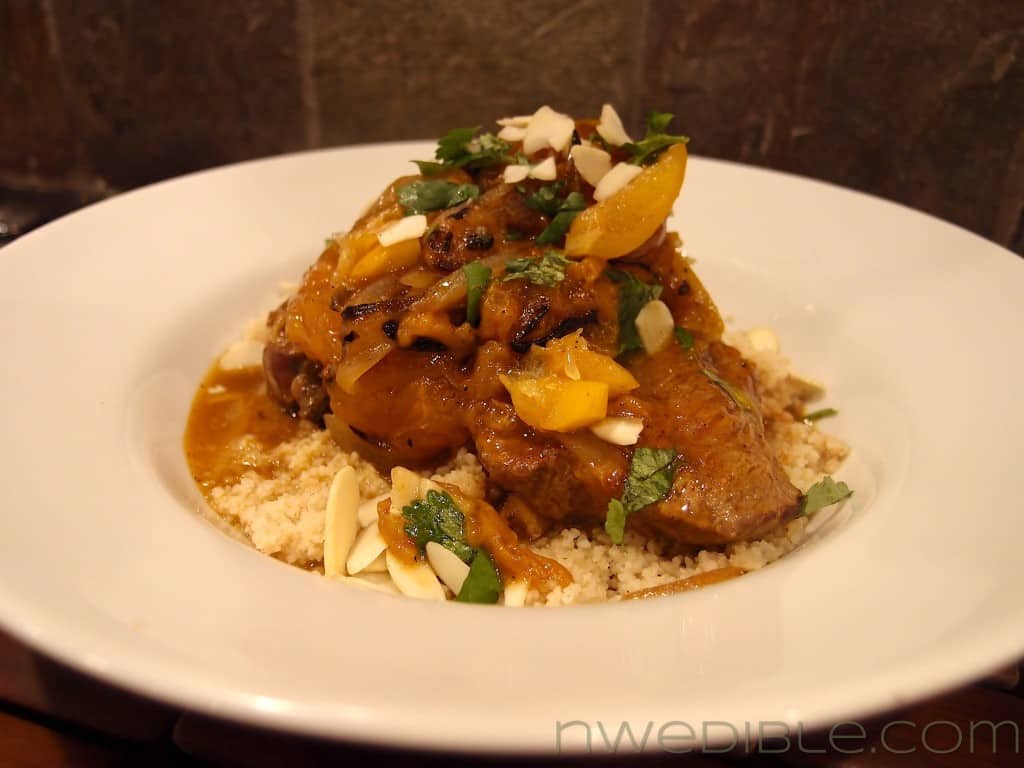 Lamb Blade Chops with Spice Rub, Preserved Lemons and Apricots
Ingredients
Spice Rub
1 tbsp kosher salt
1 tsp cinnamon
1 tsp curry
½ tsp smoked paprika
½ tsp cumin
½ tsp ginger
Everything Else
4 lamb shoulder (blade) chops
2 tbsp olive oil plus more as needed for pan
1 large onion, thinly sliced
2 garlic cloves, minced
1 salt preserved lemon, rough chopped
1 pint apricot halves in syrup (6-8 apricot halves)
½ to 1 cup water or stock, as needed
Sliced almonds and chopped cilantro, for garnish
Method
Combine all the spice ingredients in a small bowl. Rub the shoulder chops with the spice rub.
Warm the oil in a very large cast iron skillet set over medium-high heat. Add the lamb shoulder chops and sear on each sides until golden brown. If four chops do not fit without crowding your skillet, sear the chops in batches. Set the chops to the side.
Add additional oil to the pan if necessary and add the sliced onions and garlic. Cook until brown and tender, stirring occasionally, three to five minutes.
Add the seared lamb chops back to the skillet, along with the salt preserved lemon, apricots with their syrup, and enough water or stock to bring liquid about half-way up the lamb chops.
Reduce heat to low, cover pan, and simmer until chops are cooked to desired doneness (I like medium), about 10 minutes.
Serve chops over couscous, piled with sauce and chucks of apricots, preserved lemon and onion. Garnish with chopped cilantro and sliced almonds if desired.
Learn All About It!
How to make salt preserved lemons.
How to make apricots in syrup.
This is a Northwest Flower and Garden Show Demo Recipe
This recipe is from the Mealtime Made Easier with Well Planned Preserves  recipe demo and presentation I gave at the 2013 Northwest Flower and Garden Show. Thank you so much to everyone who came out to learn just how fast homemade meals can be when you have the right things in your pantry.
To view all recipes in the NWFGS 2013 series, click here.
1