My neighbor leaned over the fence at me. "Where's your brown duck? I haven't seen her in the last few days."
"Uh…she's around," I said.
"Are you sure? I haven't seen her lately and I've really looked."
"Well, I locked her up last night and let her out this morning, so, she's somewhere."
But then of course, when I went to look for Minkie, the brown duck, she was nowhere to be found.

We lost our first female duck to raccoon predation not long after we adopted her, so I'm pretty jumpy about protecting my ducks. I looked everywhere for Minkie, but she was nowhere to be found. I looked under the bushes, behind the hedge and up and down the street in case she had escaped.
Nothing. My duck was missing. Poof! Gone.
And then, that evening, there she was, waddling over to the pond, scarfing down some grain.
"Huh. Weird," I thought.
Homebrew Husband suggested she was hiding from Jake the Drake and his unceasing, aggressive humping. A reasonable guess. But that evening our gang of ducks went into their little duck pen and I didn't think too much more about it.
The next day, we let out the ducks and I soon noticed Minkie was….gone. "She's got her own thing going," said my husband, but secretly I could tell he was worried because he got mad the other ducks wouldn't tell him where Minkie was.
That night, Minkie was nowhere to be found. Visions of raccoons danced in my head as dusk came and went. My daughter and I scoured the yard and surrounding neighborhood with flashlights, looking for our lost duck.
"Well," I said to my daughter, "there's three options, none of them good."
"What are they?" she asked.
"She's run away, and is going to get eaten. She's lost, and is going to get eaten, or she's hiding, and is going to get eaten."
This did not look good for Minkie. But the next day, she was back, waddling and swimming and scarfing grain. This was truly the curious case of the missing duck.
The mystery might have gone on like that for weeks, with long Minkie disappearances and our ensuing nighttime anxiety, had I not come around the corner of my house happened to glance at just the right spot at just the right angle to see this.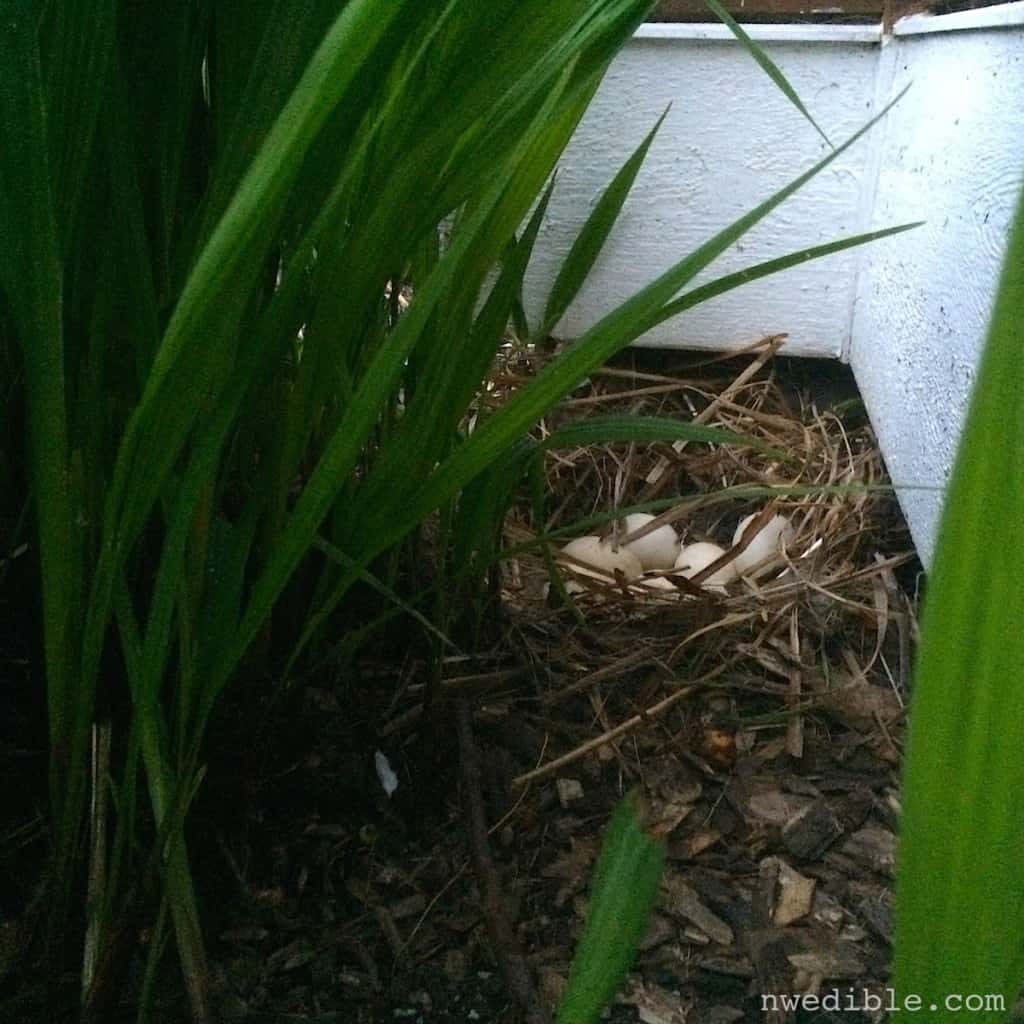 Wait, is that a….nest?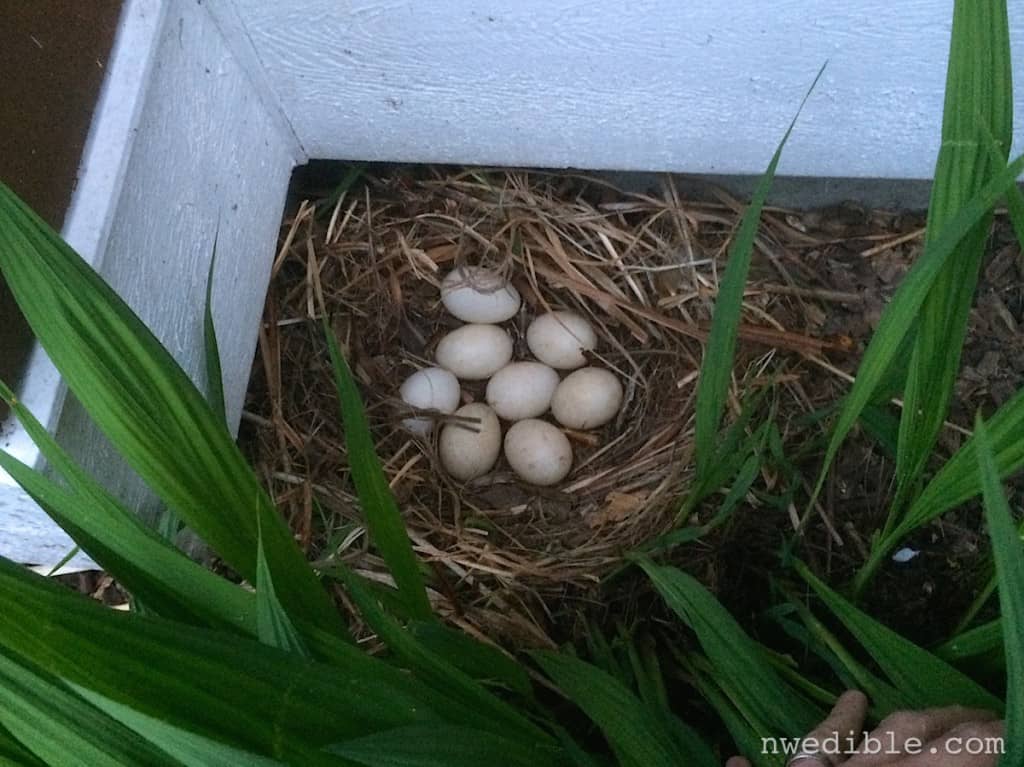 Oh yeah, definite and deliberate nest. Did you know ducks could make such awesome nests? I sure didn't! It looks like a soft little basket.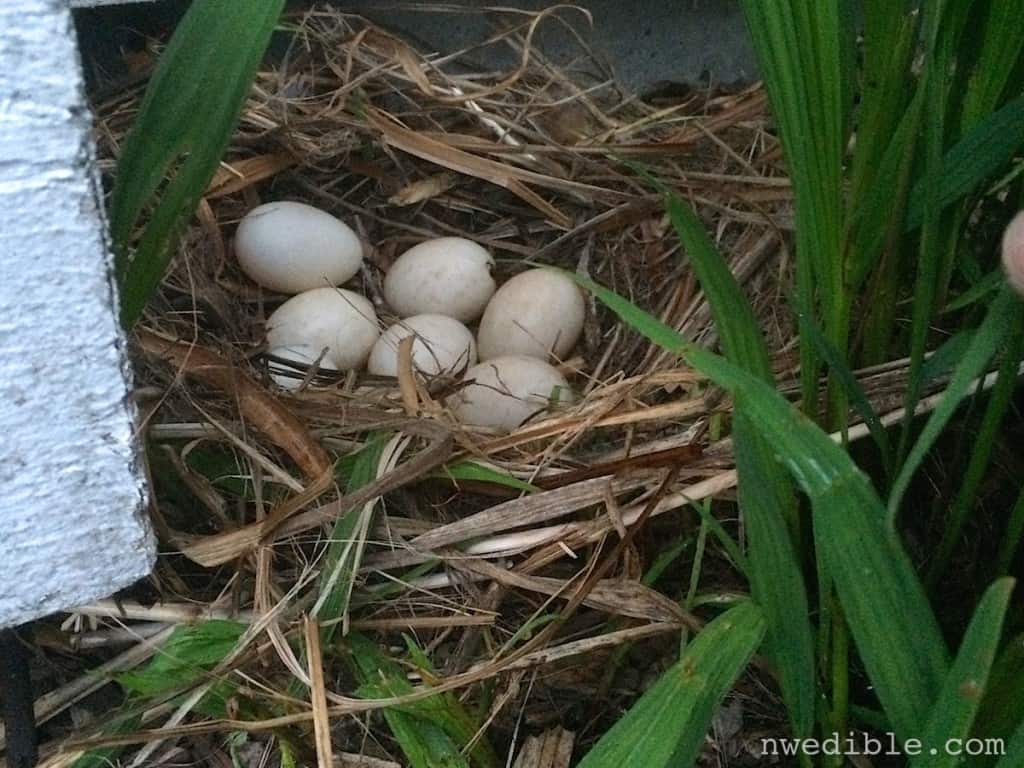 When we checked in a bit later, Minkie was settled in nicely.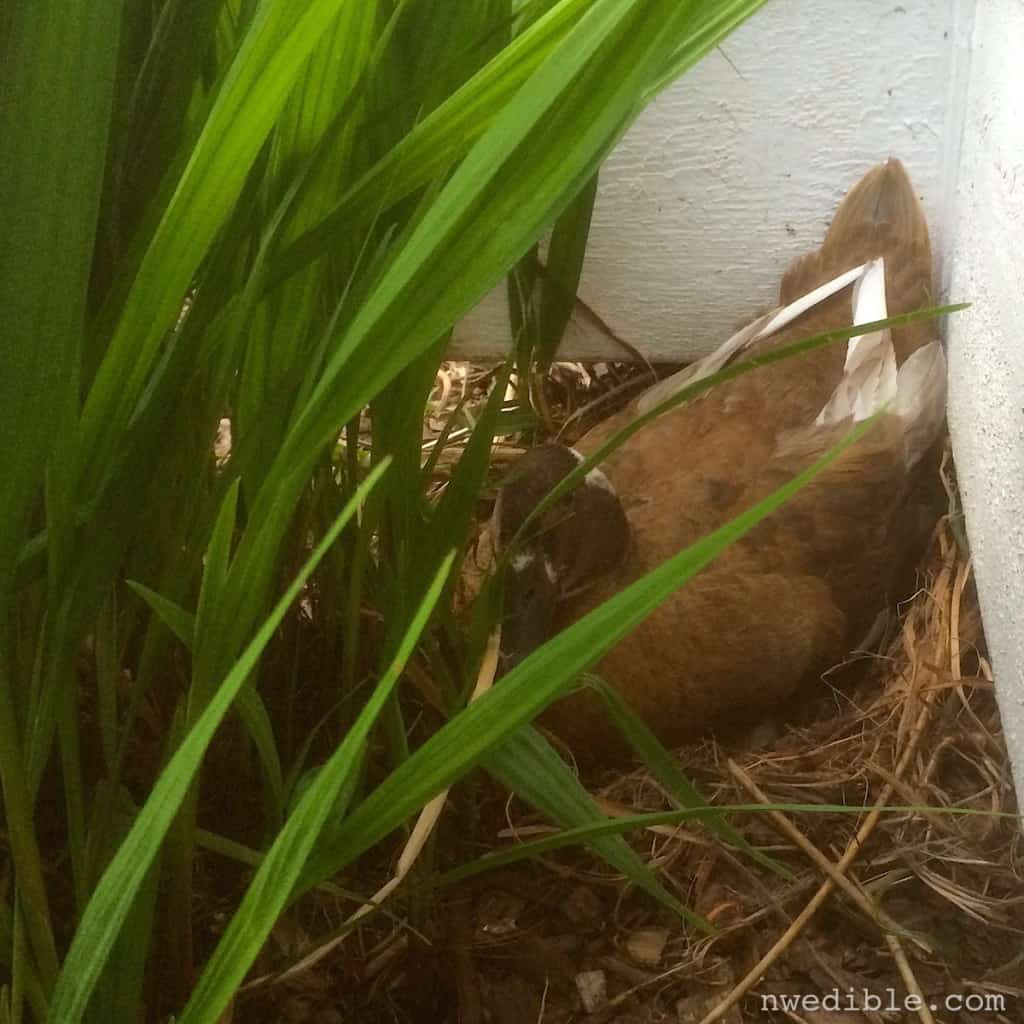 I know my yard pretty well, and I managed to not see her on this nest while looking for her, at least 3 times. It's shocking how well hidden she is.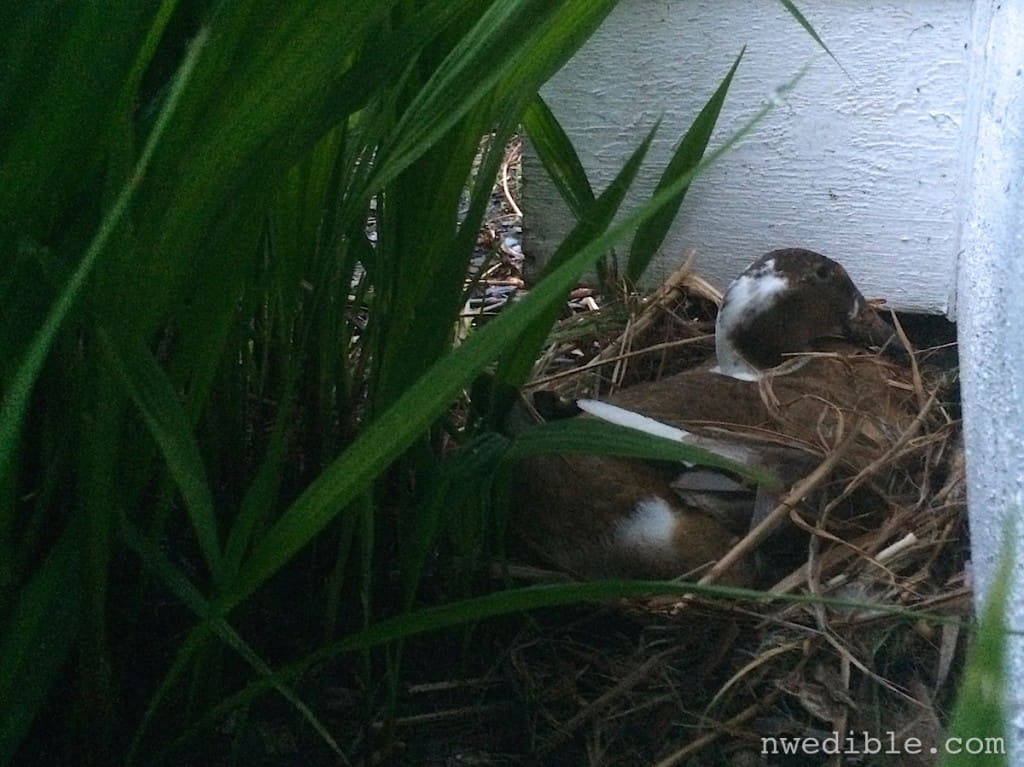 She's now spending most of the day and night on this nest, sitting her clutch.
Mystery solved! Minkie just wants to be a mama.
Honestly, I'm thrilled. I've been going back and forth about getting additional duckings for 6 weeks. I swore to you (my keep-me-honest-readers!) that there would be No New Animals in 2015, but if the animals make more animals, I'm not going to argue.
So, a question – given that we want Minkie to be able to sit her clutch, and given that we have raccoons and other predators around, would you build a more secure enclosure around her chosen nesting area? Or do you think that runs the risk of spooking her so much she might abandon her nest?
What would you do?
49