I wasn't going to do a "New Year's Resolutions" post because, frankly, I've reached the age where I know nothing I say after three cocktails on December 31st is going to have any impact on my life or decisions on March 1st. I've learned that if something in my life needs improvement or change or more attention, it's not grand resolutions that will get me there, it's boring everyday habits.
But it can be nice to have goals, and in chatting with Homebrew Husband about how we did in energy conservation in 2014, I realized we do have some. So, these are the areas of focus for our homestead in the upcoming year.
Energy
Live within our on-site solar production in 2015. We ended up using about a months worth of electricity more than we generated from when our panels were installed in April 2014 through to the end of the year. When we installed the panels, it was expected that they would cover about 45% of our energy use. As it is, they covered 90% of our energy use over that time period.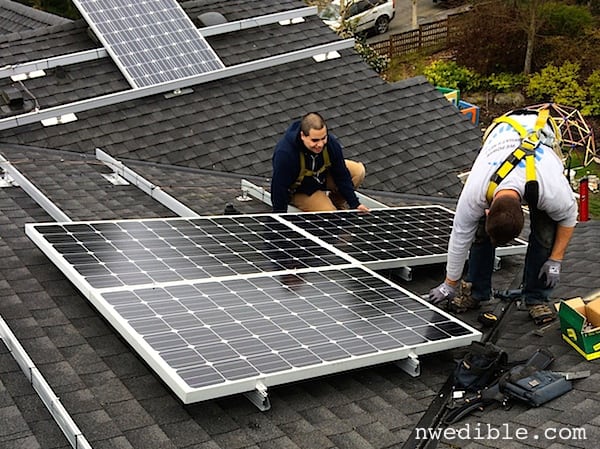 That's not terrible, but I think we can do better. Winter requires more light, more heat, more inside energy burn in general. But a huge part of our failure to maintain the most energy-thrifty habits was the constant cooking, dishwashing and laundry that accompanied the testing process for the book manuscript. The shift in focus went from, "do things in the most energy saving way even if it takes 3 extra minutes" to "don't worry if you're running seven loads of kitchen towels in the electric drier a week – just get the towels done." So, moving forward in 2015 we're eager to recapture that spirit of energy conservation.
Garden
The name of the game in garden goals is simple, simple, simple. My goal in 2015 is to plant a garden that is simple to maintain and simple to harvest from. Oh, and I don't want to spend very much money on it. Whereas many years I get carried away and try to grow 4 varieties of everything, this year I'm really interested in a more back-to-basics approach that will keep me well supplied with stalwarts: salad and cooking greens, cabbage, broccoli and cauliflower, peas and beans – easily grown veg the whole family likes.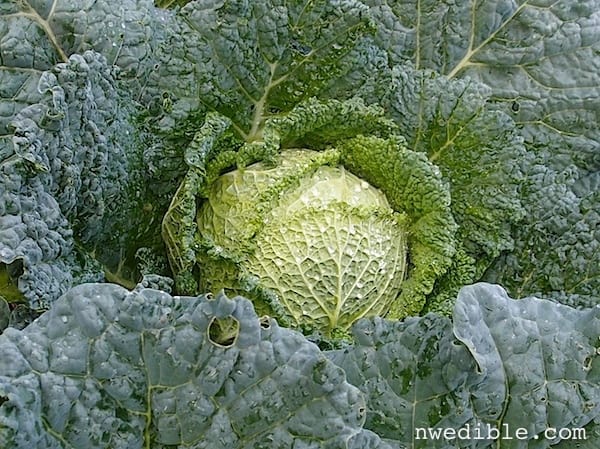 Knowing me, the seed catalog fervor will hit and all my good intensions will go out the window, but honestly, all I want this year is a simple garden that will keep me in greens without too much work.
Financial Stuff, Income Quilt and Savings
We are debt free and do pretty well in the savings department. Hat tip to Mr. Money Mustache for the constant inspiration to do better in this. But there is room for improvement and the first part of this year is the time to improve.
Homebrew Husband's employment contract ends in September. While it's possible that he'll roll right into another contracting gig, it's far more likely that he'll take three to 6 months off from primary-gig paid work. We need to be fully prepared for that, and so you'll likely see more No Spend Month or Eat From The Larder type challenges.
In addition to trimming what fat we can and using what we already have, focusing on expanding and strengthening our income quilt is important. I continue to struggle with appropriate, ethical monetization of this blog and finding a long-term way to resolve that is a key goal of mine this year.
Animals
This is a reverse goal: no new animals this year. None. Keep me honest here, guys. Cause here's what happens. I buy half a pig and call dibs on the liver, then go on a pate-making spree before Christmas. I get so excited by working with fresh liver that this series of thoughts happens:
"I love pate. Oh my gosh I need more. I need a way to have truly fresh liver more often!"
"I wish I could have a pig. Novella Carpenter got a pig in Farm City. I could dumpster dive to feed my pig."
"You cannot have a pig. Don't even consider it. Not enough space, way too much work, and illegal in a big, noticeable way."
"But…pate."
"So get some rabbits. Rabbit liver is incredible. It makes fantastic pate. Remember that pate you had in that French-themed bistro? That was amaze-balls."
"Oooh….possibilities!"
And then I go find the Storey's Guide to Rabbits (which naturally I already own from some prior round of some similar internal debate) and read it for 4 hours straight and start sketching the rabbit hutch I'm sure will work in our space when I should be sleeping. Bottom line: no new animals. No rabbits, no honeybees, no mini goats. Definitely no pig. Mason Bees and other beneficial insects like ladybugs are ok.
Your turn! What are your goals, areas of focus or (if you prefer) resolutions for this year?
1