Right, I know. Tequila.
You're saying to yourself, "I don't drink tequila. See, there was this one time in college and all I remember is I woke up on that grassy patch in front of the Mechanical Engineering building when the sprinkler started and hit me in the face and somehow my underwear was on the flagpole and I was wearing fuzzy pink teddy bear slippers. No, they weren't my slippers. Why would I have teddy bear slippers?!"
Oh, just me?
Moving on, then.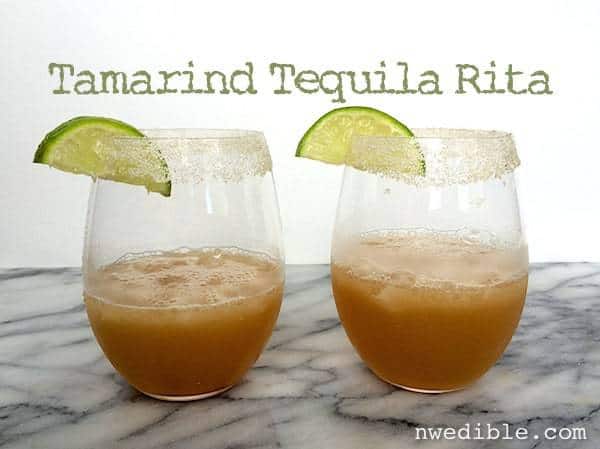 Tamarind is a tropical fruit with a sweet-sour flavor. It grows on trees (tamarind trees!) in big pods that look a lot like fava beans with a nice tan. Culinarily, we use the pulp that surrounds the seeds within these pods. Tamarind is extensively used by people in most hot-weather climates – you'll find it in cuisines from Mexican to Indian to Thai.
Tamarind makes a refreshing beverage, either on it's own diluted with water or mixed up with lime and – should collegiate memories allow – tequila.
How To Make Tamarind Simple Syrup
Tamarind is typically available at well stocked urban or Latin-American and Asian-catering markets. You can also buy it online but if you live in a city with any Southeast Asian or Latin-American population to speak of it'll be cheaper locally.
I find it as a ready-to-go liquid concentrate and as a brick of pulp about the texture of firm clay. The concentrate is easy to work with but I like the flavor I get from the dried pulp better. It looks like this: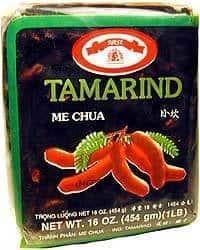 To make tamarind simple syrup, combine a knob of dried tamarind pulp about the size of a golf ball with a cup of water and a cup of sugar in a small saucepan. (To make unsweetened tamarind extract, just leave out the sugar.)
Bring the tamarind, sugar and water to a simmer and, as the tamarind softens, break it up with a fork.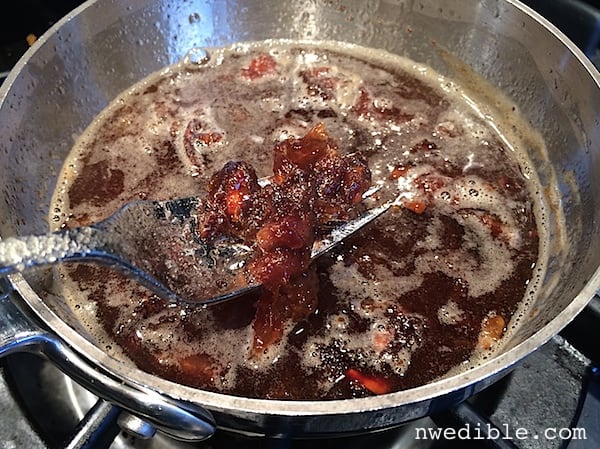 Reduce heat to low and barely simmer for about fifteen minutes. You want the tamarind pulp to completely soften without losing too much water to evaporation.
Strain tamarind syrup through a fine sieve and push as much pulp as possible through the sieve.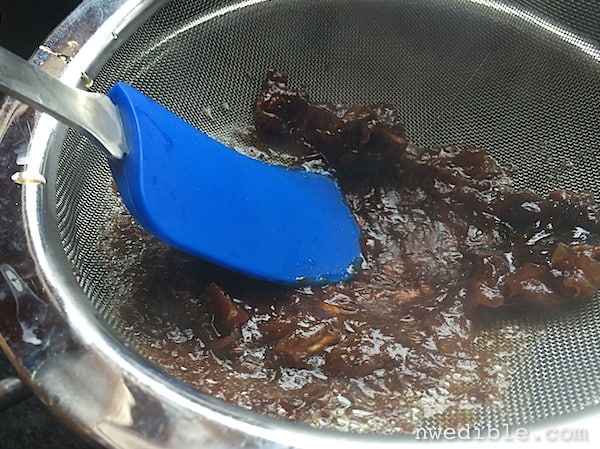 Make sure to scrape the bottom of the sieve to get all that good pulp into the tamarind syrup.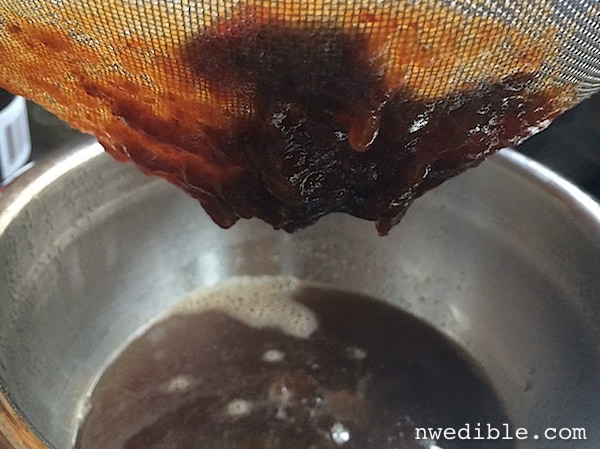 At this point you have a sweetened tamarind syrup, which can be mixed with water or club soda for a very refreshing non-alcoholic beverage.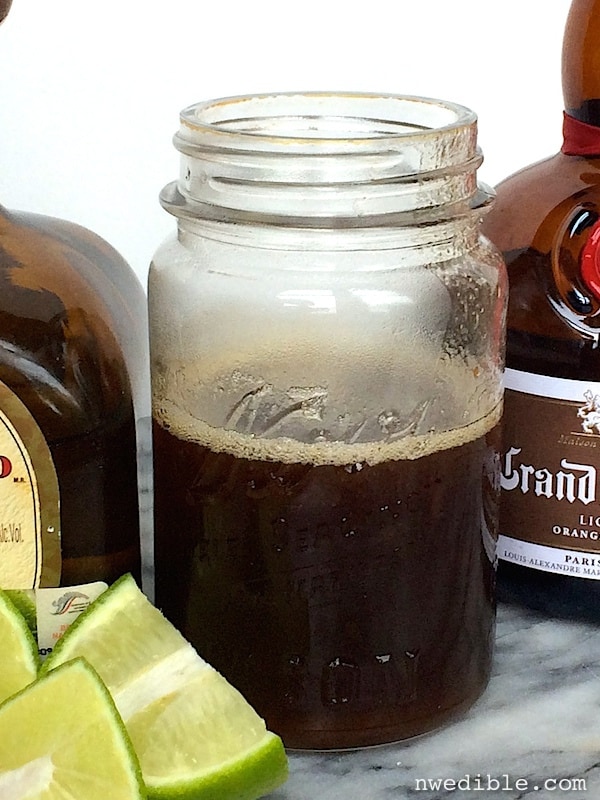 Or, use it to make maybe the best margarita variation ever.
The Tamarind Tequila Rita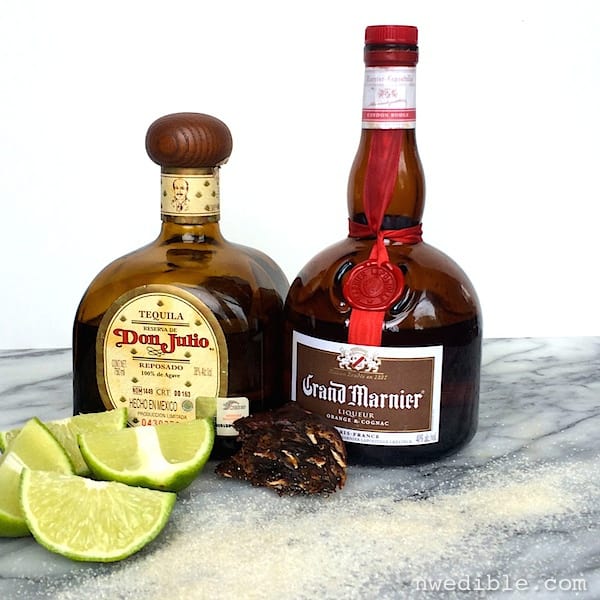 Ingredients
1 oz. tamarind simple syrup
1.5 oz. freshly squeezed lime juice
.25 oz. Cointreau or Grand Marnier
2 oz. good quality tequila
Method
If desired, run a wedge of lime around the rim of a margarita or large wine glass. Dip rim into sugar and set aside.
Shake all ingredients together with finely cracked ice and pour into prepared glass. Alternatively, blend.
Garnish with a lime wedge.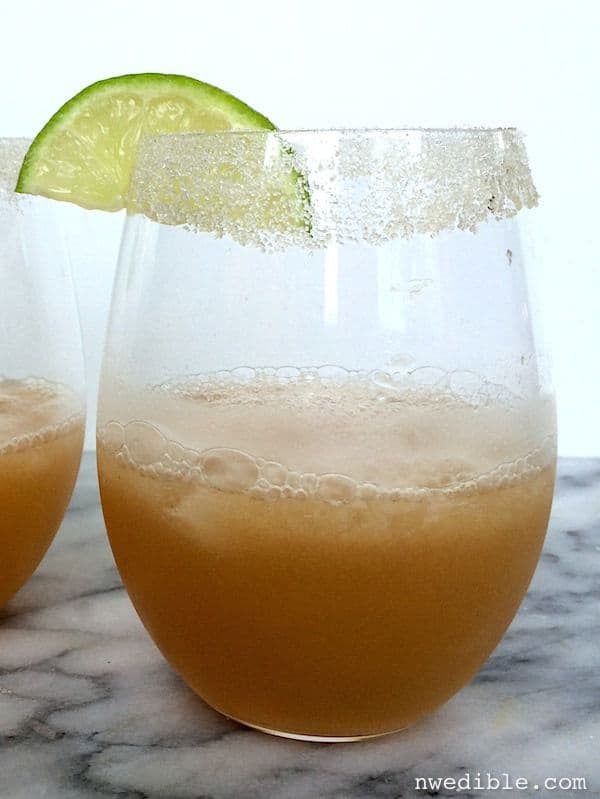 Enjoy responsibly and keep your underwear off the flagpole.
Happy weekend, guys!
0