Well, here we are, two weeks into the Eat From The Larder Challenge.
I'm starting to get resentful about constantly having to feed people. And this is weird, because I typically love feeding people. This past week was Spring Break, so the kids were home. It's like they get hungry 74 times a day. I always swore I wouldn't be one of those moms who became the short-order cook for her family, but this past week it's felt like that's my role.
We are way past the "easy last minute meals" stage too. There are no cheese and crackers unless I make crackers. Milk is nearly gone. As they say, there is no food in the house, only ingredients to make food. I am the official ingredient alchemist, so food creation falls to me and falls to me and falls to me.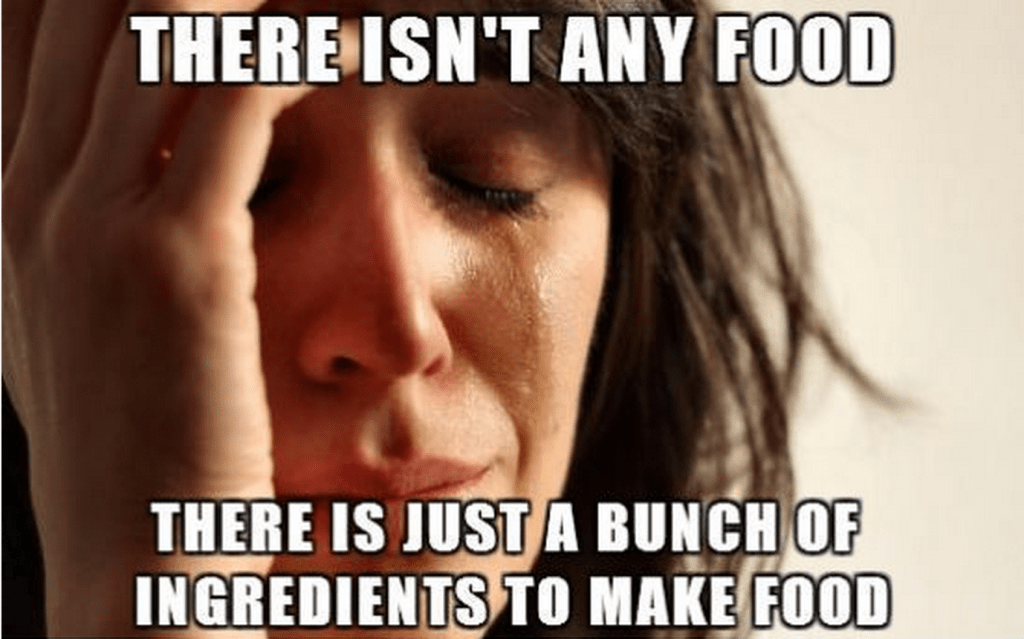 It's been really gorgeous weather lately so I've been spending my free time outside, getting my garden on, not rolling out rosemary sesame crisps for a couple of perpetually hungry monkeys. The temptation to yell stuff like, "Didn't I just feed you people?!" has been strong.
When I'm less cranky and playing the world's tiniest violin of obnoxious privilege a bit less, it hits home that this is absolutely what this challenge is all about. It's one thing to have the foodstuffs, it's quite another to hump the line (as we used to say in the restaurant industry) day in and day out, making something with them. Do I owe the readers who initially questioned the validity of this idea of eating from food storage an apology? Perhaps.
Saving Dough And Making Dough
And yet there are these moments when I look at my freezer, no longer over-full of random bits and bobs, and I'm quite proud that we are doing this – eating down this inventory and saving hundreds of dollars. Homebrew Husband and I had been jogging away nicely on the treadmill of hedonic adaptation. The amazing experience of any date night at all, ever, became a weekly scheduled date night which became coffeeshop time which became brewery night which became – as often as not – a casual neighborhood dinner and drinks.
Have you priced dinner and drinks for two lately at your local cozy neighborhood eatery? Sixty to eighty bucks, easy. Another $40 to the babysitter and we had just drifted our way into a $100+ a week habit. We know better, of course, but knowing and doing are not the same, and "we didn't have a date for 2-and-a-half-years" was a justification that seemed perfectly reasonable to our overtaxed selves as we fled the little voices calling out, "But mommmmmmm, what's for dinner?"
Going cold turkey on the dining out has been good for us and our savings rate, but we aren't skipping date night entirely. We are back to thermal mugs full of homemade drip coffee and walks along the beach at sunset. As you might imagine, it's just as good.
Entering Week 3, planning ahead has become essential. Have we lost this skill as a culture? When the dominant paradigm is reheated food served up in a few minutes and eaten in a car, it's weird to think about making the bread dough now for the bread you'll eat in two days. I find myself looped into other projects and other interests and playing catch up. Instead of nice slow-rise country-style bread it's a dull textured loaf from the bread machine. But hey, at least we have flour to make bread.
I miss green food desperately. The kale's been seeing us through, but we are big veggie eaters as a family and the garden is at it's lowest point of productivity. Thankfully the spring crop of lettuces and the nettles are up, so the second half of the month should see a bump in vegetables. This is something to work on in my future food storage – more frozen greens for those hunger gap months.
Dining Out Without The Dining
I went out to a restaurant last Friday. It was a good friend's birthday celebration and I wanted to participate. But I let the host of the party know that I was doing this wacky blog challenge and wouldn't be eating or drinking. It was less awkward than you might think. The rest of the group enjoyed cocktails and appies and split some delicious smelling pan-Asian entrees. I had tap water and laughed and chatted with friends. It actually felt to me a bit like meals I've had in France, where the focus is more on the conversation and companionship and less on going heads-down over a plate-o-chow.
I had eaten a bit before I went, so hunger wasn't an issue, and no one in the group seemed particularly put-out that I declined to join in the mastication. Fellow hospitality folks, don't worry – even though I didn't order anything I still tipped the waiter generously for the numerous water refills and the time I occupied a chair.
The challenge continues. So far, we haven't given in and dialed for pizza. Here's what we've been eating.
Breakfasts
The predictable collection of egg dishes, mostly. A bowl of oatmeal as I recall. I made granola bars with a new recipe but I wasn't happy with the cake-like texture. The only thing worth taking a picture of was this rather lovely meal of whole grain pancakes topped with fruit from the freezer. Scrambled eggs rounded out the breakfast. I had forgotten that I still had frozen cherries – man those were a treat!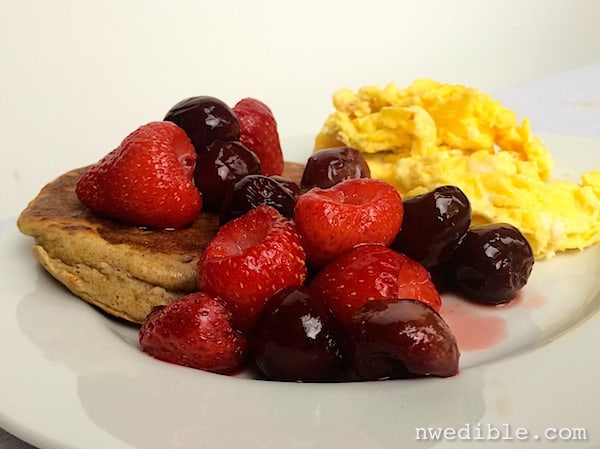 Lunches
Lots of leftovers from dinners and leftovers turned into something else. A lentil side dish from last week became this lentil soup and honestly this was probably the most deeply satisfying food I ate all week. Leftover lentils, a chopped up onion, some stock and tomato…salt simmer and done. Served with a big slice of good crusty bread this made several lunches for me. The kids just ate bread. I maintain that they don't know what they are missing when it comes to lentils.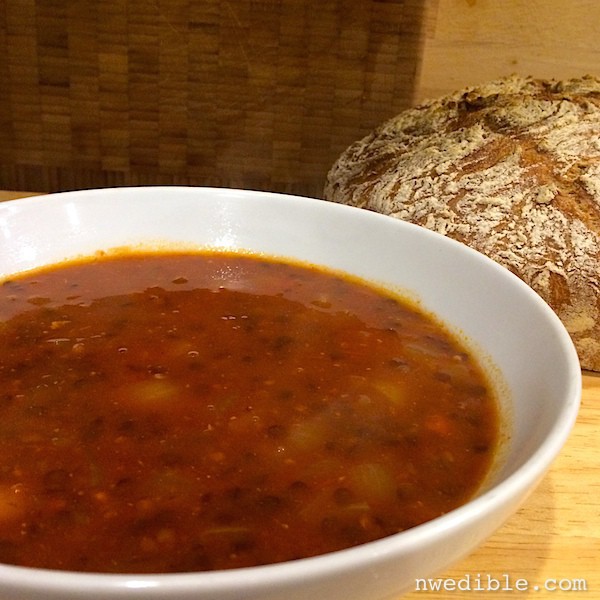 Because she is amazing and maybe because she could sense I needed a break, my daughter made dinner last night. She made Pasta with Tuna and Capers and Chocolate Chip Cookies. The leftovers were then used for her school lunch. As she put together her lunch, she was telling me that people think her lunches are weird sometimes.
"How so?" I asked.
"Well this one kid sometimes looks at my lunches and says, 'Do you even buy anything?' and I usually say, 'No, not really'" explained my daughter.
I found this strange, since almost every item in the lunch my daughter was packing was – to my mind – a processed food. Store bought dry pasta, commercially canned tuna, jarred capers, cheese from the local cheeseshop, dried cranberries from a huge Costco bag that was on sale several months ago. The cookies were homemade of course, but from pre-processed ingredients: chocolate chips, milled flour, churned butter, baking powder, etc. I mean, of course we buy stuff – this lunch is made from nothing but bought stuff!
But apparently the lack of shiny, single-serving wrappers qualifies my daughter's lunch as "nothing bought" and therefore weird.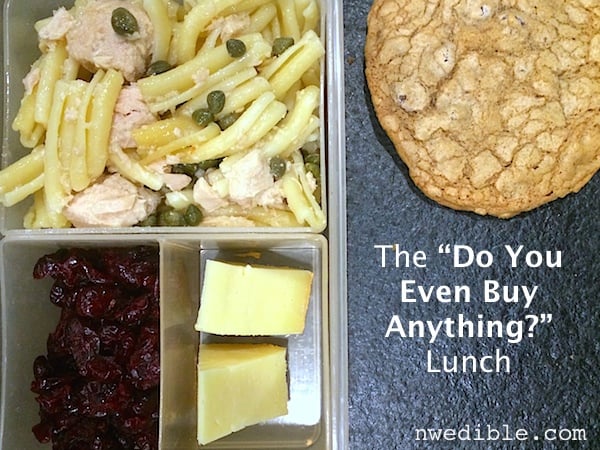 Dinners
Pizza night! I had some cooked crumbled garlic sausage and some mozzarella in the freezer. We turned them into 'za.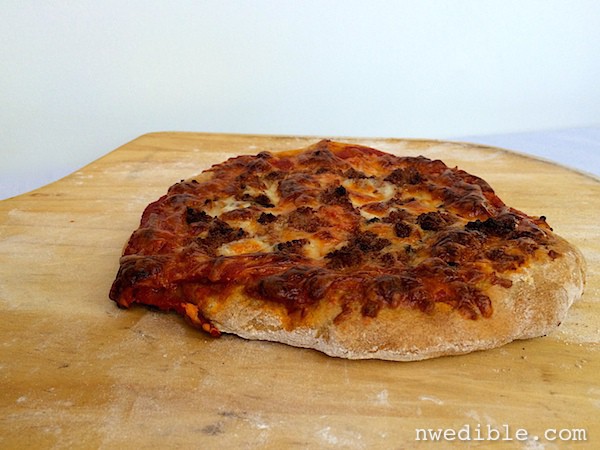 Salmon teriyaki and rice. With broccoli or green beans this is a very typical kid-friendly meal at my house. Can't wait for green bean season!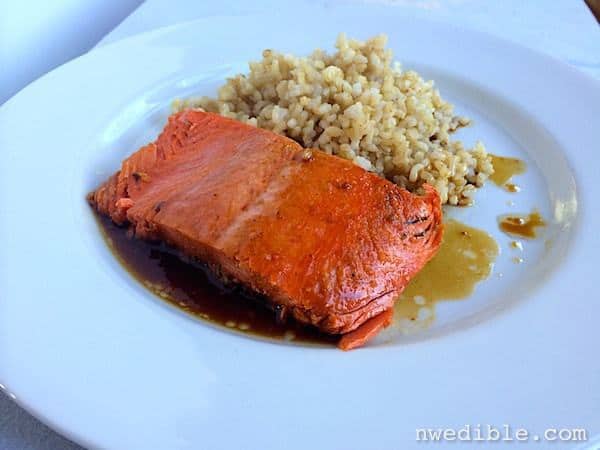 Elk flank steak (yeah, I know – I have some weird stuff in my freezer) with caramelized onions and blue cheese.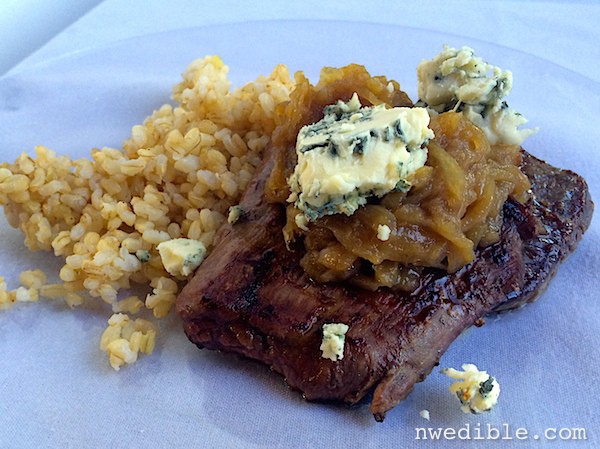 Seared flap meat (my favorite budget cut – it's like a more flavorful flank steak) with sprouted spelt berry risotto and kale with walnuts and lemon. That kale was so good: fast wilted in a skillet with a bit of olive oil and finished with a squeeze of fresh lemon and a handful of chopped walnuts.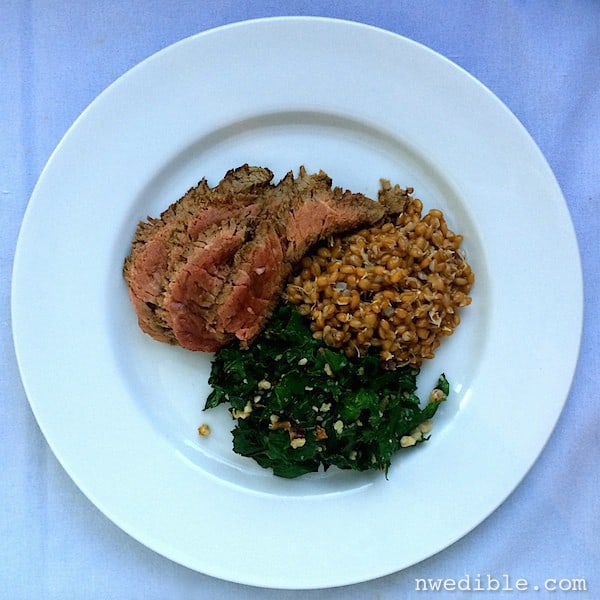 I made some strawberry ice cream for dessert using my favorite easy ice cream trick (just use jam!). This batch was 2 cups cream, 1 cup milk and 1 half-pint of strawberry jam. It turned out wonderfully.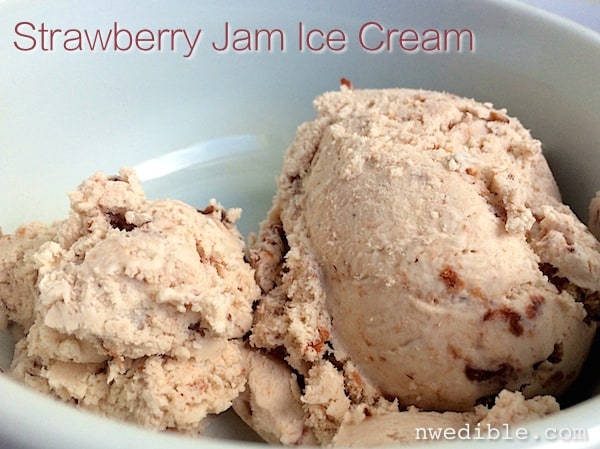 How's the Eat From The Larder Challenge going in your home? Are you feeling some of the same frustrations I am, or is it still smooth sailing?
1