Not everyone has a Back 40. Many urban gardeners are working with aggressive space constraints ("Patio 4?" anyone?) but still want the joy of planting, harvesting and cooking homegrown veg. For these gardeners, container growing is sometimes the best or only option.
Nearly every crop that can be grown in ground can also be grown in containers. I grow a container demo garden every year at the front of my house to show passers-by what can be done and have successfully harvested broccoli, kale, summer squash, beans, herbs, strawberries and greens of all kinds from a few pots at the front of the driveway.
In my cool-summer, maritime climate I find that real heat lovers like eggplant often do better – a lot better – in containers than in-ground, and so even though I have a large (by urban standards) garden, I still choose to grow some crops in containers.
The trick to container gardening is in knowing which varieties of each crop are going to thrive in that environment, and setting up your containers well. This means using appropriate size pots and potting mixes, and providing the right water and nutrition for your plants. Container growing also means taking responsibility for more of the plants needs as compared to in-ground growing – that little seedling is counting on you for food and water because it can't seek out deeper, moisture-retentive soil.
With those considerations in mind, growing a whole garden worth of food from containers isn't hard – it just requires a little know-how.
Giveaway!
High Mowing Organic Seeds (my favorite seed house and a sponsor of this blog) is offering one NW Edible reader the book The Bountiful Container plus the High Mowing Organic Seeds Container Garden Collection.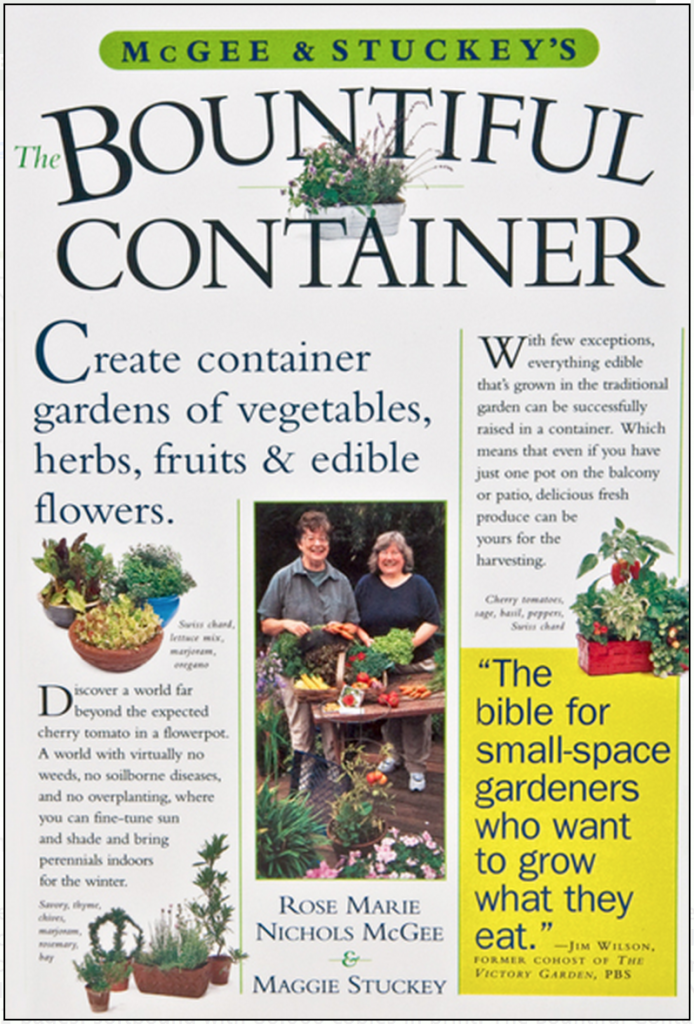 The Bountiful Container is a real classic in the How To category of garden books. It covers soil and potting mixes, sizes of pots needed for various edibles, best varieties, how to combine edibles in containers and talks about the full range of fruit and veg you can grow in a pot and a lot more. It's an information rich book.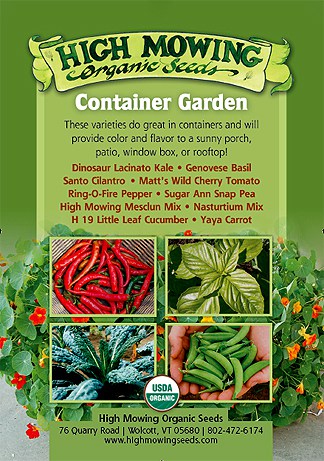 High Mowing's Container Garden Collection combines ten of the best varieties of vegetables for container culture into one pack. It includes one packet each of:
Nasturtium Mix
Genovese Basil
Santo Cilantro
Matt's Wild Cherry Tomato
Ring-o-Fire Pepper
Sugar Ann Snap Pea
High Mowing Mesclun Mix
Dinosaur Lacinato Kale
H-19 Little Leaf Cucumber
Yaya Carrot
And because these are High Mowing Seeds, everything is certified organic. These varieties make a nice collection for a warm-weather container garden, but several (the cilantro, peas, mesclun, kale and carrots) will continue to thrive deep into fall or even overwinter in mild climates like the Pacific Northwest.
Together, these two items have a retail value of $45 and will give you the knowledge and varieties you need to grow hundreds of dollars worth of organic vegetables in a small space. High Mowing will be giving both of them to one lucky container-gardening winner.
To enter to win, sign up for the monthly High Mowing Newsletter, The Seed Bin, then come back here and leave a comment below letting me know what fruit or veggies you grow in containers. 
About the High Mowing Newsletter: this is not some schlocky spam email thing, guys, I promise. Every month High Mowing sends out one newsletter with great, truly useful garden information. I learn a ton from the newsletter.
In the past they've sent along tips for doing at-home seed germination tests, information and great stories on specific varieties of vegetables, how to care for garden tools, how to jump-start the potato growing season and even tips for container gardening. They also run periodic giveaways for stuff you'd actually want – like gardening books and gift certificates for organic seeds.
High Mowing follows best practices for emailing, so you don't need to worry about them selling or trading your info, and of course you can unsubscribe at any time. But honestly, I don't think you'll want to. I look forward to the helpful tips in The Seed Bin every month and I bet you'll feel the same.
This contest is sponsored by High Mowing Organic Seeds and is open to U.S. and Canadian residents only. Contest open until Wednesday, April 16th, 8 PM PST. Winner will be notified by email. If the winner fails to respond within 24 hours, a new winner shall be drawn. Good luck everyone!
0