"It seems to me that our three basic needs, for food and security and love, are so mixed and mingled and entwined that we cannot straightly think of one without the others. So it happens that when I write of hunger, I am really writing about love and the hunger for it, and warmth and the love of it and the hunger for it… and then the warmth and richness and fine reality of hunger satisfied… and it is all one."

― M.F.K. Fisher, The Art of Eating: 50th Anniversary Edition
There is a book called How To Cook A Wolf by M.F.K. Fisher. It is arguably the best piece of food writing for hard times ever created. Fisher wrote the book during World War II food rationing, and created a classic filled with wit, humor and lessons on how to make do with less while still eating like you love food.
I have in my head a collection of recipes I think of as "How Not To Starve" meals. They lurk in the shadow of How To Cook A Wolf's lessons, not from the book, necessarily, but cheap, filling and delicious.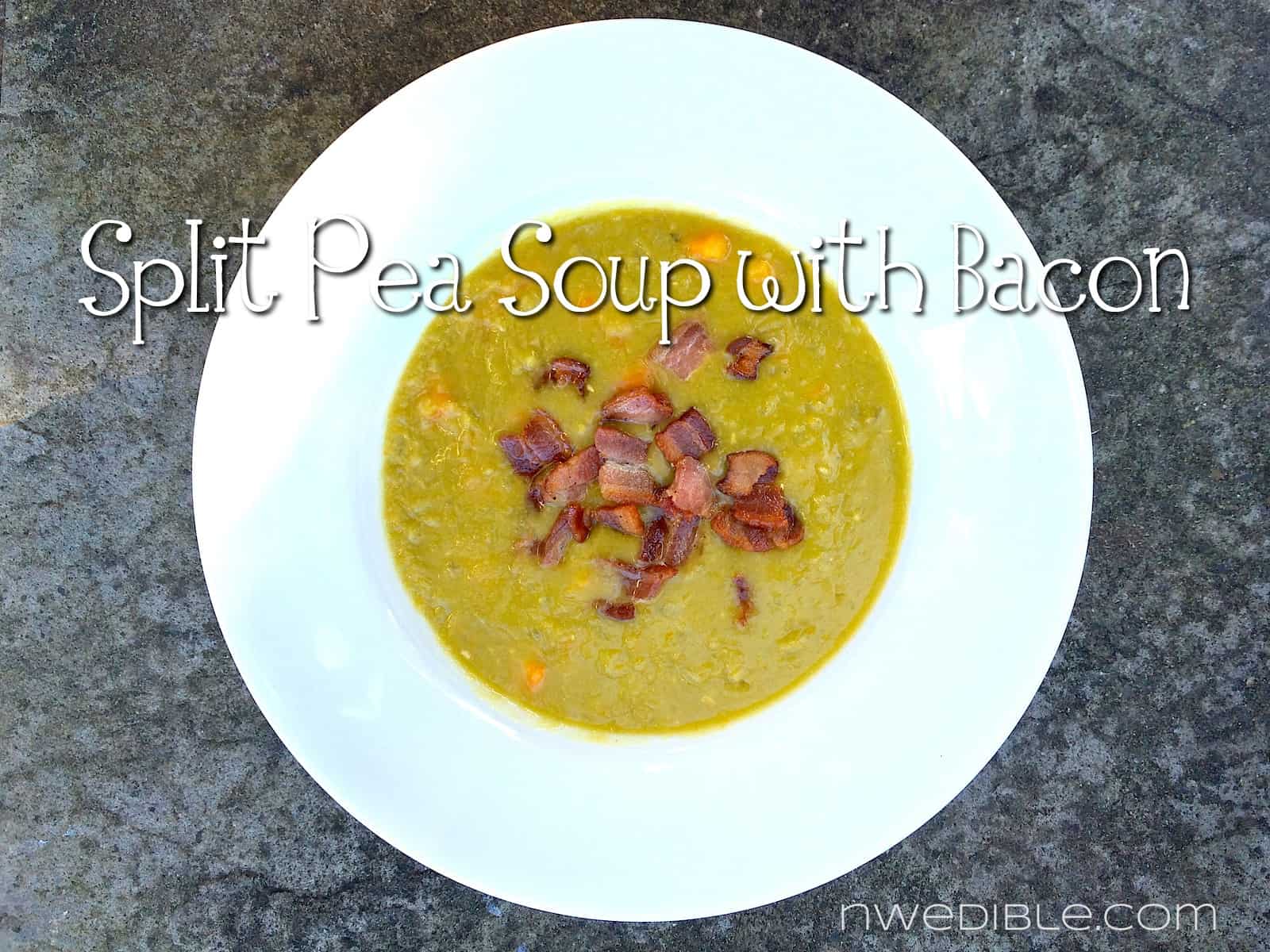 This Split Pea Soup is one such meal. It can be made with very little, and yet is full flavored and almost sweet. The trick to making simple, cheap pulses like beans, lentils or split peas tasty is seasoning – cumin and ginger give this soup a lovely flavor and lemon zest and juice brighten things up. If you use water to make this soup, don't skimp on the salt.
This soup is vegan-friendly, but if you eat meat, the addition of the salty, smoky crispy bacon is wonderful.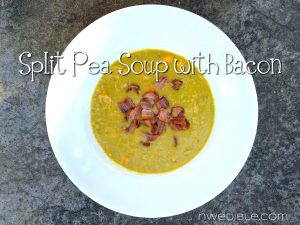 Print
Split Pea Soup with Bacon
Yield 6
This soup is filling, hearty, inexpensive and got rave reviews from everyone in my family - even my kids!
Ingredients
2 tbsp olive oil
3 carrot, diced
1 large onion, diced
1 tbsp ground cumin
1 tsp ground ginger
kosher salt and freshly ground pepper
2-1/2 cups split green peas, picked over to remove any stones or debris and rinsed
8 cups water, chicken stock or vegetable stock
1 large lemon
1 pound bacon (optional, but really good)
Instructions
Heat olive oil in a large pot set over medium heat. Add carrot and onion and cook until onion is translucent, about 10 minutes.
Add cumin, ginger, salt and pepper to taste and split peas to the pot. Cook until spices are fragrant, about 2 minutes.
Add 8 cups water or stock to the pot and bring all to a simmer over medium-high heat. Adjust heat to maintain a gentle simmer and cook until split peas are completely tender, about an hour to 90 minutes.
When peas are very tender, whisk soup vigorously to break up some of the peas and thicken the soup. Add the zest and juice of one lemon to soup.
While soup is simmering, cut bacon crosswise into 1/2-inch wide strips. Cook bacon in a skillet set over medium heat until fat has rendered and bacon is crispy. Set aside.
To serve: ladle soup into bowls. Top with a generous sprinkling of crispy bacon.
Serve soup topped with bacon, if desired.
3