This year, with my son in preschool, mornings are spent shooing two kids along and getting everyone out the door on time. The AM has to be far more regimented, and fast breakfasts and easy, (often make-ahead) lunches are essential. We are also doing a lot more freezer-meal cooking to streamline dinner these days and my old menu planners just didn't feel optimized any more.
So, I've created a new, Biweekly Menu Planner and I wanted to share it. Never be afraid to change your organizational tools to suit what works for your life as it is now. The whole point with organizational stuff is, it's supposed to make your life simpler, not be a straight-jacket.
This menu planner has space for lunches and breakfast options in list form, with more detail spaces for dinner. This format seems to suit my life with two-kids-in-school at the moment.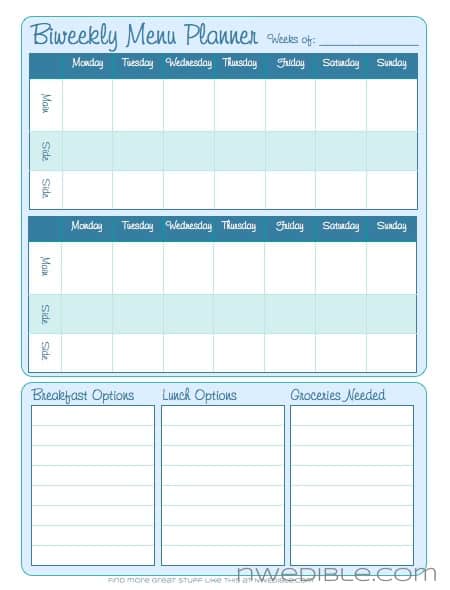 Here's an example of how I use this planner:
I wasn't sure if people would want the "starch/veg" designation or the more versatile "side/side" option down the side, so I made versions with both. When you download in PDF, just print out the page that works for your menu planning style.
Download
You can download this free Biweekly Menu Planner in PDF on the Downloadables Page. I hope you find it helpful!
34