Since garlic at the market is usually pretty cheap and available year-round, it doesn't occur to many people to grow their own. But garlic is a seasonal crop that tastes much better when it's truly fresh – just harvested garlic is amazing. The big plump cloves have a strong garlic pungency but are also almost juicy.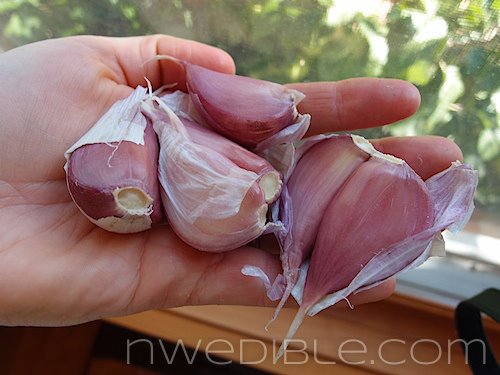 I've grown garlic every year for about a decade now, and, unless you are cursed with one of the various root rots or fungal diseases that seem overly fond of the allium family, garlic is very simple to grow.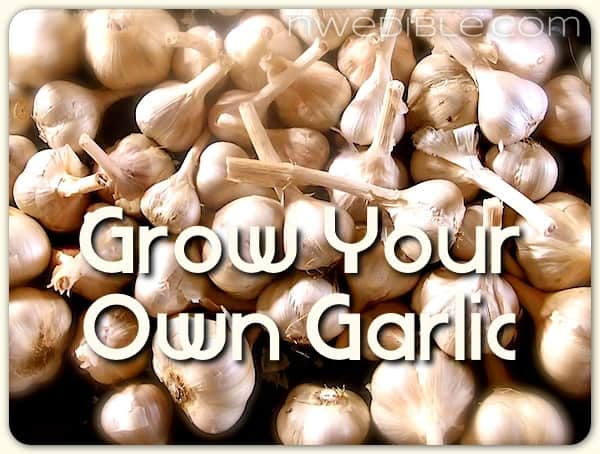 Seed Garlic
You start with seed garlic. This can be certified virus-free garlic you've ordered from a specialty supplier, or it can be garlic you've saved over from the summer harvest. I advise strongly against planting supermarket garlic, which, in addition to being a boring commercial variety, is almost certainly carrying some kind of virus which can contaminate your garden soil.
I would also politely decline offers from people who want to share their garlic or other alliums with you to plant in your garden. This is of course a personal call, but my soil "caught" allium white rot after I eagerly planted someone's grandmother's heritage heirloom old-country shallot variety that I picked up at a seed swap.
Before Typhoid Mary Shallots: growing garlic was as easy as falling off a log. After Typhoid Mary Shallots: I have to be very careful about what beds get alliums, and usually do a back-up container planting of garlic in fresh potting mix just to ensure some garlic harvest. It sucks.
If you buy your garlic, expect it to be sold by the half and full pound. Depending on the variety you buy, one pound of garlic will yield about four to seven heads of garlic. Your purchased garlic should be certified virus-free and clean, with no signs of soft spots or decay.
Sometimes garlic shippers have to break a head into pieces to get the right weight of garlic in the package, but in general the garlic heads should be intact until just before planting. Seed garlic is expensive – if you order online or from a seed catalog and the garlic you get isn't good enough to plant out, call and get yourself a refund. I've had to do it when I received half a head of soft, semi-rotten garlic.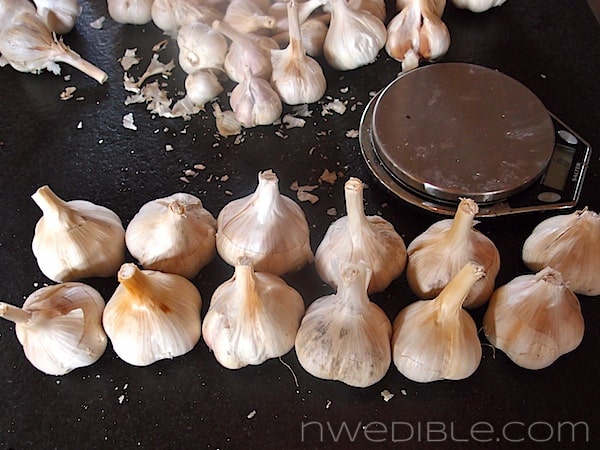 If you are planting your own garlic that you harvested the prior summer, make sure it shows no sign of disease and is firm and clean. Select the largest, healthiest looking heads to use as seed garlic – these will put out roots quickly and mature into large heads of garlic the following summer. Don't bother planting small cloves – just eat them.
Hardneck vs Softneck Garlic
There are two categories of garlic – hardneck and softneck. I prefer hardneck because they are culinarily superior. I'm particularly partial to a large-cloved, high-yielding variety called Music, but there are advantages to both types.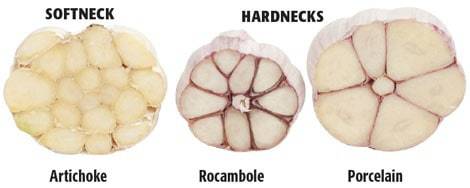 Hardneck Garlic – these types of garlics bolt, throwing up a central stalk called a scape in early summer. If allowed to grow, the scape will flower, taking energy from the bulb formation. This scape dries to a very hard "neck" that runs all the way down to the rootplate of the garlic bulb.
Hardiest of the garlics and good for cold climate gardeners.
Make "scapes" in early summer that are a secondary crop to harvest. Scapes should be removed for best bulb formation.
Typically stronger, sharper and more diverse in flavor.
Last 6-9 months in storage.
Typically form a single ring of cloves, 4-12 to a head, that tend to be larger than softneck cloves.
Hardnecks cannot be braided.
Softneck Garlic – The typical grocery store garlic is a softneck called California White. Softnecks do not bolt.
Thrive in more mind climates and tolerate warmer winters – best for maritime and southern gardeners.
Typically not sharp or spicy, but some softnecks are very full-flavored.
Superior storage compared to hardneck types, lasting 9-12 months.
Do not produce scapes, so softnecks can be braided nicely and require less labor to grow.
Faster to mature than hardnecks.
Typically make several rings of cloves, up to 40 cloves per head, many of which can be quite small.
Cracking Your Garlic
Just before planting, crack your heads of garlic into separate cloves. With hardnecks, this is easy. Just snap the dried scape back and forth a bit and the cloves should separate. With softneck garlic, you may have to peel the outer wrapper layers back more carefully before pushing the head against a countertop to break apart the cloves.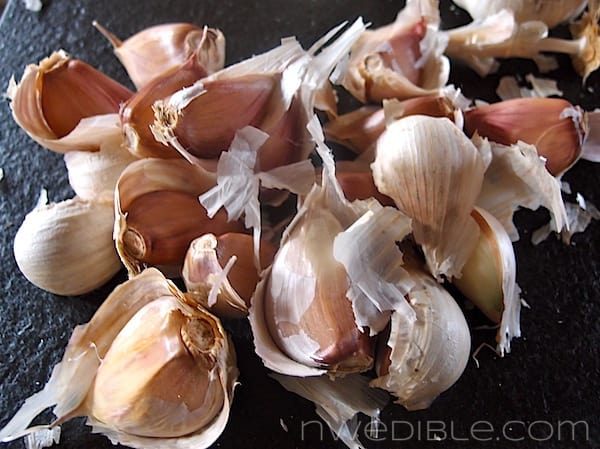 You want the individual cloves to fully separate from the rootplate and remain wrapped in their little paper coats. Sometimes the skin will fall right off a clove of garlic, as below. I've planted garlic like this and it's worked out fine, but the papery skin will help prevent the clove from rotting in the ground, so this isn't ideal.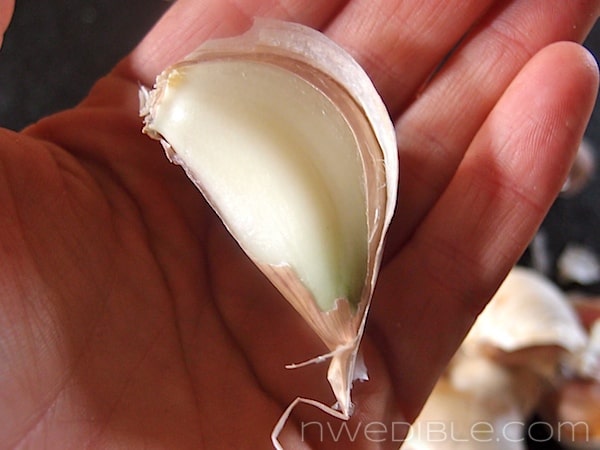 Prepare Your Soil
Garlic isn't a particularly needy crop, but like just about everything it will grow best in full sun and fertile, well-drained soil with a goodly amount of organic matter.
I prepare a 4'x8′ bed by weeding, sprinkling the soil with Complete Organic Fertilizer and, if I'm feeling sassy, a little bit of bone meal. I rake the soil smooth and dibble in planting holes.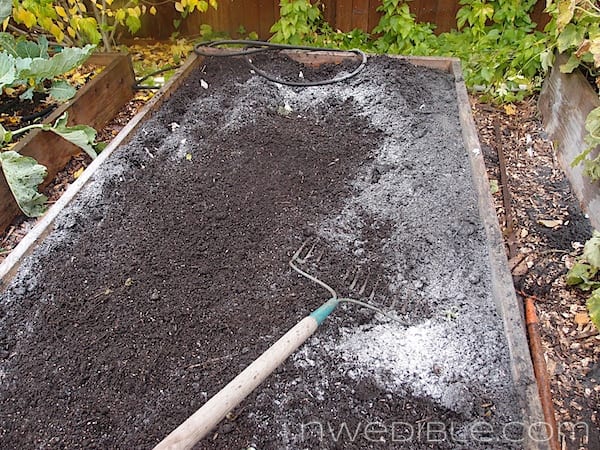 Get Those Cloves In The Ground!
Don't wait around after you've cracked your garlic – get it planted within a few hours. Garlic can be planted in blocks, in long rows, or just stuck here and there throughout the landscape. I sow in blocks.
Block Spacing For Garlic
6-8″ apart in all directions

3-4″ deep to bottom of planting hole

Firm soil over garlic cloves, water in if necessary (not necessary in the Pacific Northwest).
Cover with 2-3″ of loose mulch
Place one clove, shoot end facing up, in each planting hole. (Ignore the first couple upside-down cloves in the photo below – my son helped me plant those.)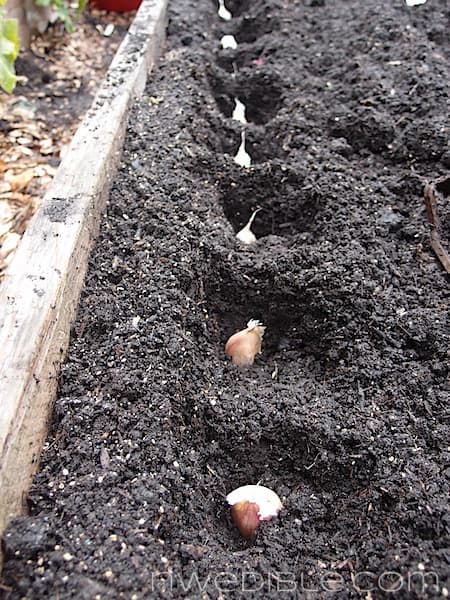 You want the garlic clove to go into the ground point up, just like this: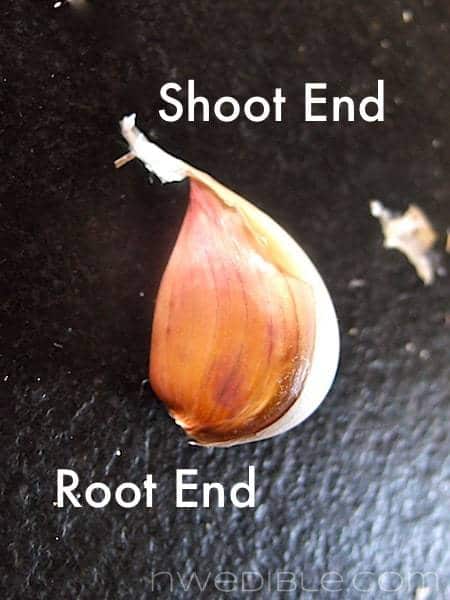 Another way to double check is to look for the root end is to look for the dry, flat spot on each clove called the basal plate. This is where the clove was attached to its garlic head. The basal plate goes down.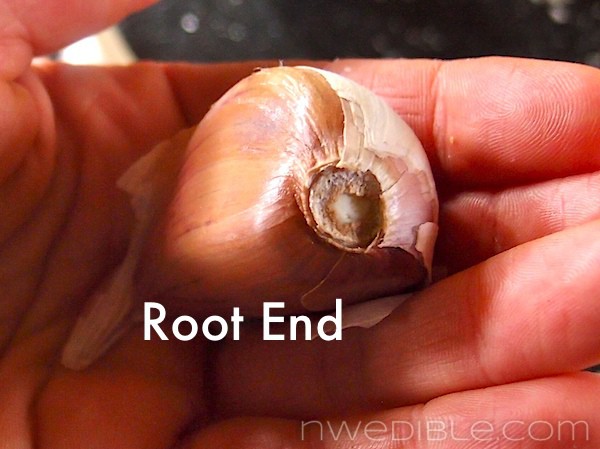 When Do I Plant? When Do I Harvest? (And Other Issues of Timing)
Perhaps the hardest part of growing garlic – just waiting for it to be ready.
In the Pacific Northwest, garlic should be planted in October. If you are reading this on the day I published it – October 14th – NOW would be a great time to go plant your garlic.
September is fine, but there's always so much to do in September I can't be bothered. By October things have slowed down. November is okay in a pinch, the earlier in the month the better. You want the clove to send out roots and establish itself in nice welcoming, moderate-temperature Fall soil, not sulk in the cold mud-puddle dirt of winter and possibly rot.
Garlic should send up little green shoots within several weeks of planting. By late winter they will be several inches tall. The plant will put on tons of strappy leafy green growth as spring rolls into summer and will reach several feet in height. Side dress with blood meal if necessary in spring or early summer to encourage rapid growth of the leaves.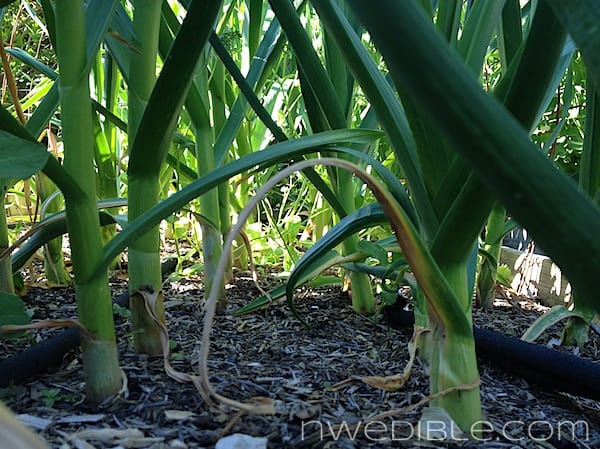 If you have a hardneck variety, in about June, expect to see a tall scape unfurling up from the garlic. I usually wait until the scape are 8-12″ long and then snip them off. They are perfectly edible and taste kinda like a garlicy green bean.
In high summer, the garlic plant will begin to die down. This is totally normal. The leaves, starting with the oldest and bottom-most, will begin to turn yellow and dry out. This die-down is the garlic plant sending all the stored energy from the leaf mass down to the bulb underground, which is growing like crazy at this point.
When 4-6 green leaves remain on your garlic plant, it's time to harvest your garlic! We'll save harvesting and curing for another post.
The key takeaway for right now is, go get your garlic planted.
Is your garlic already in the ground? What kind of varietals do you grow? 
Image Credit: Peaceful Valley Farm / GrowOrganic.com
108