It's been three months since we put solar panels on our roof, and there have been a few surprises. There were things about ourselves and the technology and physics that we didn't expect. So, as part of our ongoing look at Project Solar, here are a few things I didn't expect.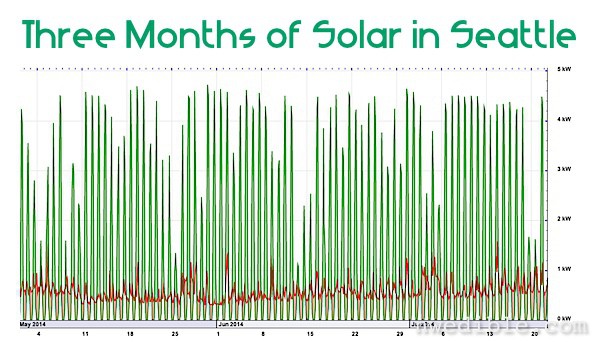 1) For Easy Energy Saving, Make It A Game
We have it in ourselves to be crazy electricity conservers. All it takes is making it into a game. I can't tell you how much real-time monitoring has changed how we view electricity. I could write on and on and on about this, and will one day, but seeing how much juice we're drawing right now absolutely changes our use patterns. Gone, except in cases of extremis, are: the drier, the dishwasher, the tv on "standby", wantonly left-on ovens, etc.
2) Real Time Monitoring Is Key
We love the solar production, don't get me wrong, but I wonder how much conservation would spontaneously occur if utility companies gave everyone the ability to monitor their use in real time. We had to pay a bit extra to get this ability as part of our solar install, and it has been an incredible boon to our conservation. We'll literally shout to each other (in a friendly, loving, Team-Strauss kind of way) "What are you doing that's using so much electricity?" or "Do you need to be running that?" or "Can you turn those off?" when one of sees an unexpected peak of red electricity use on the monitoring screen.
3) Little Slips Can Kill You
We have an old Denon amplifier, connected to our TV, that really only ever gets used when it is a special movie night or something. Well we did one of those mid June…and forgot to turn the amp off. For two weeks it was idling (we don't use the TV a lot!), consuming 80 Watts. Doesn't seem like much, but right there, just because of forgetfulness was 27 kWh. That's about two days worth of typical electricity use for us, just because we forgot to turn off the stupid amplifier!
4) Cloudy Mornings and Evenings Can Help
This seems weird because typically cloud-cover is a death-knell for solar production, but a morning haze layer can actually help! This is one advantage for folks like us who live in maritime climates who think,  "solar can't work here." For the first and last couple of hours of each day, light isn't landing on the panels directly because the sun is below some trees or blocked by our roof. During these dawn and twilight windows, it actually helps to have some haze or cloud in the sky, because this increases the reflected light and bumps our production from, at best, 200 Watts on a super clear morning or evening to as much as a Kilowatt on some overcast days! Ideally, as soon as the sun is high enough to start hitting directly on our panels, the cloud cover or haze will burn off, and surprisingly frequently that is just about what happens.
5) Sunbreaks Can Be Just Insane!
On the topic of reflected and diffused sunlight…we can actually get some absolutely crazy production on days that have patchy clouds. Ever find yourself standing outside when the sun suddenly peeks through a hole in the cloud and you think "damn, that is super bright!" for just a moment? It turns out that this isn't just some psychological thing, sun breaks really are super bright. The direct sunlight streaming through a hole in the clouds is compounded by the diffused and reflected sunlight coming off all those cheerful bright clouds. On the production graph, these moments looks like crazy spikes and valleys. The average isn't quite as good as on a truly clear day, but it works out to better than I expected. It's also fun to watch as production zooms up so high. We've seen peeks over 7 kW on a couple of occasions, almost 40% more than our usual clear-day peak.
6) There's Usually A Cloud In The Sky, Even If You Can't See It
In Seattle, it's rare to see a truly  cloudless day, and this shows on the production levels. Living so close to water as we do, even the most superficially clear and blue sky is carrying a fair amount of moisture, which absorbs, reflects, and scatters incoming sunlight. So often, instead of seeing the 5.2 kW peak that a truly clear day will get (and we've had a few of them), the system will produce something in the 4.8-4.9 kW range, tops. Visually those days both seem blue and clear, but the solar panels can tell the difference.
7) In Some Ways, It's Harder To Conserve In Summer
This was counterintuitive, at least to me…after all, with our long Northwest summer days we barely need our lights, we spend a lot of time outside, line drying is a cinch etc. In our particular situation, we've found some unexpected challenges with energy conservation in summer. First, all of our lights are LEDs, so even when on they are on, they are just a small part of our electricity use. Second, having both kids home from school, plus a rotating motley gaggle of their friends running around, has increased the load on our laundry and dishes. There've been sleepovers and movie nights and other things that have had our electronics running more than usual. More loads of laundry are done on "super dirty mode" than "quick wash cold mode" and the kids apparently open up the refrigerator about 700 times a day. If we lived somewhere with air conditioning, that could be a huge increase in our summer energy use, but thankfully we are spared that temptation by living in a city that proudly pretends residential A/C was never invented. However our refrigerator and freezer both have to run longer and harder to stay cool against the higher temperatures.
Three Months of Solar In Seattle: The Numbers
After three months of getting energy from the sun,  we're still pretty jazzed about this addition to our homestead. We've learned a few things and had some fun – and come away far more conscious of our "energy footprint" from day to day.
During the past three months, we've generated more than twice as much electricity as we've consumed. Through heat waves and cloudy days, evenings lit by a single 6 Watt LED and more than one urgent load of laundry on the "Sanitary" setting, here are our numbers for the past three months:
Energy Generated: 2.77 MWh.
Energy Used: 1.34 MWh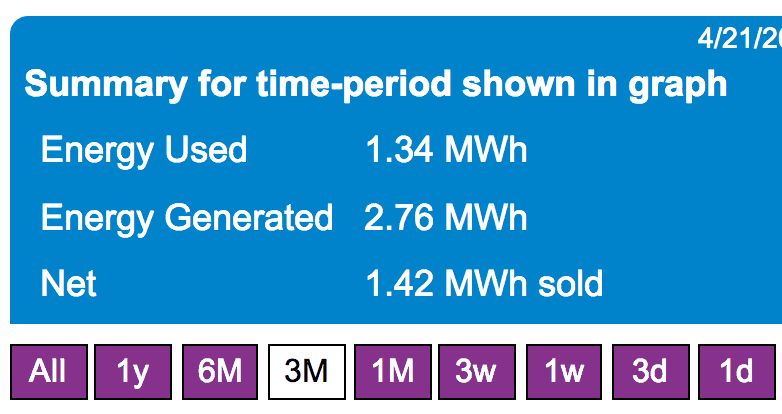 Of course, it's summer now, so it makes sense that we'd be making electricity like crazy. It'll be interesting to see how the numbers look in 6 months and a year, when the full gloom of winter has been accounted for.
If you want to know more about our Solar in Seattle experiment, check out our Reader Questions about Solar post from a couple months back. We still can't say enough good about the folks at A&R Solar. If you are in the greater Seattle area and are interested in seeing what your rooftop could generate, give them a call. If you mention Northwest Edible, we've arranged a special "friends and family" discount for our readers.
1