This has been such a mild winter. My chard and lettuces are still going strong, along with some herbs I never would have thought to be harvestable in January, like cilantro and lemon verbena.
It's such a treat to be able to harvest this kind of food rainbow in the dead of winter.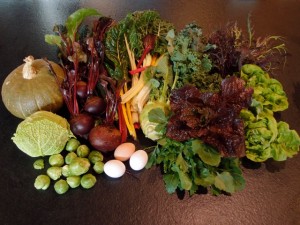 Scenes from around the garden as of January 8th: kale, chard, greens, cabbages, brussels sprouts and beets are still going strong, minute broccoli heads are starting to show, we're getting 3 – 4 eggs a day, and some garden bed repair work is in our future!
How's your winter garden growing?
2