What better way to celebrate the new look and feel of NW Edible than with a chance to win the best new urban homesteading book on the market?
When Annette Cottrell, co-author with Joshua McNichols of The Urban Farm Handbook and author of the site Sustainable Eats, asked me if I'd like to host a giveaway of her book, I was in the middle of reading it and I jumped at the chance.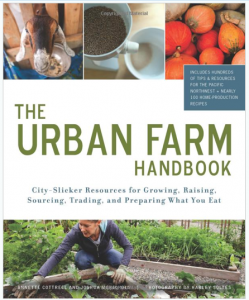 But in truth, I have mixed feelings about The Urban Farm Handbook.
It's not that there's anything wrong with the book. On the contrary, it's wonderful. Annette and Joshua managed to cram planning guides, seasonal recipes, inspirational photos, beginner-to-advanced tips and techniques for all things urban homesteading into an easy-to-read sub-400 page book filled with honest and compelling prose. All this and nothing ever feels rushed or truncated. It's quite the accomplishment.
No, my reservation about The Urban Farm Handbook is entirely and exclusively personal: this is the book I would have written, and it's better than I could have written it. It is everything a primer on urban food self-sufficiency should be, written by two authors who know their stuff and have complementary gardening and literary styles. So it's a little bittersweet for me, knowing I'm going to have to go back to the drawing board for ideas if I want to write my own book one day. And it's also a little intimidating, because Annette and Joshua have set the bar pretty damn high with this work.
So you want The Urban Farm Handbook? Here's your chance to get it for free, and signed by Annette to boot! Leave a comment below telling me what your big Urban Homesteading goal is for 2012. Entries will be accepted until Monday, January 16th at 8:oo pm Pacific Standard Time. Winner will be selected by random number drawing and announced on Tuesday, January 17th. Contest only open to residents of the U.S. – sorry international friends!
Good luck!
1